A Prairie Homo Companion is a regular column that celebrates the Canadian prairies, canola fields and big skies, and the paradoxes of being a fine-ass lady prairie homo.
Header by Rory Midhani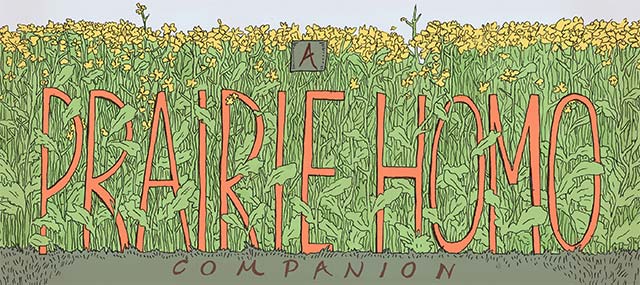 When you think about queer people and books, the Canadian prairies don't automatically jump to mind. I've often fallen victim to the stereotyping of the prairies as a place without much literary culture, but I'm wrong! Prairie cities may not be New York or London, but we definitely have talented prairie homo (an all-inclusive term that encompasses all the beautiful colours in the queer rainbow) writers everybody should read. Welcome to the latest instalment of A Prairie Homo Companion, in which I proudly let you know that the prairie literary movement is indeed here, queer, and fantastic. Here are queer prairie writers you should know.
 Vivek Shraya
Vivek Shraya is a musician, film maker, and writer born in Edmonton! To keep with this week's theme of queer, check out Shraya's, "What I Love About Being Queer." In this short film, he asks 34 queers of different ages and backgrounds what they love about being queer. It's a short question, but not as simple as it may first appear, and the answers given are at once moving, intimate, and funny.
Vivek Shraya is a sort of one-person queer power house. He doesn't just make amazing short films such as "What I Love About Being Queer" and "Seeking Single White Male," an exploration of what it means to be a brown bodied queer in white spaces. He also wrote a book, God Loves Hair, about what it means to grow up different in Canada, the child of immigrant parents. I found this book on a roommate's bookshelf, began leafing through it, and ended up reading the whole thing in one sitting. You guys, it covers all my favourite things: gender, sexuality, race politics, and haircuts! As an added bonus, the illustrations, done by Juliana Neufeld, are so wonderfully quirky and unique. Oh, and have I mentioned that Tegan Quin is a fan of the book?
Rae Spoon
Like Vivek Shraya, Rae Spoon is a singer-songwriter and an author. Spoon's book First Spring Grass Fire, is about growing up queer and Pentecostal in Calgary, Alberta and was reviewed by Carmen here.
Rae Spoon recently went on a book tour called "Recovering Albertans" with Vivek Shraya. . Of Alberta and their book, Spoon says,
"Alberta has the reputation of being very conservative and the fact that the current right-wing federal government has its roots there doesn't help. However, there are a lot of really great people there who support the arts and are queer positive. I get varied reactions about it on tour. I try to communicate all of my experiences in Alberta and I hope the book comes off balanced by that."
Speaking of Alberta, here's a video of Rae Spoon and Vivek Shraya in comfy, warm sweaters covering Jan Arden's "Insensitive." It doesn't get more Albertan than this, folks.
Leah Horlick
It's a well known fact that Autostraddle loves Leah Horlick, and for good reason: she's amazing! Riese and Carolyn mentioned her in Lez Liberty Lit and Fonseca team picked her! Born in Saskatchewan, she also happens to be one of our prairie homo companions. Carmen wrote about Horlick's poem "Fault Lines," calling it "one of her favourites."
It is my fault,
or guilt or alcohol,
my newness,
my body's refusal of you —
I have done everything wrong, as usual —
all my fault lines.
Horlick's writing is both poetic and political. Though it came out last year, I can't wait to read her piece, "Occupy the Patriarchy" in Canadian Dimension Magazine's Inuit Focus and Occupy Movement issue.
Hiromi Goto
When Hiromi Goto was the writer in residence at the University of Alberta, I went to visit her with a story I had written about an old lady. I thought a lot about writing, fiction and old people the week after visiting her because Hiromi Goto is a writer who gets you to think: about yourself, your imagination, your characters. A Japanese-Canadian who grew up in both British Columbia and Nanton, Alberta before attending the University of Calgary, she wrote her first novel, A Chorus of Mushrooms, about characters exploring issues of identity, culture and assimilation in Canada. Casey the Canadian Lesbrarian (whom Autostraddle also loves) mentions Goto's Half World and Darkest Light in her review of queer, Canadian, young women's fiction. I have yet to read these two books, but apparently Half World has an elderly lesbian (remember my fascination with old people?) and "Darkest Light" has not only a lesbian but also a talking cat! Hiromi Goto definitely knows her audience.
I feel pretty lucky to have met her. It's not every day that a queer woman of colour is a writer in residence at your university and you get to sit and chat with her about old age. Next time I see her I would like to discuss talking cats.
Darrin Hagen
I have so many feelings about Darrin Hagen. This one time he helped me sneak into a gay bar without paying the cover charge. This other time he wrote, The Edmonton Queen, the only queer novel I'm aware of that's entirely set in Edmonton. I wrote about The Edmonton Queen here, but I failed to mention that Darrin Hagen, like many of the multitalented prairie homo artists I've mentioned, is not only a novelist but also a playwright, composer and of course, a drag queen. Next on my reading list is Tornado Magnet: A Salute to Trailer Court Women, in which "Supermom" battles against mobile homophobia.