by carolyn & riese
Books! They are really great. You just won't believe how great they are. You may think that the Internet's great, but that's just peanuts compared to books. Welcome to Lez Liberty Lit, our column about literary shit that's happening that you should probably care about. We're aiming to put one of these together twice a month.
The name "Liberty Lit" was inspired by the short-lived literary journal produced by Angela Chase at Liberty High School in 1994.
Header by Rory Midhani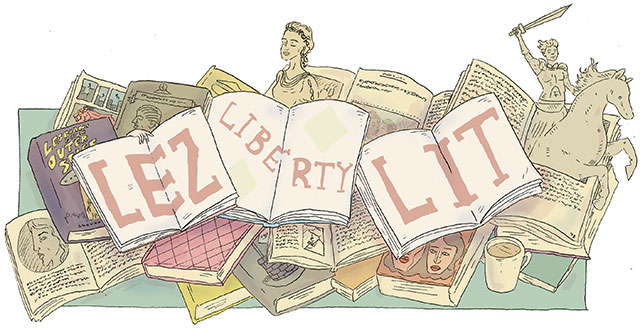 Lit Links
Julie Marie Wade reviewed Stacey Waite's Butch Geography, a book of poems, reflections and epistles about, on and to gender.
At the Rumpus, Mojie Crigler interviewed poet Jill McDonough about Where You Live, her new collection of poetry discussing her work in prisons, the political, the personal and her own queer family:
"When you're a little girl, you're like, "And then I go to college, and then I meet my husband, and then we get married, and then I have kids, and I don't want to work and have kids." When you're a child and you have a picture of adulthood, it is not partying until 4 am when you're forty-years-old with your bartender wife, and then getting on your bikes and then going home to your apartment in North Beach and thinking about your overdraft charges. It's a model of adulthood that has no expression in the hinterlands. Josey's from Topeka; I'm from Alexander, North Carolina. If we saw single women at all, we certainly didn't see lesbians. There were no women who lived together. There also weren't adult single women. It was all "family." Families with children. So for us to be a family? Like, today we were raking together. It was so sweet. Josey's wearing her orange satin jacket that we got from the thrift store and these big hand mitts we got from Target, that you pick the leaves up with—that was not an available pattern and that's what our adulthood looks like. It's awesome."
Author Lisa Cohen sat down with NPR to discuss All We Know, her biography of three lesbians who lived in Paris in the 1920s.
The Rainbow Project released its 2013 list of LGBT books for young adult readers.
The Lambda Literary Foundation and St. Cloud State University collection management librarian Rachel Wexelbaum are conducting a study on the reading preferences of modern queer people. You can participate.
"Chick lit" may cause self-esteem and body image issues in female readers, according to a new study from Virginia Tech.
The Lesbian Romance Drinking Game will get you smashed by page 10 of almost any Radclyffe book.
Barnes & Noble plans to close more than a third of its outlets in the next ten years. At the New Republic, Mark Athitakis argues that big box bookstores brought literary culture to areas that otherwise lacked it, and what the closures will mean for reading outside of urban centres.
Queer Book Club has a list of books that feature queer people of color published in 2012.
Brains are better at remembering blog posts than… you know, those blocks of paper with ink in them.
Sometimes reading books on public transit makes you cry.
At the Los Angeles Review of Books, Dale Smith writes about Diane di Prima's quest to have a voice in a male-dominated poet subculture.
Betty Friedan's The Feminine Mystique turns 50 this month. In an interview with the Atlantic, Gail Collins talks about the 1950s and the future of feminism.
Maria Popova writes about Joan Didion and keeping a notebook, and Virginia Woolf and keeping a diary.
The most-underrated lesbian books include Djuana Barnes' Nightwood, Sarah Waters' Affinity and Tove Jansson's Fair Play.
Turning books into movies doesn't ruin books, it ruins art.
A new program in the UK will allow doctors to prescribe reading to their patients to accompany medical treatments, particularly those that relate to anxiety, depression and panic attacks.
Sometimes you love a book that your friend really hates and you want to talk about it anyway.
Bookish, a service that combines book tracking with book buying, launched Tuesday. The service uses a recommendation engine and a seven-person editorial team to make suggestions based on books themselves, rather than based on what people have purchased in the past. Though Bookish currently features about 1.2 million books, only about 250,000 have recommendations attached so far.
Roxane Gay has advice for people looking for creative inspiration:
"While, like most writers, I gain all kinds of inspiration from reading and movies and art and music, what often inspires me most is silence and a dark room. I love to sit in a dark room, especially late at night, with nothing to distract me. I wait to see where my imagination might take me. With nothing to distract—no television, no online procrastination—with only my imagination and a still, quiet room, I tend to find the answers to problems I might be having in a given story or essay. I find new ways of thinking about how to tell a story. I learn new things about the characters I'm writing and the places I put them in. We really underestimate how much creative inspiration can be found in ourselves."
At the Lesbrary, Danika reviewed The Narrows by M. Craig and Before the Rain: A Memoir of Love and Revolution by Luisita Lopez Torregrosa. Kristi reviewed Riot Girl by Louise Davis. Marcia reviewed Stumptown by Greg Rucka, a modern noir-esque graphic novel.
Sistahs on the Shelf reviewed Rose from the Bayou by Teryn Williams, Bi-Curious by Natalie Weber and Stud by Sa'id Salaam.
At Lambda Literary, Anna Furtado reviewed The Dragon Tree Legacy, by Ali Vali. Sara Rauch reviewed Makara, a novel by Kirsten Ringman. Julie R. Enszer reviewed A Simple Revolution, by Judy Grahn. Cathy Camper reviewed Not My Bag, by Sina Grace. Arielle Yarwood reviewed When We Become Weavers: Queer Female Poets on the Midwestern Experience, edited by Kate Lynn Hibbard. Victoria Brownworth wrote a remembrance of lesbian theorist Julia Penelope, who died last month.
Don't forget to check out all the awesome book-related things we published recently: Heidi Andrea interviewed queer latina punk artist Cristy C. Road. Malaika said happy birthday to Virginia Woolf. Riese wrote about sick lit. Cara wrote about the word "queer."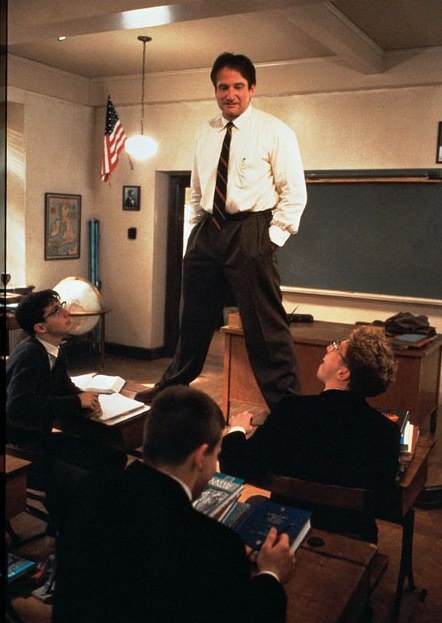 Events To Watch Out For:
Today, February 7, New York: PUSSY RIOT! A Punk Prayer for Freedom is launching. Gabrielle wrote about it. Barnes and Noble at Union Square, 7:00 p.m.
Today, February 7, Washington, DC: Julie Enszer will launch her new book Homesteading: Essays on Life, Death, Sex & Liberation at the DC Center (1318 U St NW), 6:30 p.m. to 8:00 p.m.
February 9, Boulder, Colorado: Poet Andrea Gibson will be at Boulder High School (1604 Arapahoe Ave), 6:30 p.m. Call 303-859-9946 for details. She will be in lots of other places this spring, too.
February 9, Los Angeles: Poetry, Practice, Politics: Reading and Conversation, featuring Andrea Quaid, Amanda Ackerman, Harold Abramowitz, Jeanine Webb, Samuel Solomon and David Lau is on at Pop-Hop Books and Print (5002 York Blvd.), 7:30 p.m.
February 14: Today is International Book Giving Day.
February 14, Saint Paul, Minnesota: Hearts and Sparks: A Reading of Love Poems will feature Ethna McKiernan, Margaret Hasse, Tim Nolan and Michael Dennis Brown at SubText: A Bookstore (165 Western Avenue N.), 7:00 p.m.
February 17, New York: Sassafras Lowrey will read from Kicked Out, a new anthology about queer youth, at BGSQD (27 Orchard St.), 7 p.m.
February 17, Los Angeles: LA Zine Fest is on at the Ukranian Cultural Center (4315 Melrose Ave.), 11 a.m. to 5 p.m.
Know of a queer event with literary merit? Send it to us!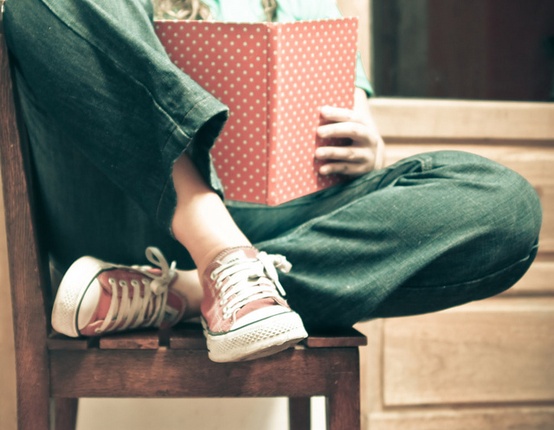 What We've Been Reading:
Riese: First I must admit that I spent an evening reading the entirety of a self-published book written by a woman whose husband was found entombed in the walls of this apartment building WHERE I LIVE after probs being murdered, but I won't tell you the title because I'm scared of the landlords finding out that I know. It was terrible don't read it. Anyhow, I read The Fault in Our Stars, duh! I read it all in one sitting. It was so good. Honestly I first heard of it because everybody likes to tumble the hell out of that book cover for real.
Carolyn: I read Harriet the Spy, which I somehow completely missed when I was young enough to actually appreciate it (much like the gaping hole that is A Wrinkle In Time and the works of Judy Blume). I also read Ivan E. Coyote's The Slow Fix, a collection of short stories that read as a loosely fictional memoir of queer identity.
What are you reading right now?