Today I'm going to review a gay Canadian prairie book (yes, it exists!) and in the process teach you some politically incorrect Alberta drag queen terminology you're not going to learn in Women's Studies 101.
From The Queen's English (A Lip Glossary) in Darrin Hagen's The Edmonton Queen:The Final Voyage: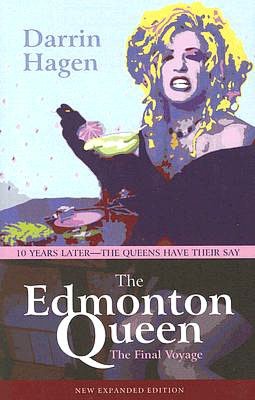 Eating dead babies: Getting caught with lipstick on your teeth
Amateur night: Halloween
Barbies: blond female heterosexuals
Boing-boing-turn-around: How barbies dance
Embarrassment of Bitches: A group of Queens around a table (similar to a pride of lions or a murder of crows).
Prairie Fairy: A fag from Alberta, Saskatchewan, or Manitoba
Tundra Fairy: A fag from Canada's North
Raccoon Eyes: Leftover mascara that won't come off the day after
Darrin Hagen, otherwise known as Gloria Hole, queen extraordinaire of the prairie fairies who avoided eating dead babies while in her embarrassment of bitches, is more interested in telling the truth than in appealing to your politically correct sensibilities. The Edmonton queens' lives are as imperfectly unapologetic as the morning Raccoon eyes you get when you're having too much fun to bother washing your face before bed. This book has drinking and drugs and may contain certain amounts of prostitution and homelessness because these were the expected side effects of being different, fabulous and courageous in Edmonton, a city that has forever been associated with oil and hockey, not drag queen tiaras. Set in the 1980s, The Edmonton Queen chronicles the lives of queers who made their own culture right where they had landed. Edmonton was no Toronto, New York, or Montreal, but it was a city nonetheless, an exciting escape from the rural Alberta where many of the queens grew up.
Hagen, on leaving the town of Rocky Mountain House after high school:
The Greyhoud stops at Alhambra, Leslieville, Benalto, Eckville, Sylvan Lake and Red Deer. Keegstra Country.(Jim Keegstra, a high school teacher in Eckville, was charged with teaching his students that the Holocaust never actually happened. This case received national coverage. Eckville is just north of Caroline, where the Aryan nations have a lovely farm.)…At Red Deer, Calgary and Edmonton are exactly the same distance away. Why North? Would things be different if I had turned South? Probably not. Besides, the river runs North. And it's my river.
Fed from the Columbia Icefields, the North Saskatchewan River starts as a thin trickle of light-blue glacier water before flowing down through Abraham Lake and Rocky Mountain House, eventually separating Edmonton into North and South before continuing on to Saskatchewan, the river now wide and its water a light brown, full of experiences and the necessary dirt they come with.
Later, a very different Hagen from the teen who followed the North Saskatchewan from Rocky Mountain House will stand on a bridge over the older version of the river by which he grew up. He'll scatter the ashes of a fellow queen whose reign has come to an end.
I stood on the High Level Bridge and opened the last of Ora's ashes. She scattered in the wind, falling into the river, disappearing into the murky flow. The water was brown, not blue. It's the same river, but older. It carries more within itself.
So many of the queens in Hagen's chosen Edmonton family lose their lives to AIDS. That's a whole queer generation before mine, gone. Imagine escaping your small town for the city, finding a talented group of friends with whom to make art, and then watching them die one by one? Death is a heartbreaking reality in The Edmonton Queen, but still, there's no way that the queens let it take centre stage. After all, as fantastic performers, the spotlight belonged on them and their lives bursting at the spandex in-seams with a mixture of hairspray, lipstick, and an all-around beautiful weirdness.
There was Trash, a nomad queen who created her costumes from other people's trash. She didn't confine herself to shows at Flashback, the legendary Edmonton gay nightclub that has now closed down. For Trash, drag was a public experience.
Trash: It's not worth doing if you can't freak out some straight boys.
On Halloween she wouldn't just perform in a bar like a mainstream queen. Instead, she would crank it up loud and head to Victor's (a swanky downtown eatery), and drink free scotch from drunk businessmen horny enough to be confused by her trollopy…well, Trashy presence.
Then there was Lulu LaRude, whom Hagen met at nineteen when LaRude was fresh off the streets. In her street days she could "smell a rich Daddy better than a sow hunting for truffles." When Darrin Hagen first set eyes on LaRude, he knew they were cut from the same cloth. They fucked, "because that's how you met people back then." And then they became lifelong artistic partners and friends. One of the most heartbreaking parts of the book is reading Hagen describe finishing its final chapters as LaRude's health deteriorates:
It's getting harder every day to write this. I feel like I'm writing a eulogy for someone who's still alive. I'm calling LaRude every other day, trying to track down this photo or that memory. Part of me feels that if I draw this chapter to a close, then that's it. It will be over.
But Hagen was wrong. It isn't "all over." If anything, The Edmonton Queen reads as a triumphant fuck you in the face of death and losing people you love before their time. It's about transforming yourself from awkward teen to Queen, even though you're in slightly uncomfortable heels and an equally uncomfortable city.
It was a life of Pumps and Circumstance. Rather than hide their pain, they strapped it on and accessorized it. Wear your shame and make it look better than God ever intended. They became living, walking, breathing, screaming, chain-smoking Art.
As the first queer book I know of that's set in Edmonton, The Edmonton Queen has started something that is anything but over. Sometimes you don't want to read about queers in New York or watch lesbians in L.A. Sometimes you want to read the uncensored truth about your own prairie fairies who had to be all the more beautiful and strong to create their own culture in a region the rest of the country sometimes forgets has culture. Darrin Hagen and his queens re-invented themselves as art; but in writing about their experiences, Hagen does so much more: he lets prairie queers know that there are stories where they live, stories deserving of an audience.