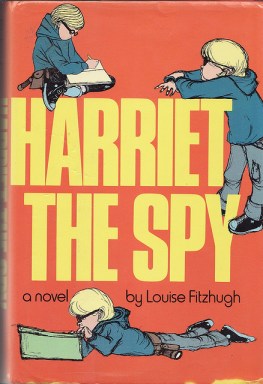 Inspired by our list of kickass girl-novel heroines we wanted to be growing up, many of you commented to share childhood stories regarding the strange (and often homoerotic) things these books inspired you to do, such as carrying around a spy notebook to be more like Harriet.
Here are just some of those delightful activities:
1. I think there were years when I thought I WAS Laura Ingalls and ran around in prairie dresses climbing trees and spying.
2. I made a home movie with my neighbor girl around age 8 wherein I played Molly McIntire (I had the enormous glasses) and she was Samantha VictorianWhatsherface- it involved time travel and outstanding scriptwriting.
3. Definitely played "Heidi" as a child… you know like when kids play pretend or house or whatever… my friend and I would be Heidi and Clara.
4. After reading Anne of Green Gables I went through a (far too annoying) phase where I called people I liked "kindred spirits" and asked all of the girls at school to be my "bosom friend." Clearly the lesbian card was being played even then.
5. After seeing the Harriet the Spy movie I made my parents buy me a Sherlock Holmesesque detective/spy kit. It was awesome.
6. At some point during my childhood, I may or may not have tried to float across a body of water in a wooden barrel. It didn't turn out well. Thanks for the splinters Pippi.
7. In my fifth grade class we studied ships and at one point did a sleepover field trip to an old four-masted ship on the San Francisco pier. I WAS Charlotte Doyle for about three months afterwards.
8. I went through a brief phase where I wrote down everything about everyone in a secret composition notebook and pretended that I was Harriet.
9.  I have a big stuffed collie that my nana gave me when I was seven still sitting at the end of my bed who's called Timmy. We went on adventures.
10. I was the girl who wore full on pioneer garb (bonnet, bloomers and all) to school most days during fourth grade. I didn't have a lot of friends. But I had a lot of heroes.
11. One of the reasons I got an alaskan malamute as an adult was because of Rontu in island of the blue dolphins. #goodadultdecisionmaking
12. It's entirely possible that I wrote erotic Laura Ingalls Wilder fanfiction when I was a kid.
13. In kindergarten my teacher used to read us The Boxcar Children, and my friends and I would play "Boxcar Children" on the playground. I actually was always Benny, which makes total sense now that I'm grown up but still dress like a 12-year-old boy.
14. My best friend in primary school and I used to play Saddle Club in the schoolyard at breaktime, we would ride imaginary horses over jumps made of sticks and the boys from the year above would make fun of us but I got to be Stevie so zero fucks.
15. The Secret Island was basically my favourite childhood book. I used to go out in the backyard and practice weaving the branches of trees together to make a house. I was pretty successful too.
16. I was a fan of Julie's from Julie of the Wolves. I went through this wolf phase in elementary school, so I totally wanted to be Julie and be adopted into a wolf pack, even if I had to live in the frozen tundra.
17. Harriet the Spy inspired me to peer out of my windows with my crappy binoculars and watch people and write stuff down about them. This consumed most of my day.
18. When we read The Mixed Up Files of Mrs. Basil E. Frankweiler  book in school, my third grade reading teacher Mrs. Andrews turned our school into a fake Met. We had to hide from fake museum guards in bathroom stalls, and budget money and shit in the cafeteria. Most memorable school experience probs ever.