by carolyn & riese
Books! They are really great. You just won't believe how great they are. You may think that the Internet's great, but that's just peanuts compared to books. Welcome to the third edition of Lez Liberty Lit, our new column about literary shit that's happening that you should probably care about. We're aiming to put one of these together twice a month.
The name "Liberty Lit" was inspired by the short-lived literary journal produced by Angela Chase at Liberty High School in 1994.
Header by Rory Midhani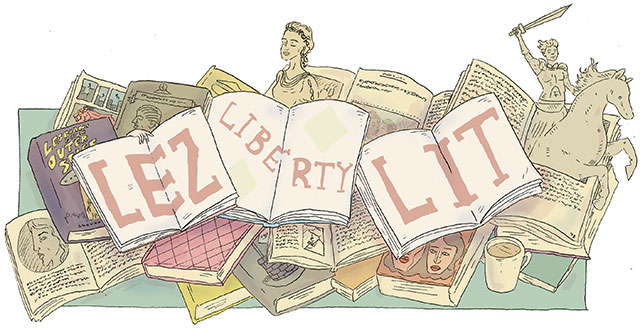 ---
Literary Internet Place of the Week
Project Unicorn: A Lesbian YA Extravaganza! is a year-long project by authors Sarah Diemer and Jennifer Diemer to help correct lesbian underrepresentation in YA. Project Unicorn, which began in August, posts two original YA short stories a week. All of the stories have lesbian heroines. Recently, they posted "A History of Drowning" and "Dreaming Green." You should read it for: online and free gay YA.
Lez Liberty Lit Links
At Rookie, Emma Dajska talks about written and visual records and why keeping a notebook is good for you.
Vogue did a big costume fashion shoot at Edith Wharton's estate to celebrate Edith Wharton and managed to include a whole shit-ton of male writers and not one lady-writer! Even Edith Wharton is played by a model, although contemporary male writers are the ones dressed as historical male writers for the shoot.
You brain likes Jane Austen because science says so.
At Superworse, Sady Doyle writes about Anais Nin, lying in autobiography, and lady narcissism. You must read this.
Spoiler alert: the first edition covers of classic books are interesting. (Did you know Animal Farm was originally subtitled "A Fairy Story"?)
Talking Covers talks to the woman behind the epic Vintage Contemporaries series, Lorraine Louie, and Sloane Crosley talks about the cover for I Was Told There'd Be Cake.
Emily Books' September book is Maidenhead, by Tamara Faith Berger. It's selling it as: "It's Spring Break in Key West and 16 year-old Myra is bored with her square parents and annoying sister, so she wanders away from them … into a world of sexual depravity," which sounds good to me. Emily Books also celebrated its one-year anniversary yesterday.
Electric Literature, via Open Culture: single sentence animations visualize the short stories of contemporary writers — "The writer selects a favorite sentence from his or her work and the animator creates a short film in response," like a recent bit from bisexual writer A.M. Homes' "Hello Everybody." Also, at Electric Literature, a story by Mary Gaitskill!
Zadie Smith offers ten rules for writing, and the post we just linked you to includes links to other writers with other tips and rules for writing.
At The Lesbrary, Lindy Pratch reviewed Ivan E. Coyote's One in Every Crowd: "Gender nonconformists are teachers, whether they choose that role or not. Coyote's storytelling has an educational element, no matter what age her audience happens to be. Best of all, she is genuinely warm and funny, whether on the page or in person."
At the Mary Sue, Susana Polo discusses the power of women in fandoms, particularly in comics. She argues that women engage more, and that while there is no way to demographically quantify something like internet fandom, the more widely marketed something is, the better.
This week at Lambda Literary, TT Jax asks Sassafras Lowrey, Morty Diamond, Elliott DeLine, Tom Léger, AJ Bryce and Ryka Aoki about cisgendered literature, identity-based content, and social justice.
Eileen Myles is in the new Sister Spit anthology, Sister Spit: Writing, Rants, and Reminiscence fron the Road. Her contribution, "February 13, 1982" is excerpted online. This is how it starts:
"Time passes. That's for sure. It's the nightmare of having what you want that I'm interested in today. I had a book party five years ago. It took place in New York where I live and it was the beginning of the end for me.
I'm a very different person today. Bill's coming over to build shelves in the kitchen. Things have a slow progression, kind of a pleasant listiness. A big part of my list is the past. I went over to Rose's to plan the book party. Power Mad Press, which was Barbara, was publishing my book. Barbara lived with Rose in a loft and that's where we were going to have the party. Rose is an astrologer. She pointed to February 13th on her calendar. It's got to be this date, she said. Absolutely. But why, I asked. A lot of things will converge for you on this date. Your Mars, a lot of your aspects . . . I don't know how to explain it, but this is YOU. Maybe you don't want your party to be such an intense experience. It could be a lot quieter. It depends on what you want. Rose was like a lawyer, or a salesman. You never knew if she was making this stuff up — if she really had her finger on the pulsation of the orbs and if she did, I mean, if she really had the power, was she on my side."
Books (and Events) to Watch Out For
Right now, until September 23: The 48th Annual Big Book Sale is happening at Fort Mason in San Francisco. All proceeds from the $3-or-less books, CDs, DVDs, and vinyl on sale will go to San Francisco's Public Libraries.
Saturday, September 23: The Brooklyn Book Festival happens this Sunday, September 23rd and will be awesome, undoubtedly, as it usually is. Authors include Eileen Myles, Rebecca Walker, Paul Auster, Carol Higgins Clark, Julia Glass, Cecily von Ziegesar, Molly Crabapple, Joyce Carol Oates, Amy Sohn, Emma Staub, Francine Prose, Colson Whitehead, Terry McMillan, Sapphire, Isabel Wilkerson, Amy Goodman, Elissa Schappell, Billy Collins, Dan Savage, Sam Anderson, Pankaj Mishra and Adrian Tomine.
In "Let's Talk About Sex: Grappling With Gender in the 21st Century," Naomi Wolf, Carlos Andres Gomez and Kate Bornstein will be discussing "what does it mean today to be a man, a woman, or to feel somewhere in between?"
Bisexual writer Sapphire will speak in "The Dark Side," which asks "when a character has dark side or a painful history, how does an author write about it?" Also, our favorite human being, Eileen Myles, will appear with Ben Lerner and Sapphire in "The Poet Novelist," where they will "explore the boundaries, possibilities, divergences and intersections of poetry and prose."
Saturday, September 23, in Canada: The Word on the Street annual outdoor literary festival takes place in Lethbridge, Saskatoon, Kitchener, Toronto and Halifax this Sunday, September 23rd (and Sept. 28 in Vancouver). Authors relevant to your interests include Farzana Doctor, Karleen Pendleton Jiménez, Leah Horlick, Vivek Shraya and Jen Currin. Events will include readings, talks, workshops, signings, panels and preformances.
On September 28, Rae Spoon is launching First Spring Grass Fire at Ottawa's Venus Envy (320 Lisgar St.) along with queer multimedia artist Vivek Shraya. The event starts at 8:30 p.m. and is $10.