This week on Bomb Girls, half of my early season predictions came true, and there was hardcore lesbian kissing! And post-coital lesbian processing! On primetime television! Granted this is Canada, land of my ancestors and their relatively agreeable relationship with gay sex, but it was so awesome. To celebrate, this is a Super Special Sexy Edition of Bomb Girls recaps, so hold onto your boy briefs and your glitter handcuffs.
Witham Foods is sponsoring a radio show to raise war bonds, which is the 1940s equivalent of putting on a Youtube special with a kickstarter. Except instead of getting an Original Plumbing sticker or a handwritten postcard made from recycled zines as a thank you, you get a spatula set. Fun fact: Spatulas make great floggers.
Kate is going to be singing in a trio at Ye Olde Fundraiser, and can I just reiterate: Is everyone at this factory musically talented? Why hasn't there been a musical episode yet? And not just because I want to see a choreographed number involving Betty, all the VicMu homos, and Do It Like A Dude.
Ivan is watching this situation from the piano, and he takes Kate's hand when they're done to indicate that she and him are in the serious business. This is a recreation of my reaction to this gesture:
There's a soldier lady who is organizing the bond selling, and you know that thing where you see a cute lady but you can't tell if she plays for your team, so you give the lingering look that indicates you're super into it but trying to not be rude? Betty and the soldier lady are doing that thing.
I call it the Intense Lesbian Gaze.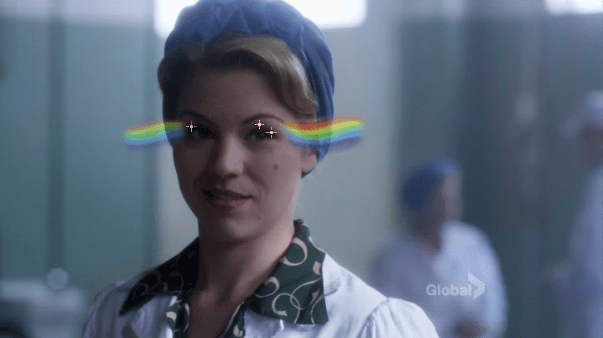 Over at Ye Olde Hospital, a famous actress named DeDe is there as part of the bond tour to raise the everyone's spirits. She looks a lot like Regina from Once Upon A Time. For the record, I don't watch that show, but maybe I read the fanfic. Maybe.
Sergeant Dickhole is there as the official Famous Lady Escort. I'm going to be real: Gene is definitely a giant asshole, but he's a complicated giant asshole. He's actively experiencing flashbacks and PTSD that explain the exasperation of his self-destructive selfish behavior, and there's something a little heartbreaking about watching someone like this fall apart, even if he's a general douche.
Vera and Lorna are being Head Bitches In Charge in the office, trying to figure out how they are going to beat out everyone else for the most war bonds. Vera, Flawless Queen of the Universe, thinks they should get fireworks, because hey, we all know how much homos like blowing stuff up:
Over at Ye Olde Factory Floore, Betty and Ivan have the face-off we've all been expecting. Unfortunately, Betty does not tear off her uniform to reveal a gilded wrestling singlet and shiny trident, nor does she use the trident to stab Ivan in the heart.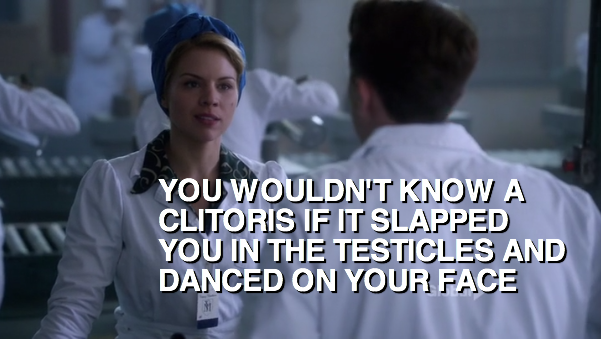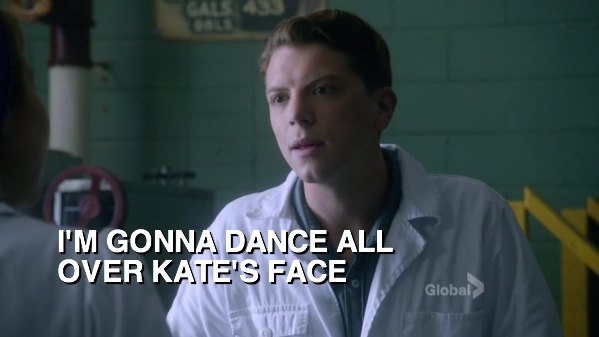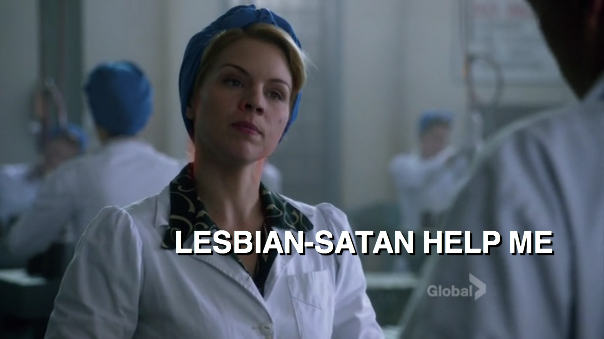 Gene is smoking in the only wing this hospital seems to have, which I am 99% sure breaks every rule of hospitals besides don't use a cell phone or someone's organs will be sucked out by a misfiring CAT scan. Sheila thinks her brother needs to put out the cigarette so he puts it out on his fucking palm. Jesus Christ, Bomb Girls. I did not sign up for this dark shit. Where is my lesbian soap opera with nail polish and pajama parties and silly hats?
Over at Ye Olde Hotel, it appears that Gladys' bills are no longer being paid by James. Further investigation of the matter reveals that Gladys can look stunning doing something as mundane as sorting her financial issues, and Daddy made a deal with James and is not gonna pay for the room anymore, which means Gladys' fancy hat days have come to an end. Pretty sure this happened on an episode of Girls, right?
Gladys is sick of the men in her life running her life, so she goes to the Lesbian Commune to complain to a ready audience.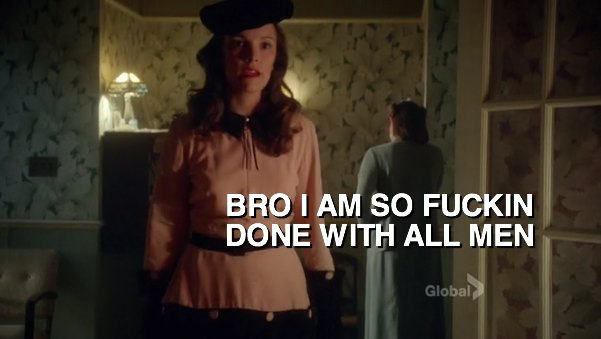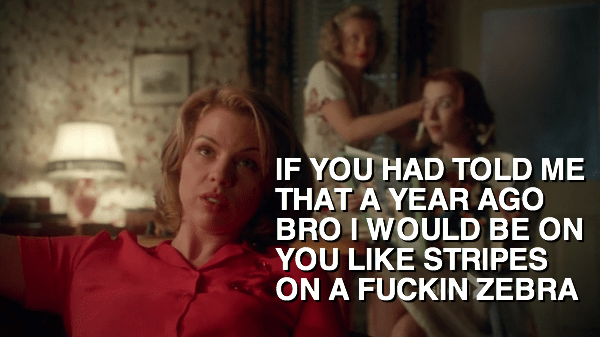 Sheila decides it's time to have an intervention now that Gene thinks he is actually on the USS Enterprise. Lorna, denial is a river in Egypt.
Gladys gets James on the phone to discuss financial matters, but decides to drop the Gene bomb at the same time. Like, it's great you are fighting over there and stuff, but girl has got to feed the growler, yeah? You know that moment in the movie where you know a character is gonna die? Like when the busty sorority girl walks into the abandoned house, or the soldier gets a call saying his wife is pregnant, or any dog appears in a sentimental coming of age film? James says he doesn't want to hear it because this might be the last time they talk before he heads to the front. That was his Old Yeller Moment. If he says it might be the last time, you know it's the last time.
Over at Ye Olde Lesbian Stuff Happens Every Time We Go To The Jewel Box, Vera is trying to convince Marco to lend some fireworks from his firework factory. Look, I'm gonna be real. They are super cute and I want them to bang. There, I said it.
Betty shows up with Kate, who she hands over to Ivan with a look that could make puppies cry. I swear to Lesbian-Satan, Ali Liebert. But looky-loo who shows up but Bond Girl, and boy, is she picking up on the right signals.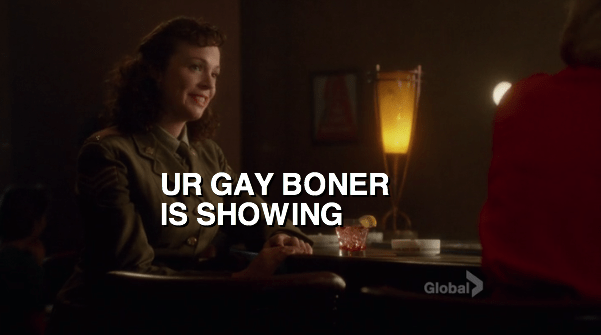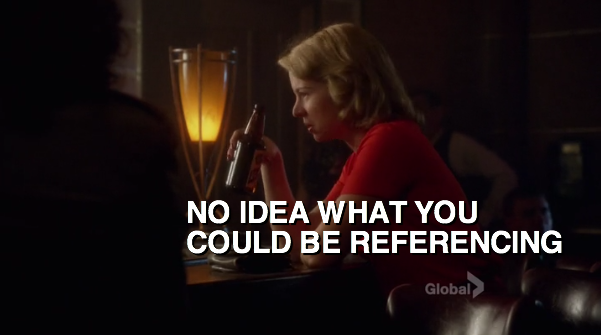 Lorna decides to sit Gene down and try to reason with him on the whole PTSD situation. Gene pretends he cut his hand on a bottlecap and tells Lorna to get the fuck off the holodeck because he and Deanna Troi are about to talk about his feelings and stroke each other's faces.
Marco runs into a fellow wise guy outside of the Jewel Box, and gets him to lend him some fireworks after they bond over Italian stuff, like spaghetti and tiny cars. I miss Baby Cannoli, guys. I miss those jokes. Those were easy jokes.
Gladys is totally freaking about losing this hotel room and all of her fancy hats when Gene shows up and Gene wants the V. Gladys is like, nope, sorry, dealing with some shit, please put the teletubby vacuum back in your pants. Gene continues to use innuendos in ways that make me laugh hysterically and says he's going to "show you the front." The front? The front of what? The front of your penis? Do penises have fronts and backs? I've never seen one, I don't know how this shit works.
Get your hearts out because it's time for their weekly stabbing! Kate and Betty are having the usual pajama party, but Betty's had enough of beating around the bush when it comes to her desire to beat bush.
You got all you want. A boy who's falling for you and a girl who already has. You use this… you use me.

That's not true.

I helped you make a whole new life, and what are you doing?

I'm living it, Betty. And there's nothing wrong with that.

Then you can find someone else to dance with.
This is a recreation of me during this scene: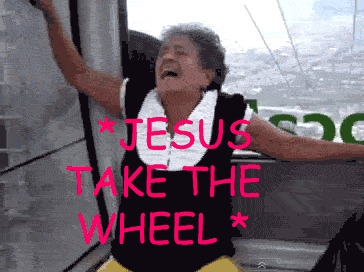 It's the day of the Kickstarter Fundraiser and Betty decides to take Bond Girl up on her offer of friendship. You know, the kind of Deep Intimate Friendship where you want to put your mouth in her lap. Betty makes it clear she's here for Bond Girl and not Kate, Bond Girl makes it clear she is gay as a peacock and down for the business.
Bob tries to talk to Gene grumpy man to douchey man, but it doesn't go very well. Gene thinks his dad should sod off because they are about to make him a first mate on the Enterprise.
Gladys figures if she's gonna have to sell all her fancy hats anyway, she might as well go out with a bang. Daddy thinks that her relationship with Gene seems awfully close. Gladys thinks she has a lot on her plate and maybe needs to get it out of her system via deep vagina massage, okay?
Gene and Lorna are supposed to be getting a picture together but Gene is telling Lorna that she is a backstabbing bitch! No, that is literally what he said! Seriously, Corbetts, how did you have a fucking family whistle but your kids still turned out to be such epic dickholes?
Pages: 1 2See entire article on one page