Kate et trio, who from now on I will refer to as the Vaginettes, perform on the radio and it's adorable. For a giant fundraising event, the audience looks to be about the same size as the ones at my childhood piano recitals. Must be VicMu is like a middle school orchestra concert where the only people you can get to come are the family members you drag along out of obligation.
Backstage and away from the rest of the Vaginettes, Leon tells Kate that her head is not in the game and she better get it back for the second half of the game or they're never gonna win Sectionals! Never fear, Token Spiritual Person of Color is here to set things right.
It's Betty. She has these feelings.

Yeah, she's very fond of you.

No, what she feels is sin. It says so in the Bible.

The Bible also tells us to stone a man for working Sundays.
Gladys walks in on Gene all up in the famous actress lady's business. Gladys tells him he is a piece of shit and she's done with his hot mess of an existence. Kiiiiiiiind of overdue, sweetheart.
Kate sings a solo, but Betty leaves early. Ivan might be applauding like a motherfucker but Kate is staring at her chair. It's pointed as fuck and I am left wondering if we're dealing with internalized homophobia or someone losing a friend or what. WHAT AM I TO MAKE OF THESE SCENES, BOMB GIRLS? WHAT DO YOU WANT ME TO DO WITH THIS INFORMATION? I DON'T KNOW WHAT TO DO WITH THESE FEELINGS.
Gene is not having a hot day, and really struggling through this affair even harder than I am currently struggling through my sexual dry spell! Three weeks is a long time, okay?
Bond Girl is in Betty's room! If you've ever lived in a dormitory, you know what the fuck is up when they invite you to their room. Maybe they said they just want to listen to some Indigo Girls, or watch some L Word, or they swear they have a few shots of rum left, but you both know exactly what's up. Lesbian sex acts is what's up.
Betty's room tour stalling tactics are the cutest ever.
Well, here you got a wall…fan…dresser…another wall…window…uh, wall…lamp…and a picture I've never looked at until right at this moment. Brush…and well, bed.

That's a lot of walls.
It results in this.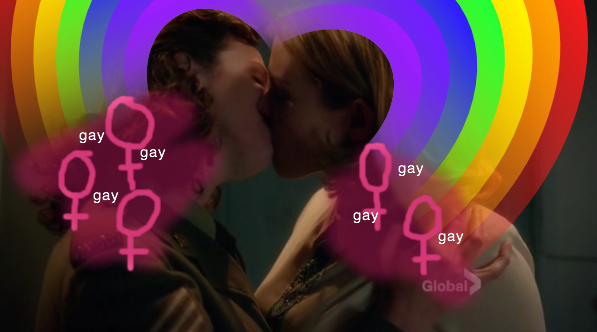 Gene is on the roof during the fireworks display just because. Gladys and Lorna are desperately trying to get him off the roof. It's incredibly sad and touching in a way I cannot do justice to via Star Trek jokes, or any jokes. I can only tell you that I cried a little.
Marco and Vera are flirting over fireworks casings. INTO IT.
Betty and Bond Girl are in bed because THEY JUST HAD SEX! SWEET LADY SEX ON PRIMETIME TELEVISION! AMERICA, YOU SUCK AND I HATE LIVING HERE! But seriously.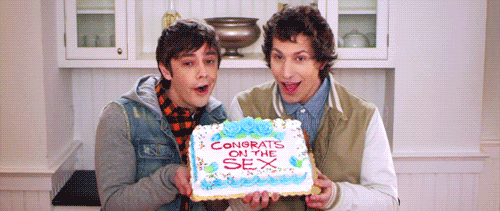 That's right, bitches. Betty Fucking McCrae just lost her lady V card and it was sweet as fuck. Bond Girl says she just experienced fireworks. That's right. Y'all know my girl is a top. Leavin' girls feeling fireworks in their bits.
All triumphant Kanye songs aside, this moment still stung like a little bee sting to my heart.
I wasn't looking for anything, but I'm glad you found me.
Oh, Bomb Girls. Never stop stomping all over my stupid heart.
Outside, Kate is fiddling with her door just like the first time she and Betty met! No, not the feels! She overhears the noises in Betty's room! No, not those feels!
Downstairs, Gladys is using her new spatula set to make dinner, which is much less exciting than letting Betty flog her with it. Wow, is that a thought that came from my head? Wow. Anyway, since we've been waiting all episode for the other Old Yeller Moment, here it is. Lorna has a telegram, and it's that telegram. Gladys' slow defeat as it's read aloud to her is one of the best performances on the show yet. Lorna, Professional Mom, shows her how to make eggs as a way to show her it's okay to be upset. I cried. No, I really did.
So, now we have a hiatus until March. How do we feel about the rest of the season? Are Ivan and Kate going to continue to date in the same style as my friends when they were in fifth grade? Will Marco and Vera make Baby Cannoli 2 so I can start recycling those jokes? Is Betty gonna keep sleeping with Bond Girl? Will we actually learn Bond Girl's name via Betty screaming it during sex? Should Gladys find solace in the arms of hot butches? Will Gladys come visit the author in their Philadelphia abode for sexual grief counseling? Exciting developments await.
Pages: 1 2See entire article on one page