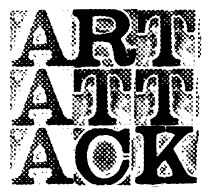 We have declared February ART ATTACK month, like how last year we declared March PURE POETRY MONTH. All month long we're gonna talk about visual art! You don't even have to know how to read to play along, which means this'd be a great time to introduce your cat to Autostraddle. (If you're an artist or a writer who wants to submit your stuff for Art Attack month, you can see our submissions guidelines here.)
So, to kick off this tiny month of big love, we've got 100 pictures of work by queer women for you. We gathered our information re: the queerness of these women via Wikipedia, the GLBTQ Encyclopedia and Feminine Moments (the latter of which is a kickass resource for finding queer lady artists!).
---
Before you go!
It takes funding to keep this publication by and for queer women and trans people of all genders running every day. And A+ members keep the majority of our site free for everyone.
Still, 99.9% of our readers are not members.
A+ membership starts at just $4/month.
If you're able to, will you join A+ and keep Autostraddle here and working for everyone?
Join A+