This week on Pretty Little Liars, it was revealed that Ally was a big Nabokov fan, Spencer has seen The Notebook 365 times and Aria reads a lot of magazines. Furthermore, The Liars combined their mindmelding Captain Planet powers to summon a flashback involving a brief scene for which none of the aforementioned Liars were actually present. And the hair? The hair was shiny, reader. The hair was so shiny that even sunglasses and visors couldn't protect Jenna or Toby from the stunning glare and therefore Tammin Sursok and Keegan Allen weren't on payroll this week.
Before we move forward towards anything remotely relavant, have y'all read Nabokov's Pale Fire? Because I feel like Ally has.
So, this week on Pretty Little Liars, A threatened Hanna that if she didn't "cut off the techno-boy toy," A would reveal The Lasanga Safe to the cops, since A is such a notoriously reliable whistle-blower always sticking her face in other people's faces. By "tell the cops" A likely means "send the cops an Olive Garden gift card with a limerick pasted on the back in invisible ink that will reveal the location of another clue which will eventually lead the fortune-hunter to The Olive Garden's Culinary Institute of Tuscany in Tuscany, Italy, where all the answer will be hiding is the Lasanga Rollata al Forno.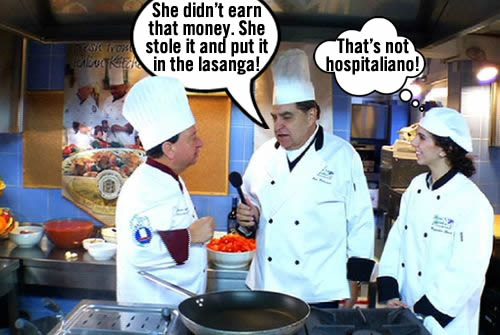 Regardless, it's not Hannah enlisting Caleb's brooding hacker skills, it's her sketchy friends who are always breaking glass and uploading photos from History into their AT&T Extreme Magic Dash Phones. Hanna eventually busts her friends for trust-breaking and tells Caleb a little slice of the truth, which inspires him to go all Brian Krakow on his bicycle to Jenna's 'cause nobody told him Tammin Sursok was off this week.
Also much to Hanna's dismay, her Dad has moved to Rosewood along with Hanna's new stepsister Kate (the spitting image of a Regina George/Paris Geller mashup).
Spencer gets Spencerly Obsessed with Kate from the get-go, eventually deducing that she knows Kate from her sister's summer camp, back when everyone called Kate "Lucy Caboosey."
Aria continues to wear inexcusable ponchos and engage in mystery dates with her Humbert Humbert in dark cars while Mom and Dad think she's pigging out on pesto with Holden Holdem.
At some point, Aria and Holden Holdem end up accidentally having a real date 'cause both of their sketchy situations fall through. If the first rule of Fight Club wasn't to never speak of it, I'd float some theories regarding Holden Holdem's "deal" but it is, so I won't.
Spencer has taken to crying a lot about Toby…
… and wearing, alternately, Toby's underoos, conservative sweater sets and a vintage raggedy hat originally worn by Oliver Twist in the 19th century (that's where he kept his pet rat.) Spencer is adorable all episode long 'cause she's got NEEDY on blast. This would be a perfect time for her to go Lez, but alas, she does not.
Well enough of that heterosexual nonsense, let's move on to the lesbian parts, shall we?

We open in Spencer's Special Kitchen, where Aria is dressed like Jeff Spicoli meets Jem and the Holograms with neon green mobiles dangling precariously from each ear as Caleb does his very best Garcia with A's phone and Laptop Magic. Hanna doesn't want Caleb involved because then A will kill him with a shovel, so she's not been told about this secret meetup.
Spencer spots a fake ID in A's found video and Caleb superzooms to reveal another Ally fake ID that "looks nothing like her" except that actually it does look a lot like her, but with dark hair and a sultry book jacket facial expression.
Meanwhile Hanna is blowing up her friends' phones like the World Trade, desperate to take a bubble bath and play Strat-o-Matic baseball while watching a Goddard film, but they're all liars, duh.
Also, later we'll get that flashback I mentioned in paragraph #1, wherein Allison's "hair guy" (was he also her "phone repair guy"? Those exist, you know) calls Allison "Vivian Darkbloom," because Allison has an evil twin according to my own personal theory which I've been trying to sell to my girlfriend for like a year now.
Anyhow, Vivian Darkbloom is a name from Nabokov's Lolita, which is a brilliant book about a profoundly fucked-up man.
There's a golden ticket in it, too!

In some romantic moonglow pool-esque hideaway, Maya and Emily are cuddling in bed with a kind of awkward familiarity that reminds me, painfully, of the first few times I was lying on a bed with a girl who also liked girls. Like I knew I was allowed to touch her but I didn't know when or how.
Real Talk: Maya is either totally awesome or a completely sketchy selfish motherfucker. Either way, Emily's drawn to Maya because Maya is bold and fearless and Emily isn't — or, wasn't. She's getting bolder and bolder by the minute, but the fear never goes away. So sometimes when everything is scary, it's nice to relax into somebody impossible to scare.
Seemingly unaware that she's dealing with a swimming-slaughterhouse-strangler victim, Maya treds into PTSD territory by offering to sabatoge Emily's swim team with a sickle and a semi-automatic — well, not exactly. But the girl gets morbid:
Emily: "It's just so weird, watching them celebrate and not being a part of it."
Maya: "What can I do? Steal their swimsuits? No, no, no, drain the pool. No no no I got it, I got it — fill their shampoo bottles with Nair. Talk to me."
Emily: "No, making them bald would actually give them an edge on the competition…. Trust me, I've already considered it."
Me: "Also, Nair smells like Nair and hair grows back, swimsuits are easily replacable objects and pools are easily re-filled. Also, it's so obvs that the actress who plays Maya is about 15 years too old for high school, despite the petite figure and generous lipgloss producers seem to think will fool the audience. YOU CAN'T FOOL ME!"
So, Emily's Mom is coming into town and Maya's curious if Mrs. Fields still hates the living shit out of her junkie ass. Emily says her Mom is a "totally different woman" now, because she is, and it's sweet and true. Besides, says Emily, it's not her fault Maya's allegedly hippie parents shipped her off to a two-year marijuana recovery program intensive.
Maybe one day, Emily and Maya will kiss WITH TONGUE!

Next up, Emily's walking from nowhere to somewhere else and spots an arts & crafts project dangling perilously on her locker door — preparing for another excerpt from A's Sex Cheques, Emily cautiously opens the note…
UT-OH IT'S A! Then Emily flips it over and finds a pot cookie! JK, it's not a pot cookie, it's the kind of cookie Moms can make on airplanes. LOOK WHO'S HERE!!!
Firstly, Mom looks great! HUGS!
I'm waiting for Mrs. Fields to reveal she's staying in a fancy hotel and ask if Emily wants to throw a fancy hotel party there, but no dice. We have no clue where this woman is staying but regardless, Mrs. Fields would like to take Emily out to dinner, probs at Benihana:
Mrs. Fields: "Is there someone else you'd like to invite? Someone special? Someone new?"
Emily: "In a way. It's Maya. We started seeing each other again."
Mrs. Fields invites Maya to dinner, isn't that nice?
Emily: "I know you weren't crazy about Maya."
Mrs. Fields: "There was a lot going on back then. I feel like I never really gave her a chance and it'd be nice to have another opportunity."

Pages: 1 2See entire article on one page