feature image via AP Photo/Gary Kazanjian
There have been a half-dozen legal developments and court rulings having to do with Prop 8 since the ending of the original trial; some were relatively minor and hard to understand, and some could potentially alter the course of the marriage equality movement in America. The ruling being handed down today by the US 9th Circuit Court of Appeals is closer to the latter.
Today a three-judge panel — Stephen Reinhardt, who was appointed by President Carter; Michael Daly Hawkins, who was appointed by Clinton; and N. Randy Smith, who was appointed by George W. Bush — announced their decision on whether Judge Vaughn Walker's ruling on Prop 8 should be upheld. In a 2-1 decision, the panel ruled that restricting marriage to a man and a woman is indeed unconstitutional:
"Proposition 8 served no purpose, and had no effect, other than to lessen the status and human dignity of gays and lesbians in California," the court said.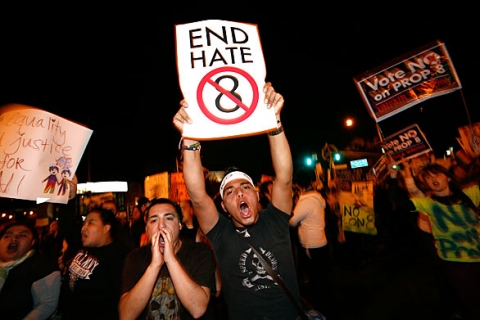 Proponents of Prop 8 have confirmed their intent to appeal; while they have the opportunity to appeal to a larger panel of the 9th Circuit Court, or they can take their appeal straight to the Supreme Court. Protect Marriage, the group defending Prop 8, has indicated their intention to take it to the highest court possible as soon as they can. Judge N. Randy Smith was the dissenting vote, writing that "…he wasn't convinced that there couldn't have been a rational basis for citizens to enact the law, such as promoting responsible procreation and optimal parenting."
The ruling will be limited to California, which means that no other marriage laws or bans in other states will be affected. When the appeal reaches the Supreme Court, though, that decision will have far-reaching consequences for marriage laws nationwide; it will essentially determine whether it's legal to enact a ban on same-sex marriage. The LA Times reports that "The high court is expected to be divided on the issue, and many legal scholars believe Justice Anthony Kennedy will be the deciding vote." A ruling from the Supreme Court probably won't come until at least 2013, "unless the justices take extraordinary steps to expedite the case."
Also, thanks to AS reader kokari, who has already read the entire decision and has helpfully identified what's going on with the stay that was originally applied to Judge Walker's ruling, and which determines whether couples can marry yet:
On page 80 it says "The stay pending appeal issued by this court on August 16, 2010 remains in effect pending issuance of the mandate." 
Based on that, it would appear that we'll have to wait for further developments in court before couples in CA can legally marry again.
Read the full decision here:
10-16696 #398_Decision
Check back for more updates!