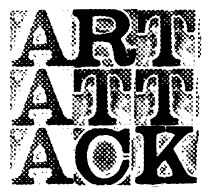 Art Attack Month:
0. 1/28/2012 – Art Attack Call for Submissions, by Riese
1. 2/1/2012 – Art Attack Gallery: 100 Queer Woman Artists In Your Face, by The Team
2. 2/3/2012 – Judy Chicago, by Lindsay
3. 2/7/2012 – Gran Fury, by Rachel
4. 2/7/2012 – Diane Arbus, by MJ
5. 2/8/2012 – Laurel Nakadate, by Lemon
6. 2/9/2012 – 10 Websites For Looking At Pictures All Day, by Riese
7. 2/10/2012 – LTTR, by Jessica G.
8. 2/13/2012 – Hide/Seek, by Danielle
9. 2/15/2012 – Spotlight: Simone Meltesen, by Laneia
10. 2/15/2012 – Ivana, by Crystal


After deciding in early 2009 that I was going to take the plunge and get a tattoo, I read every article on the art form that I could get my hands on. Newly schooled on the difference between a tattooist and a tattoo artist, I decided that if I was going to get a sizable piece of art inked on predominately visible part of my body then I'd better search high and low for the latter, for the best tattoo artist that I could find.
After almost one year of researching prospective tattoo artists in Australia and even overseas, I finally found The One. Her name was Ivana, and the moment I saw her online portfolio it was love at first sight. Unlike with the hundreds of tattoo artist portfolios I'd looked at before hers, there was not a single tattoo in Ivana's book that I felt indifferent or ambivalent about. Every piece was like nothing I had ever seen before, I wished they were all tattooed on my body.
For the most part, Ivana creates brightly coloured pieces of art that pop off the skin as if they were 3D. However her style seems to be continually evolving. Although specialising in black and grey tattoos at the beginning of her career, Ivana now creates original and often surreal pieces that are a blend of her clients' fantasies and her own. Her distinctive colour and shading work and noticeable lack of a black outline in most of her pieces are just a few elements that make her tattoos stand out from the crowd.
The quality of Ivana's work is no doubt partly due to her desire to have creative freedom, choosing to turn down the tattoo requests that she will not enjoy or believes won't work well on skin. As she explained in an interview with Skin Artists, "I like the fusion of people's fantasies with mine, but mostly I like freedom in what I do. I like when someone gives me a little description of what they want and I can create whatever.. In many cases I'm the main creator."
Ivana hails from Trencin, Slovakia, though she no longer resides there. Remarkably, she is a self-taught tattoo artist who has had no formal art training.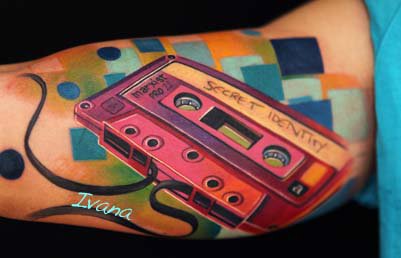 Judging by the number of people who have stopped me in the street and asked "is that by Ivana?", I'm far from being the only admirer of Ivana's work. Check out her Facebook albums and be amazed.