Feature image via DapperQ
Everywhere — from Paris catwalks to grocery store checkouts — is filled with ideas about how to dress. They've got rules and handsome men clones galore, but what do you do when they're not talking to you? Sure you can ignore them, but even dapper queers, fancy bois and dandy ladies need some help now and then. With that in mind, Anita Dolce Vita of dapperQ rounded up some experts and set out to create a style guide for us.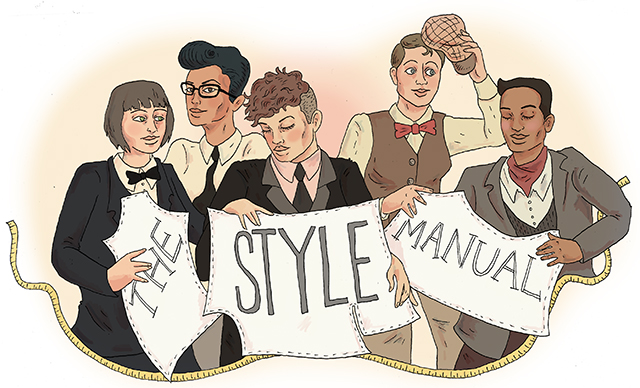 Header by Rosa Middleton
Chapter 1: The Suit
Part 1: An Introduction To Suits

Part 2: Classic Rules, Sizing and Fit
Chapter 2: The Shirt
Part 1: Finding Your Dream Dress Shirt

Part 2: The Fashion Council Answers Your Questions
---
Welcome to Chapter 2 of our Style Manual for masculine gender nonconformists and transmasculine individuals (here on referred to as dapperQs).
Esquire magazine states that a quality white dress shirt [at minimum] sits on the totem pole of necessity somewhere between a "belt and a toothbrush." Yet, many dapperQs struggle with finding at least one decent dress shirt that fits.
So, what's a dapperQ to do?  First off, you have to start from the start. We'll walk you through some basics. Some of the vocab may seem a bit esoteric and trivial, but you can't complain that you're not finding what you want if you don't know what you're looking for. And besides, you can't break the rules until you know them.
SHIRTOLOGY 101: Vocabulary
Section 1. Anatomy of a dress shirt
(1) Collar (2) Yoke (3) Sleeve (4) Front Placket (5) Pleat (6) Dart (7) Sleeve Placket (8) Cuff
If you really want to nerd out about collars…
If fancy cuffs are your thing…
If you're crazy about plackets…
And, if you want to know all there is to know about pleats…
Section 2. The "Rules"
Menswear experts agree on the following fit guidelines:
Torso
Your shirt should fit exquisitely: not too snug and not too billowy. When your shirt is buttoned, there should be no "pulling" and the buttons shouldn't be hanging on for dear life. While many dapperQs believe that wearing oversized shirts will conceal weight or make them appear more masculine, all of the menswear experts advise against wearing "boxy" clothes because it looks sloppy and adds bulk.
Waist
Sit down when you try on dress shirts. When in a seated position, your shirts should skim your waist, allowing for "eating" room. And again, the shirt should have some fit around the waist (close, but not tight).
Neck
So, the writers at Details magazine believe that the golden rule with respect to collar fit is that you "should be able to comfortably fit two fingers between your neck and the collar of the shirt when it's buttoned." Seems pretty straightforward. Except, GQ magazine states, "Make sure you can comfortably fit one finger between the collar and your neck. If two fingers fit, the collar's too big." I guess this means we have some leeway, which is a good thing for dapperQs.
Collar Style
According to Ivette and Crystal González-Alé, Founders and creative visionaries behind the Marimacho masculine clothing line for diverse bodies of all genders, "Your collar should complement your face. If you have a round face, you should wear a pointed collar; if you have a thin face, you should wear a spread collar; and if you have a long neck, you should wear a high collar." Keep in mind: Collar points are the tips of the collar, spread is the distance between the collar, and collar height is how high the folded collar extends on your neck.
Sleeve
The cuffs of your shirts should fall between your thumb and your wrist.
Length
Your shirt should be long enough to CYA when you're seated. Avoiding plumber's crack – yet, another reason to sit down when trying on shirts.
Section 3. Sizing and Fit 
Here's where things get a bit tricky. Some of our answers are going to relieve a bit of your stress, while others are going to add to your existing frustration. One thing that you must know and be comfortable with now: Menswear is not really made to fit the average American cis-male body either. Cis males often have a hard time getting their neck sizes to match their waist or arm sizes, struggle with finding clothes that fit when they are "between sizes," etc. NPR recently gave a graphic breakdown noting the differences between off-the-rack, made-to-measure, and bespoke suits and menswear blog Put This On produced a video detailing the differences between custom-made and off-the-rack dress shirts.
This is not to minimize the unique fit challenges experienced by dapperQs. But rather to encourage you to look into tailored and/or bespoke shirts which will be your best bet when finding the fit you desire.
One thing is certain: It doesn't matter if you're going high-end custom-made or thrift store chic, you definitely need to know your size. Yes it's true, many off-the-rack dress shirts do come in sizes such as XXS – 4XL that can be grabbed by the handful and dragged into the dressing room with you. To streamline this process, dapperQ created a ball park size chart that translates basic boys and menswear sizes here. However, since we're getting down to the nitty gritty, let's talk about this kind of tag: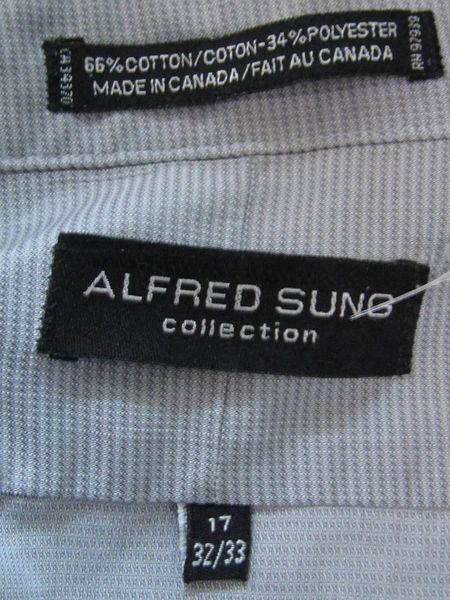 The first number (17) corresponds to your neck measurement and the second numbers (32/33) to your sleeve measurement. Do you know your size?  We've got a video to help you find out.
Be sure to check back tomorrow for answers to you questions from Anita Dolce Vita and her crew of experts.