Feature image via DapperQ
Everywhere — from Paris catwalks to grocery store checkouts– is filled with ideas about how to dress. They've got rules and handsome men clones galore, but what do you do when they're not talking to you? Sure you can ignore them, but even dapper queers, fancy bois and dandy ladies need some help now and then. With that in mind, Anita Dolce Vita of dapperQ rounded up some experts and set out to create a style guide for us.
Chapter 1: The Suit
Part 1: An Introduction To Suits
Part 2: Classic Rules, Sizing and Fit
Part 3: The Fashion Council Answers Your Questions
---
Suit Basics: The Universal Rules
Price
The suit is a staple of any wardrobe and certainly a quintessential piece of masculine attire. Invest, invest, invest! Invest in a great suit. Invest in great tailoring.
Color
If you are on a limited budget and can only afford one good suit, start with a dark color. You can add khakis and pastels as your income and suit knowledge grow. Some fashion experts will warn against the black suit, arguing that it lacks authenticity and wears too much like a uniform. Dapper grays and rich navy blues are the experts' choice. In fact, most experts recommend that you own TWO medium weight suits that you can wear year-round: one gray and one navy blue. However, black does match with pretty much everything, and you can wear it with color and patters to add flare.
The Shoulder
Your jacket should not have too much padding, if any, and the seam should fall along the shoulder. If there is padding, it should not slide off the shoulder or create any bulging. Your shoulder should not be visible in the sleeve.
One of the biggest complaints dapperQs have is that the padding in menswear jackets often makes them look like a linebacker. You can have your tailor remove the padding, but this may cause the jacket to have a different structure and create an unflattering fit.
To avoid the linebacker look, Stephanie Garcia, assistant manager at Formally Modern Tuxedo, recommends buying a jacket one size smaller and wearing the jacket unbuttoned with a backless vest.
The Lapel
Look for midsized lapels that are not too wide or too narrow. Lapels should lay nice and flat across the chest, with no bulging or bowing. Many lapels have notches, which should sit high on the collarbone, close to your tie knot.
The Buttons
A single button suit will remove any confusion about which buttons should be buttoned and which buttons should remain unbuttoned. Only the middle button should be buttoned on a three-button suit, and only the top on a two-button suit. Buttons should fasten without leaving bulk fabric or, on the opposite end, causing fabric to pull.
The Waist
You may be tempted to avoid a fitted waist for fear it will look too feminine. But even masculine-presenting people should look for a jacket with a fitted waist to prevent a "boxy" look. Boxy look? Think George Kastanza.
The Jacket Length
Traditionally, when it comes to men's suits, the bottom hem of your jacket should fall parallel to your knuckles or, in business speak, CYA. But this is an area where dapperQs have a great deal of leeway. (Notice the difference in jacket length between Ellen and SamRon's jackets below.) Menswear blogs often note that this jacket length rule poses problem for short folks; if you don't have long legs, wearing your jacket over your butt can make you look shorter and as if you're a kid playing dress-up.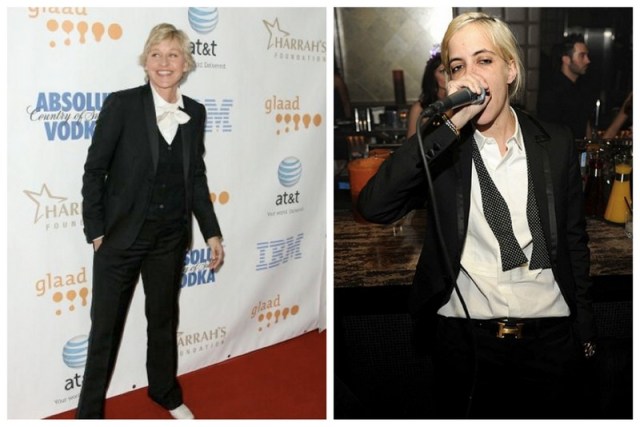 Women's suit jackets, however, come in a variety of lengths. If you're open to wearing them (think Katherine Moennig), you can adjust the jacket length to accentuate or minimize different parts of your body. For example, if you want to minimize your hips, purchase a jacket that falls just below or above your hips.
There ARE other differences between men's and women's suit jackets to keep in mind. Two major differences are the buttoning and cut. Men's garments generally button left-over-right, while women's garments generally button right-over-left. In terms of cut, women's jackets tend to be more fitted in the waist in addition to varying in length.
The Shirt Cuff
The sleeve of your jacket should be just long enough to allow at least one quarter to one half inch of your shirt cuff to show.
The Trouser
Your trousers should sit on your natural waist just below your belly button — not low-rise or high-rise. A medium break is standard and there should never be too much fabric covering the shoe (only enough to cover the laces). Some fashion bloggers believe that if you don't have some give in the shins and your pants hang straight down, they are probably too short. However, slim-fit, short break Euro-style suits are becoming more popular in the U.S. I know it's only rock-n-roll, but I like it!
SIZING & FIT
Men's suit sizes are denoted with a number and sometimes a word or a letter. For example, 40S or 40 Short, 40R or 40 Regular, and 40L or 40 Long. The number corresponds to your chest size, which is also your jacket size, and the letter or word corresponds with the jacket's length, which will depend on your height.
Jacket
Here are some ballpark guidelines in terms of determining your jacket length:
Short (S): 5'5″ – 5'8″ tall
Regular (R): 5'9″ – 5'11" tall
Long (L): 6'0″ – 6'3″ tall
Extra-Long (XL): 6'4″ – 6'6″ tall
To measure your chest size:
1. Stand up straight with arms at your sides.
2. Measure the fullest part of your chest under the arms.
3. This number is your chest size and also corresponds to the number on jacket and suit sizes.
Trousers
What about the pants?  Ready-made suits have what is known as a "drop." The pants sold with American made suits generally have a 6-inch drop, meaning that the pants are 6 inches smaller than the jacket size. So, the drop is the difference between the jacket and pant size. For example, if you're a size 40 jacket, the pants sold with the jacket will have a 34-inch waist. So, um, if you're big or small busted…do I hear the tailor calling again???? In fact, Esquire magazine points out the tough reality that holds true even for cisgender men:
"Are you a 'drop-six'? If you are, you're a suit maker's dream: Your chest is six inches larger than your waist. You can wear anything. Sadly, most of us don't live inside those ideal tailoring measurements."
To measure your waist size:
1. Put one finger between your body and the tape measure to allow for seating and "eating" room.
2. Measure around where you normally wear your pants (about naval level or at the top of your hip bone).
Additional tips:
If you're short and skinny…
Try thicker fabrics. If you're open to it, try a women's jacket. As previously mentioned, women's jackets vary in length, so a shorter jacket will make your legs look loooooonger! But, be careful big busted daps; jackets that are too short can draw attention to your chest. Avoid all black (makes you appear even smaller) and extra padding (makes you look like a kid in your parents' clothing).
If you're short and stout…
Go with single vents; they keep your silhouette slim if you have the right sized jacket. The two-button closure creates a deeper V than a three-button closure and elongates the body. Avoid horizontal stripes and splitting your frame in half with mismatched suit jackets and trousers (e.g. a navy blue jacket with khaki dress pants).
If you're tall and skinny…
You can get away with horizontal lines, longer jacket lengths, and three- button closures. Avoid tight suit jackets and short breaks, which can appear very "Pee-Wee Herman." (Although, Thom Browne is bringing this look back.)
If you're Big and Tall…
You want dark colors, straight cut pants, and clean lines. You can pull off longer jackets, especially if you want to minimize your bust and hips. Stay away from bold patterns, horizontal stripes, padding, and heavy fabrics.
And more about your butt, hips,  and bust…
You've heard it before and you'll hear it again…tailoring! The key, however, is to fit the largest parts of your body first, and then have everything else taken in. Even if it looks ridiculous at first, remember that the tailor can fix it by removing excess fabric! The tailor can't do as much in terms of "letting out" a suit that is too small; it creates creates lumps, bumps, and bulges all over.
Also, be sure you wear a proper fitting bra or binding for the coverage you are seeking when trying on suits and visiting your tailor for fittings.
Be sure to check back tomorrow for Part Three of The Suit