Feature image via DapperQ
Everywhere — from Paris catwalks to grocery store checkouts — is filled with ideas about how to dress. They've got rules and handsome men clones galore, but what do you do when they're not talking to you? Sure you can ignore them, but even dapper queers, fancy bois and dandy ladies need some help now and then. With that in mind, Anita Dolce Vita of dapperQ rounded up some experts and set out to create a style guide for us.
Chapter 1: The Suit
Part 1: An Introduction To Suits
Part 2: Classic Rules, Sizing and Fit
Part 3: The Fashion Council Answers Your Questions
---
The suit. It doesn't get any more dapper. There's a reason why the word power often precedes it. And, although it hangs dusty in many o' closets waiting for events that call for conservative attire, it can be dressed down — think paired with sneakers — to give a casual feel, a la Ellen Degeneres.
Why is it, then, that so many masculine presenting genderqueers, transgender men, lesbians, bois, studs, AGs, doms, dykes, and butches (referred to from here on as dapperQs) feel so powerless when shopping for a suit?
Finding a good suit is a painstaking challenge for most people regardless of their gender presentation, sexual orientation, and personal taste. Most suit designers make their standard prototypes to fit models, not the average consumer. It's unrealistic to expect mass produced suits to fit as if they are custom made; just as not all size 2s are the same, not all size 22s are the same. A few of us are lucky and can get away with building a substantial wardrobe without ever visiting a tailor. But the majority of us need a little help; we have to get comfortable with the idea of tailoring!
With that in mind, let's take finding a good suit step by step.  We'll start with definitions and "universal rules" (Queers are already used to breaking the rules, so feel free to break some more…just do it with style.) because, equipped with this information you can better advocate for yourself in shopping situations that are already stressful. Later on, a couple of members from our fashion council will answer some of your more specific questions.
+
Suitology 101: Vocabulary
+
Section 1. Interpreting the Dress Code on the Event Invite
+
Black Tie-Attire: This means it's time to break out your tux. Stick with basic black and white.
Black Tie-Optional: You can opt for a dark suit instead of a tux. Black patent leather shoes are appropriate in this case. Those who feel like a million bucks in a tux can put theirs to good use because, as the invitation implies, the host expects that some guests will arrive in traditional black-tie attire.
Business: Suit. Dress shirt. Tie. Dress shoes. Period.
Business Casual: People generally only see the word "casual" on an invitation that calls for business casual. Do not arrive underdressed. This is not the time for your Old Navy polo shirt. Wear a crisp ironed dress shirt, dress trousers and dress shoes. Save the sneakers and jeans for the sports bar.
Cocktail Attire: This is not to be mistaken with business casual. Try business with a twist. Add some color or patterns to avoid looking like you just came from work, but do not overdo it.
Dressy Casual: Again, easy does it. Put away your sweatpants and baseball cap. Instead, this is the time for a button-down shirt, a tie (optional), a sports jacket or blazer, slacks, and loafers/wing tips/oxfords. If the invitation just says "casual," you can even get away with jeans, dressy shorts (e.g. for a beach wedding), substituting the jacket with a pull-over sweater and exchanging loafers/wing tips/oxfords for a hip pair of sneakers.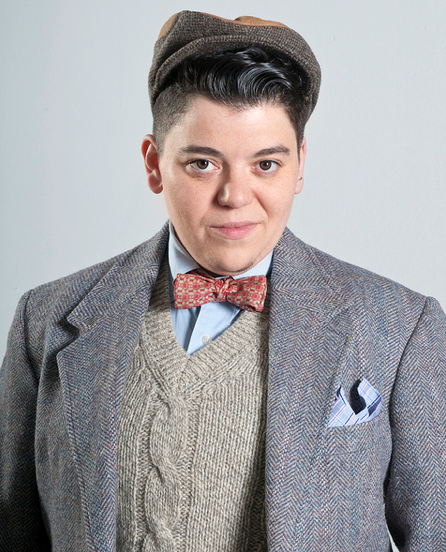 Pop quiz: Is Sinclair Sexsmith wearing business, business casual, or dressy casual?
A: Depends on the season, the company's dress code, the industry, and how dressy the bottoms are (e.g., jeans or dress trousers), according to fashion and etiquette gurus.
+
Section 2. What is What on a Suit
+
Lapels: Lapels are the upper folded flaps on a suit jacket.
Double-Breasted Suit: A double-breasted suit has two columns of buttons with two to three buttons per column. The jacket flaps have enough fabric to allow for buttoning with overlap on the left and right sides.
Single-Breasted Suit: A single-breasted suit has only one column of one to four buttons. The jacket flaps have just enough fabric to allow for buttoning with no overlap.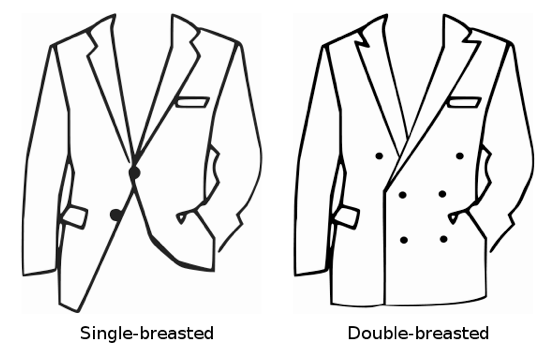 The Break: The break is the horizontal line created when your trousers, pants or jeans meet your shoes.  The three different types of breaks are short, medium, and full. Designers use different breaks, depending on the trend or look they are trying to sell. Overall, you want to go for a medium break if you don't have a lot of money to buy multiple suits; it's classic and prevents your pants from appearing too short or too long. With a medium break, your pants should hit midway between the top of your dress shoe and the top of your sole.  Your pants should hit your shoes with no more than an inch of fabric to spare.
Tuxedo:  The biggest question: What is the difference between a tuxedo and a suit? The simplest answer: The tuxedo jacket is more formal and typically adorned with satin trimmings. It should be paired with formal tuxedo shoes that are patent leather, not matte. You should avoid wearing a dress shirt with a pocket on the front with a tuxedo. Here's Ellen and SamRo with their takes on the tux: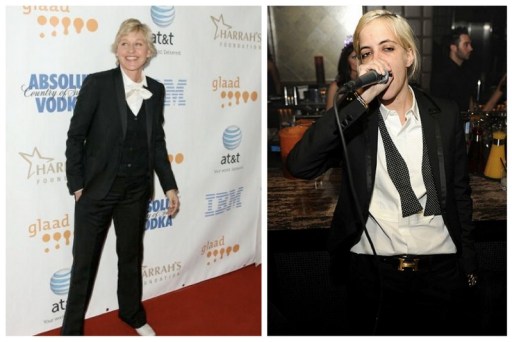 Stroller (AKA Stresemann, a director, or simply black lounge): A black or dark gray jacket, cut similar to a suit jacket but with peaked lapels, that you might wear to your own wedding. It is appropriate to wear if your wedding is a semi-formal daytime event. Strollers are always paired with striped or checked formal dress trousers, a gray or silver necktie and a waistcoat.
Vents: Vents are the slits on the lower back or side of a suit jacket that help the jacket hang better when in a seated position. There are non-vented jackets (rare), single-vented jackets (one center slit down the lower back side of the jacket) and double-vented jackets (a slit on each side of the bottom of the jacket).
Waistcoat: Short and sweet, it's just another term for a vest.
Be sure to check back tomorrow for Suitology 102