Last weekend, the largest group of LGBT gamers ever gathered for an epic, virtual pride parade in Final Fantasy XIV. Though pride parades have happened in Massively Multiplayer Online Role-Playing Games, or MMORPGs, in the past, this one in particular is notable for its size and context.
An MMORPG is a game where people can customize personal avatars to go on a series of adventures for experience and achievements. This may seem like a broad definition, but that's because a broad variety of games fall under the MMORPG category, including fantasy epics, music or racing games. People can play as humans, orcs or even pandas.
A few games have included same-sex couplings in relationship options for characters (most notably The Sims and Star Wars: The Old Republic) and World of Warcraft's LGBT guild, Proudmoore, has hosted 10 years of Pride Parades in Azeroth.
Last weekend's pride parade was organized by the Rough Trade Gaming Community (which describes itself as "the world's biggest LGBT guild") and celebrated Square Enix's decision to allow same-sex marriages in FFXIV. This may be a culturally significant moment for LGBT gamers, since Square Enix is a Japanese company that has received criticism for conservative/problematic stances in the past.
In a Q&A in 2012, the creators of FFXIV stated:
"As for same-sex marriage, this is an extremely controversial topic that has been under discussion in the MMO world for the past few years. First we would like to start out with opposite-sex marriage, and then consider the feedback from our players in order to make a careful decision. I can't say whether or not it will be possible at this point in time. I'd like to keep dialog open with our players as we deliberate the matter."
The diplomacy of this answer is well and good, but here's where it gets choppy: these claims of potentially using audience feedback were total bull.
After the game was released for testing, there was controversy over censorship on the beta game forums. Players arguing both for and against same-sex marriage in FFXIV had comments and entire threads deleted—even ones that did not violate the forum rules. Some claim that even addressing same-sex marriage in FFXIV resulted in a ten-day forum ban.
So, even though Square Enix released a diplomatic official statement, they did not remain neutral. They may not have given any definitively bigoted answers opposing same-sex marriage, but neutrality and censorship of same-sex marriage advocates directly supports the heteronormative system in place. The forum bans and deletions caused controversy and after almost two years, Square Enix finally reacted to its LGBT players' demands.
…(from video of Square Enix's announcement) Quoting from a translator here, Yoshida said that upon the arrival of the 2.4 patch, "people within Eorzea will be able to pledge their eternal love and or friendship in a ceremony of eternal bonding. And this will be open to people regardless of race, creed, and gender. Two players…if they want to be together, in Eorzea, they can—through this eternal bonding ceremony."
This is definitely a step in the right direction for Square Enix and Final Fantasy. It's exciting to see queer identity recognized rather than caricatured. (Do you remember that puzzle in FFVII where Cloud had to collect women's clothing to audition as the girl who will spend the night with Don Corneo? He had to go to a bathhouse-ish gym and do a squatting competition to win a wig…)
When building a fantasy world, players want to bring the most meaningful parts of their lives with them, and this often includes personal relationships. When a player cannot reflect a part of their lived identity into a world that has fantastical elements, it can feel like invisibility.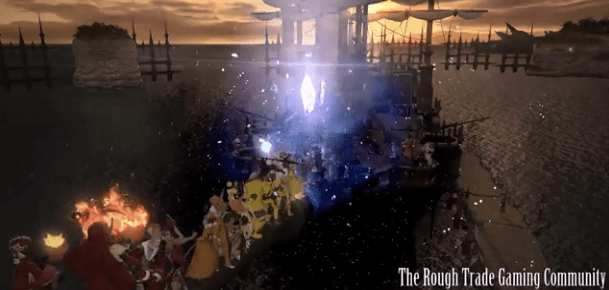 It's sort of like when racists defend their racism by saying "I don't care if you're black, white, purple or green!" As if purple or green people have experienced racial profiling, Jim Crow laws, or ya know, slavery. Or worse: as if your racial identity is so unreal to people that you might as well be purple.
Your sexuality might be so unbelievable that it cannot exist alongside dragons, wizards and blood goblins.
So before we run off into an Eorzean sunset, let's remember what we can learn from Square Enix/Final Fantasy. Neutrality PLUS censorship EQUALS silent erasure to support the powers in place. And in an infinite world of possibility, players choose to seek the joy of loving personal relationships. Let's not let the fantasy of the game obscure the fact that each avatar is linked to a real human being with a lived identity.
---
Feature image via Dikiiy / Shutterstock.com