I am a big fan of cats and Tumblrs and Tumblrs featuring cats saving my sanity when it comes to matters of misogyny and/or stupidity. So it is no surprise that I am ALL THE FUCK OVER the latest feline Tumblr craze. Let me explain.
Some lost souls who don't seem to have a clear definition of feminism started a Tumblr/hastag/misguided internet movement. It includes women from various nations holding up signs about why they don't need feminism. It features gems such as feminism means women preaching equality, but asking for special treatment (equal pay is special treatment?) and "I don't need feminism because my boyfriend treats me right" (great value judgement on anyone who's ever been in an abusive relationship, also did you know that IBM doesn't hire young women?). If you would like to satisfy your morbid curiosity, you can check the Tumblr out without giving them any clicks.
I must warn you, though — your eyes might feel like they're disintegrating with each progressive uninformed claim. If you'd prefer not to leave your eyeballs in a gooey puddle next to your computer, here is a summary of said misguided internet movement:
FEMINISM!
This whole "women against feminism" thing makes me want to shoot myself into the sun. But along came a blog that is making it a little better.
Confused Cats Against Feminism purports to have nothing to do with this responding to this other horrifying movement, but lol, it totally is. I could analyze it or say some words about it or some bullshit, but honestly I think the images speak for themselves: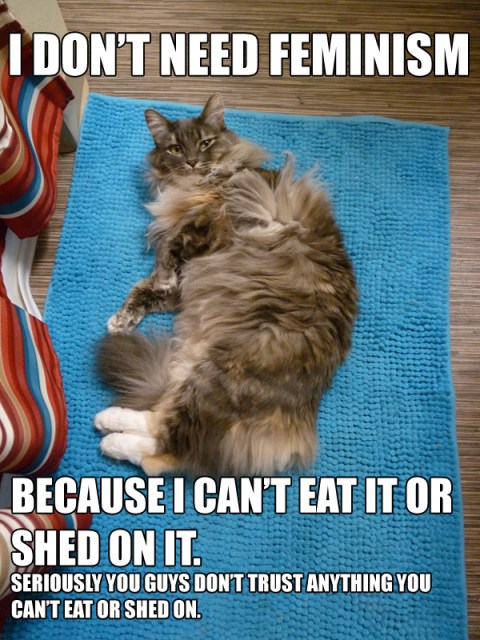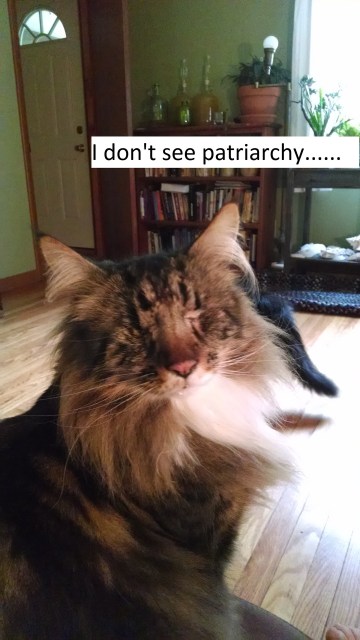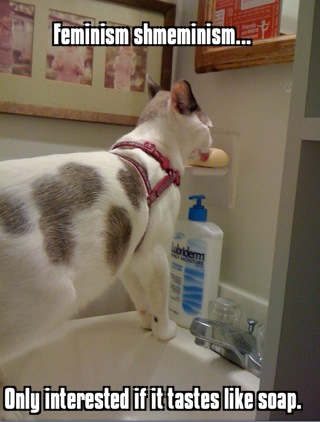 Show this Tumblr some love and/or submit your confused cat against feminism. Personally, my cats are only interested in the domination of the entire human race, regardless of gender.