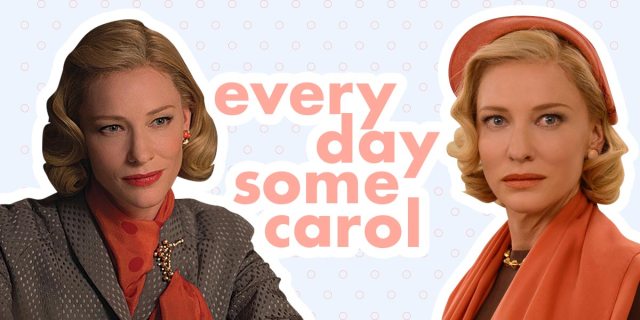 Look, I don't like this any more than you do. I don't want to be doing this. But we have to keep ourselves honest. We the Carolhead Nation are nothing without our integrity.
That means admitting the hard truths, or at the very least leaving space for their possibility. Or at the very, very least cracking the door to that space with a visual aid and letting people infer from that what they will.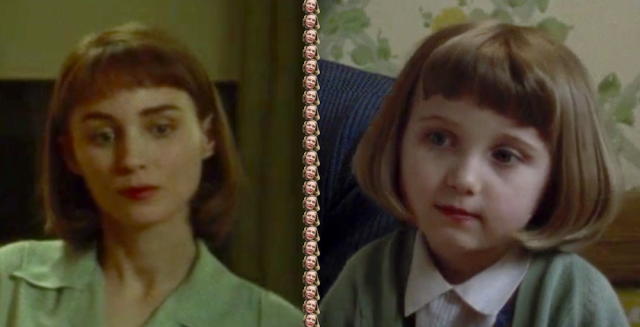 This picture of Therese, Carol's angel, and Rindy, Carol's sweet pea, could be chalked up to coincidence, sure. This hairstyle was popular for women in the '50s. The page boy, or "pudding basinwp_postscut, was experiencing a… renaissance, and so of course you'll find instances of it repeating itself. But let's also consider its lively entourage.
If you think that the prominence of "Mommy's babywp_postsis not a purposeful eye-draw the first time Therese faces Carol, you've got another thing coming. Literally, 30 seconds later, when Therese explains that the Bright Betsy doll cries  "…and wets herself,wp_postswith the knowing cadence of someone looking to expose a person's last speck of modesty to a white hot heat. Tying all of this together is Rindy as what drives the scene.
I would love to say it ends there. Except we know soon after their initial meeting, upon the news that Harge is seeking full custody of Rindy, as in taking her away, Carol's first instinct is to gone-girl Therese with a cross-country trip on what would be their fourth time seeing each other. Yes, Carol operates at a baseline of medium-to-high bold at all times, but the timing of this one is hard to explain away. Not long after that, we get this beautiful hair brushing parallel shot rounding out the first time we see Rindy and the last time we see Therese as the Therese we first met.
Anyway. Attraction is complicated! Hahaha! Have a good Thursday!!!