The first time I encountered Laurel Nakadate was a week after I moved to New York City — a time when it still felt weird to say "New York Citywp_postsout loud because it felt more like I was quoting a great writer rather than merely stating the name of a place where I happened to live. I had gone to the MoMA to hear Laurel speak about some of her recent work for part of a class I was taking at the time and I had no idea what I was getting myself into. It wasn't until a long time after the show that I realized that Laurel Nakadate, on the other hand, is someone who always seems to know exactly what she is getting herself into, which is precisely the point of her work.
Laurel is a photographer and video artist from Iowa who lives and works in New York. She is known for doing surprising and dangerous things like going home with strangers – men who approach her on the street and such – and then filming her interactions with them. The result is often awkward and unsettling. It feels slimy and exploitative, but at the same time it also feels sad and pathetic. The men she has selected to film are mostly older men who appear to be lonely. Some people fear she will one day take this too far.
"I feel like that's all part of it,wp_postsshe said in this interview with VBS, "taking these chances and constantly feeling out the situation and knowing when to leave – it's like with anything in life."
In a similar endeavor called Lucky Tiger, Laurel took pictures of herself in provocative, pinup positions, printed them, and brought the prints to a group of men at a truck stop on the side of a highway. She rubbed each of the men's fingers with finger-printing ink before handing them the pictures of herself one by one. She was interested in where the men would put their fingers. The name of the piece came from one of the men she had met that day; pointing to the tiger that decorated Laurel's bathing suit in the photograph below he said: "That's a lucky tiger…"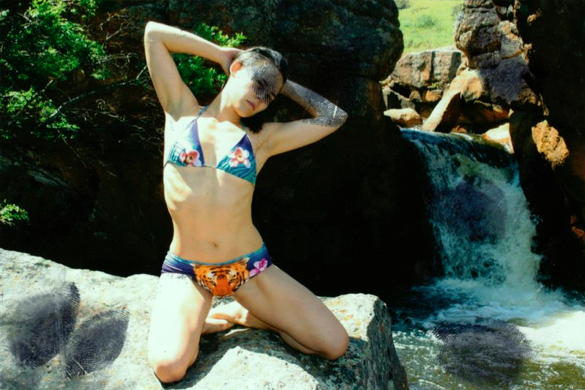 This is a strange concept to consider as a female-identified person in this day and age. In an era still steeped in rape culture, I'd say that getting mixed up with strange men is exactly what you probably shouldn't do. But then again, Laurel seemed to turn this dynamic on its head. She wasn't getting mixed up with these men, the men were getting mixed up with her. In an interview with The Rumpus, she explained her fascination with the uncomfortable moments she encounters in her work.
The amazing thing is that we live our lives with the hope that things will go right, that things will happen. And all along the way, we're inspired by the unknown and the unnameable. The minute you can fully describe something it's gone. The most amazing moments are when something horrible is about to happen or has just happened. The iceberg falling into the ocean. That aching moment. You can see the pieces, you can see how they fit together, but you can't put them back together. Also, I'm drawn to moments of ambiguity, when things could go right or they could go wrong. I'm interested in discomfort. Discomfort is a place where we're still close enough to comfort to understand our unhappiness. Most of the things we desire are things that can destroy us.
She further explored her own unhappiness in a recent project that she called The Catalogue of Tears which involved her taking pictures of herself crying every day for 365 days straight.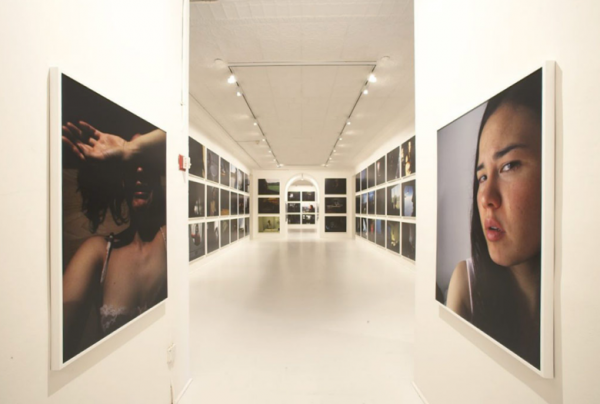 She told someone at the MoMA all about why she decided to pursue such a sad endeavor. [Hint: it has to do with Facebook]
She also did a photography project where she rode a train across the country and took pictures of a surprising amount of her own underwear that she tossed out of the window throughout the journey.
And yet what fascinates me the most about Laurel Nakadate are her mysterious, low-budget feature films. In her presentation that day in New York, she showed us clips from her first film, Stay the Same Never Change – all of them wonderfully bizarre, awkward and serene. The trailer itself is very beautiful and somehow resonant despite its cryptic context.
Her newest full-length film, The Wolf Knife, features two young girls who seem to be in some sort of homosexual relationship and you will probably find it to be some degree of intriguing.
For now I've moved away from New York City, but Laurel Nakadate's work will always remind me of that time in my life – a time where I allowed myself to feel dangerous and sad and simultaneously in-and-out of control.
Does she make you feel these feelings too?