Miley Cyrus might not initially be who you'd expect to be rallying for gay rights. (Although we did see her at Dinah Shore one year, so maybe she is?) Yet despite her Disney Channel beginnings and country western parentage, Cyrus has not fallen prey to oppressive "traditional family values" and instead stands up for what she believes in and also conveniently believes in marriage equality. Maybe it was all those Hanna Montana songs about being true to yourself. Last July 29th, Cyrus tweeted "All LOVE is equal" with a picture of her new tattoo, an equal sign on her right ring finger and sparked a twitter fan war when one fan disagreed.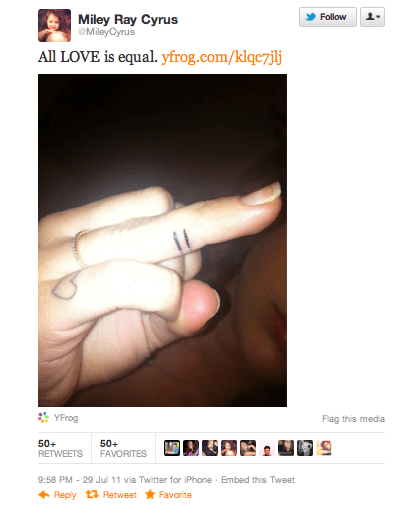 Though Cyrus has been no stranger to controversy as of late, this particular bump was not an issue of dress or behavior, but a small tattooed statement of equality. There was no apologetic press conference to let down fans. Thank God. This week Cyrus took to Glamour Magazine's website to defend marriage equality and explain the whole thing.
From Miley's article:
Imagine finding someone you love more than anything in the world, who you would risk your life for but couldn't marry. And you couldn't have that special day the way your friends do—you know, wear the ring on your finger and have it mean the same thing as everybody else. Just put yourself in that person's shoes. It makes me feel sick to my stomach… I believe every American should be allowed the same rights and civil liberties. Without legalized same-sex marriage, most of the time you cannot share the same health benefits, you are not considered next of kin and you are not granted the same securities as a heterosexual couple. How is this different than having someone sit in the back of the bus because of their skin color?
Cyrus's explanation came off as candid and honest, perhaps due to her close relationship with at least one occasionally mentioned gay friend. There were a few moments where she missed the mark a bit, and it gets a bit odd when she brings up her father being "a real man's man," but overall I was impressed.


I feel hesitant to criticize Cyrus if she wants to rally her legions of fans around marriage equality, but I have to wonder what compelled her to follow up on her tattoo over six months later. I imagine some of the delay was in the time it takes to negotiate, write and publish a magazine article in Glamour, but I can't help wondering if the timing wasn't related to, ahem, publicity.
Yup, Miley Cyrus has a new song out on the charity album Chimes of Freedom: The Songs of Bob Dylan Honoring 50 Years of Amnesty International and even promoted it on Ellen! To be honest, I found out about it while looking in to Cyrus's Glamour article. To be extra honest I've already downloaded it. So yes, maybe Cyrus's Glamour article wasn't Miley just being Miley. Maybe there was a slight intention to boost her own public profile, but I don't think that changes anything. I'm happy to live in a world where celebrities use defending civil rights as a means to bump their publicity. I, personally, have absolutely zero qualms about pop stars timing their promotion of equality as long as they're promoting it at all. In fact, with the exception of the phrase, "Dude, everyone lay off" I think Cyrus's article shows the same calm and maturity as her new song. Besides, she couldn't have timed this:

You're Gonna Make Me Lonesome When You Go Official Music Video: