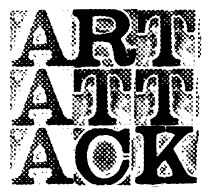 Art Attack Month:
0. 1/28/2012 – Art Attack Call for Submissions, by Riese
1. 2/1/2012 – Art Attack Gallery: 100 Queer Woman Artists In Your Face, by The Team
2. 2/3/2012 – Judy Chicago, by Lindsay
3. 2/7/2012 – Gran Fury, by Rachel
4. 2/7/2012 – Diane Arbus, by MJ
5. 2/8/2012 – Laurel Nakadate, by Lemon
6. 2/9/2012 – 10 Websites For Looking At Pictures All Day, by Riese
7. 2/10/2012 – LTTR, by Jessica G.
8. 2/13/2012 – Hide/Seek, by Danielle


When the security guard announced that the Brooklyn Museum was closing in ten minutes and I shuffled out of the Hide/Seek exhibition, I couldn't help but turn to my girlfriend and ask, "Why so many gay dudes?"
I should back up. This exhibition is important — Hide/Seek explores gender and sexuality as themes in modern American portraiture. Okay, so there's enough Andy Warhol to spend an hour on, and I know we learned about his soup can IN THIRD GRADE (even if the teacher did forget to mention the gay stuff), but there are lesser known artists, explorations of sexuality's societal challenges, and a few works that almost moved me to tears. As Roberta Smith concludes in her New York Times review, it is a "significant beginning" as the first major art show to focus on homosexuality as an influence.
Real talk: it doesn't delve as deep as it could. The show is a broad overview of several decades of art and as David C. Ward, one of the original curators, shared in an interview with ArtInfo Blog, it purposefully shies away from provocation. This shouldn't surprise us too much considering the works were first displayed by the National Portrait Gallery in our fine nation's capital. Although the show in DC was funded by private donors, The Smithsonian receives enough federal funding for its facilities that when the right Republicans complained (a certain weepy House Speaker-designate among them), the David Wojnarovicz video A Fire in my Belly (1987) was pulled from the exhibition for an allegedly sacrilegious depiction of an AIDS victim's suffering, namely a Christ figure on a cross covered in ants. Georgia Representative Jack Kingston called for a review of the NPG's funding and let us know via Fox News that he really disliked that Annie Leibovitz photo of Ellen DeGeneres grabbing her breasts, too.
You should obviously stop by to sock it to the man. The show travels to Washington State's Tacoma Art Museum in March. You might find that some of the pieces really catch you off guard. I probably would've overlooked several powerful messages had the works not been amassed with the purpose of exploring the visibility of sexuality.
Take this piece, for example:
My reaction was to wonder, "What's so gay about that?" I managed to suppress any phallus jokes out of reverence for a national tragedy. The blurb on the wall urged me to consider the meaning of the word "spy." In this photo, a self-portrait, Tseng is dressed in a traditional Mao suit in order to depict himself as an "ambiguous ambassador" from China posing for a snapshot in front of one of the world's most popular tourist destinations. In 1979, could he not have been suspected of spying for Communist China? But gays were also "spies" in that era; it was a slang term that referenced the way they existed quietly in society, playing straight to be part of it when in actuality they were outsiders, observers of an exclusionary, thereby foreign, society. Here Tseng embodies both meanings of the word.
I also want to share with you what ended up being my favorite work of art:
It took a minute to put everything together, but I eventually realized that Aguilar was going to bat for underdogs everywhere. She is many of the things American society systematically pushes to the fringes: a woman, Chicana, gay, obese, and dyslexic, to name those factors of which I'm aware. However, in this photograph she poses unabashedly nude in nature and the result is a landscape that includes her as matter-of-factly as it might include a grove of Aspen. Her figure posed by a pool of water is evocative of a mountain range reflected in a lake, which, unlike the life society might expect or prefer Aguilar to lead, is majestic, open, and dignified. This piece is an empowered commentary on American oppression.
There is more lady-work you should catch—portraiture from Annie Leibovitz, Cass Bird, and artists from further in the past like Romaine Brooks, who you'll find looking just dandy in a self-portrait from the 1920s. Unfortunately I left the show feeling bashed over the head by the story of the gay male, developed chronologically over the last century and a half. It's possible that in a show as period-based as this one, the absence of a large lady presence can be explained away with historical reasons. For instance, considering the Centers for Disease Control and Prevention have no record of any transmission of HIV ever between female sex partners, it would make sense for female artists to have less on display than their male counterparts in the section of the show labeled "AIDS." My girlfriend and I had another, more disappointing hunch, though. In a show that sticks mainly to mainstream artists (Warhol, Jasper Johns, and Robert Rauschenberg come to mind), women get the short end of the stick because herstory is STILL telling the tale of our struggle to break into the mainstream and be taken seriously.
As I'm sure you've been told already, go see this exhibition. Bring a large bag because there's free candy (Ross Laycock is now turning over in his grave). However, you may find in the end that your story hasn't been told yet.


About the author: Danielle lives in Brooklyn and has tried to free herself from the internet, so you are either very lucky or very unlucky to have found her here. She spends most of her time attempting to alleviate her road rage by running, writing, and partaking in hot cups of puerh. Most of her work occurs spontaneously and under her breath. However, as she reemerges on the web, you'll be the first to know where to find her.