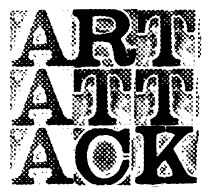 Art Attack Month:
0. 1/28/2012 – Art Attack Call for Submissions, by Riese
1. 2/1/2012 – Art Attack Gallery: 100 Queer Woman Artists In Your Face, by The Team
2. 2/3/2012 – Judy Chicago, by Lindsay
3. 2/7/2012 – Gran Fury, by Rachel
4. 2/7/2012 – Diane Arbus, by MJ
5. 2/8/2012 – Laurel Nakadate, by Lemon
6. 2/9/2012 – 10 Websites For Looking At Pictures All Day, by Riese
7. 2/10/2012 – LTTR, by Jessica G.

LTTR is a feminist genderqueer artist collective, and they are fierce as fuck. LTTR was founded in 2001 and produced an annual independent art journal for about seven years, with an inaugural issue titled "Lesbians to the Rescue,wp_postsfollowed by "Listen Translate Translate Record,wp_posts(both LTTR, get it?) "Practice More Failure,wp_posts"Do You Wish to Direct me?,wp_postsand most recently "Positively Nasty". They've also hosted and produced a number of performance series, readings, screenings and collaborations. LTTR is was founded by Ginger Brooks Takahashi, K8 Hardy and Emily Roysdon. Ulrike Müller joined LTTR in 2005.
Each of these ladies is seriously badass, and each has her own practice independent of LTTR. The LTTR Journal is sourced via an initial open call, and is then edited collectively by the group. Each issue was produced in an edition of 1000 and, devastatingly for people like me, all are sold out and very hard to get your hands on. I have a copy of Do You Wish To Direct Me? and it is without question one of my favorite things in my library/collection. This turn of phrase — "Do You Wish to Direct Me?" — has become my number one response to the day-to-day patriarchal nonsense that I encounter at my job (and everywhere else for that matter). If you want to check it out, along with the rest in the series, visit the Lesbian Herstory Archives (Have you been there? It's amazing. Go there! In fact, let's go together), Fales Library at NYU, and MoMA special collections in New York; Stichwort Archiv der Frauen- und Lesbenbewegung and Generali Foundation in Vienna; Bildwechsel in Hamburg, and MAKE, Goldsmith's Women's Art Library in London.
LTTR's last event was in March 2008, but a complete archive of their works can be viewed and perused on their website: lttr.org.
Excerpted from Editorial (Issue I: Lesbians to the Rescue)
"…we're here to reconstitute a new team under an old threat. to embrace our historical birth into feminist sexes and to move with the brilliant bodies languages identities and arts that this long walk has produced. but this lesbian we speak of I find him as ambiguous in nature as in verse. I find her over and over again. Listen Translate Translate Record. Lacan Teaches to Repeat. Lesbians Tend To React. Limits Through To Reasons. thank you. emily roysdon
we're getting up and on the go with no finish line and I like it. no lines but we make them, chants out of video pixels, aerosol paint and photos. we cheer in rotating circles, face forward, face out for our fields of vision. pencilspensdigits on keyboards. everyone in their own uniform! moving bodies in performance making daily manifestos.
we're so proud. k8 hardy"