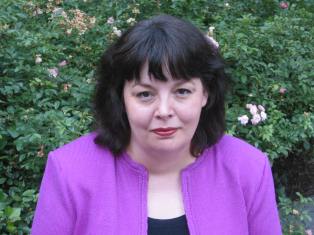 To begin, three anecdotes I'd like to tell you about from Mark Oppenheimer's excellent article on National Organization for Marriage founder Maggie Gallagher entitled the "The Making of Gay Marriage's Top Foe":
1. After her third marriage fell apart and "traumatized" her family, Sherry Weaver moved in temporarily with Maggie Gallagher, a mother she'd met at their sons' first day of kindergarten in Park Slope. Weaver ended up staying with Gallagher for seven months and she gives Gallagher's "happy home" a sparkling review: Maggie paid the bills, did the cooking, "nurtured" Weaver's family with "unbelivable kindness," slept on the couch with "grace and generosity" and was "happy to blend their families for months on end." Weaver told Oppenheimer that "this time with Maggie was a time of healing for us."
2. While an undergraduate at Yale, Gallagher says she was impregnated by her boyfriend of a year. Oppenheimer spoke to the alleged boyfriend (who is now a doctor with a family of his own) for this article and when Oppenheimer asked him if he and Gallagher had been a "couple," he answered "sort of." In fact, in 1982 when Maggie told her alleged boyfriend that she'd gotten pregnant and wasn't interested in abortion or adoption, this alleged boyfriend "vanished," as she told Oppenheimer: "The last thing he said to me was, 'I'll be back in 30 minutes.' And then he wasn't."
Maggie returned home to Portland during her pregnancy while completing some coursework towards graduation, and then — with her parents' complete financial support — returned to Connecticut to live with the boyfriend and other undergrads. They quickly broke up and she moved out. He remained ambiently in his son's life for a little while before allegedly telling her that "he didn't really want to have anything to do with either of us."
He remembers it differently: "To the best that I can recall, initially she did want both of us to be involved in parental responsibilities, but from the beginning it was always on her terms. It's hard to describe. It seemed to me at the time that she had an idea of how she wanted things to go, and it was not particularly important whether I had an idea of how things would go or not."
Despite all of these indicators that this maybe-boyfriend was perhaps a douchebag and definitely uninterested in parenting, Maggie told Oppenhemier: "I think, looking back, that if he had said, 'You know, Maggie, I love you, I love you, let's get married,' I would've been thrilled. You know, he was my boyfriend."
3.  So, after graduating from Yale, Maggie almost instantly snagged a job writing for The National Review, where she wrote anti-abortion, pro "traditional marriage" and anti-feminist shit. Oppenheimer:
As a Yale-educated journalist living in Brooklyn, Gallagher was an enviable type. Although being a young single mother made her unusual, nothing about her situation was an obvious prescription for bitterness. But in 1989, when Patrick was 7, Gallagher published a book that remains startling for its combination of sadness and anger; it's hard to believe any author can sound so hopelessly disappointed before the age of 30. In a sense, "Enemies of Eros," a jeremiad about the sorry state of sexual culture and gender relationships, must have been gestating since her son was born. Its author is sad that lifelong marriage is no longer an accepted norm; that many children do not grow up with fathers; that sex has been decoupled from marriage and parenthood. And she is angry at everyone she finds culpable for these changes, including "elite women, magazine editors, book publishers, screenwriters, advice columnists, and auteurs who are the moral guardians of the new generation, mentors to guide young women through the thickets of modernity into a sexual utopia that seems to be receding ever further into the horizon."
In her book, Gallagher asserted: "We will never find a solution to the New Man shortage, unless we jettison gender neutrality. Men need a role in the family. What men need, loath though we are to utter the word, is a sex role."
But Patrick, who lived the first 11 years of his life without a father figure, seems to have turned out okay — he graduated from NYU and works in musical theater (he identifies as straight but undoubtedly interacts with LGBTs on the daily). As you may recall, Maggie's friend Sherry Weaver describes the home Maggie and Patrick shared as "a happy house filled with guests."
4. In 1993, Maggie married Raman Srivastav, a friend she'd known since they were both involved in Yale's "The Party of the Right." They had a son together and at some point separated but did not divorce because Maggie doesn't believe in divorce. She moved from New York to Washington DC in 2008 so her second son could attend The Heights School in Maryland, an exclusive Catholic boys school. Maggie can do things like move to a new state to enroll her son in a prep school known for educating the children of conservative politicians & pundits that charges over $20k a year in tuition because she profits generously from her work against same-sex marriage.
Thus: the current state of her relationship with her husband is unclear, but it seems The Kids, at least, are All Right.
Here's the thing about Maggie Gallagher: she wasn't actively anti-gay before becoming anti-gay marriage. She's just been "pro-marriage" for a long time. Before same-sex marriage became an issue, Maggie wrote and cared mostly about "easy divorce, out-of-wedlock births, and the high costs of feminism." She didn't ever anticipate same-sex marriage becoming a thing until it did and then it became her everything. She told Oppenheimer:
"The questions began by talking about what people think about homosexuality. And I said that's a perfectly legitimate question, but that's not my concern. My concern is that marriage really matters because children need a mom and a dad, and after gay marriage, I can't say that anymore. I won't be allowed to say it. Marriage will not be about that anymore. We will not have an institution dedicated to putting together mothers and fathers and children."
I implore you to read Oppenheimer's entire article, which leaves very few stones unturned and therefore I have little to add (Although it doesn't really go into her various financial swindles, like that time the Department of Health and Human Services paid her to use her syndicated column to promote George W.Bush's $300 million initiative "encouraging marriage as a way of strengthening families," which is obviously against the rules of journalism.)
But as I asked in this article about how NOM is really sketchy and makes a shit-ton of money, "what's Maggie Gallagher's damage?" I ranted as follows:
NOM's entire campaign against us is based in lies. Their leaders are probably all closeted homosexuals. They have deep ties to religious groups with deep pockets who prey on their uneducated flocks, sucking them dry of funds in an effort to support NOM's campaign against same-sex marriage, which, as we all know, has absolutely no tangible impact on these people's lives whatsoever.
I wondered what drove Gallagher to be so obsessed with "traditional marriage" and so uninterested in evidence that proves all her theoretical claims wrong? She definitely dosen't ping as a lesbian, so that's not it. The Salon piece started to answer that question for me, but it's such a Byzantine situation to break down! I can feel my head running in circles when I think about it.
Maggie Gallagher was a single mother who chose to keep her baby and not put it up for adoption, despite her son's father's indifference to the pregnancy. Lucky to have affluent parents and a Yale education that connected her instantly to a prestigious and flexible job at the country's leading conservative publication, she was able to raise her son and pursue a prolific career. She now makes shit-tons of money and despite being separated from the man she married in 1993, is now raising yet another human child who seems, like his brother before him (who was adopted by Maggie's husband when they married), to be turning out okay.
When a reporter from Talk About Equality contacted Patrick Gallagher, he declined to comment at length about his Mom, but offered this:
According to Patrick, Maggie has been very supportive of his career and has not obstructed her son's goals and dreams – like a mother should. One thing Patrick did say, which I don't think he'd mind sharing is "Maybe one day I'll write a hell of a musical about this." Patrick's a good guy who doesn't deserve to be in the middle of this – but we feel that his and Maggie's story is an important one that demonstrates the strength of a "non-traditional" family.
When Maggie's friend Sherry Weaver got divorced and moved in with Maggie, they became an immediate example of how a fatherless home is better than no home and maybe even better than a father-full home, in their case. Weaver remembers it as "a crowded and happy house, filled with guests, many of them from the conservative movement." They weren't lesbians, but they were two women supporting children happily, with perhaps some help from the village.
Despite this experience, Gallagher believes that "like no-fault divorce, the welfare state and the normalization of single parenting, same-sex marriage challenges the idea that every child should be with its biological mother and father." Despite the fact that her son's father was a douchebag with barely any interest in Maggie at all, she still thinks she would've been "thrilled" if he'd asked to marry her and seemingly believes doing so would've been better than what actually happened.
She's got no personal experience with the Biological Mother + Biological Father + Children = Happy situation in her own life as a mother (even when married, her husband had to adopt Patrick, so that's not his "biological father"). Furthermore, it would appear that unlike many single moms, Maggie's incredible privilege (which she recognizes, in a roundabout way) meant that having a kid out of wedlock had no detrimental impact on her career or financial situation. For her to trumpet her own experience with single motherhood, as difficult as single mothering always is, as a typical example of a woman experiencing the many struggles Single Mothers face is practically offensive.
Only 14.3% of unmarried non-cohabiting single mothers have a Bachelors Degree, let alone a Bachelor's Degree from the U.S.'s third-most-competitive university, like Maggie does. Many single moms also lack cushy media jobs and affluent parents. For them, I imagine "the nights when your child cries himself to sleep in your arms, wondering why his father doesn't love him" Maggie claims to have experienced rank pretty low on their list of Parenting Challenges.
Now, rather than seek to level that playing field to enable less fortunate single mothers to succeed, she just runs around screaming about gay people ruining marriage all day. She apparently thinks that being separated from her husband is better than being divorced, even though honestly separation is way more confusing for a kid than divorce is, ultimately, assuming the separation is never re-joined. (Neither Gallagher or her husband would comment on the current state of their marriage for Oppenheimer's article.)
In other words, Gallagher isn't just ignoring social science and other "evidence" that her "traditional marriage" obsession is warranted, she's ignoring her own life.
I don't know about you, but I'm eagerly anticipating the possibility of Patrick Gallagher's musical, although I fear it could be quite sad. I can't imagine it's healthy for any child to grow up in a home led by a mother who dedicated her entire life to lamenting your conception, being angry at your missing father and admonishing your childhood — simply by virtue of being father-free — as inadequate. Maybe he could call it "A Gathering Storm." Something like that.