In less than one month my wife and I will become parents (which excites and terrifies me in equal parts to see written out like that). As we've been counting down the weeks until her due date, our lives have become a blur of baby-related activity. Some of it's been physical, like painting the nursery and putting together furniture; some of it's been mental, like trying to decide on a name or worrying about the baby's wellbeing — but all of it is exhausting. I usually find puzzles to be soothing when I'm stressed so I decided to check out Gorogoa, which was recently released on PS4.
Gorogoa caught my eye mainly for two reasons: 1) the illustration style looked very pretty and I am a sucker for pretty things and 2) it was put out by Annapurna Interactive, the same publisher that previously released What Remains of Edith Finch. That game ended up being one of my favorites of 2017, so I was willing to pick up Gorogoa without doing any additional digging and I'm so glad I did.
This game was exactly what I needed: a couple of hours where my busy brain could focus on tangible puzzles with achievable solutions. Gorogoa's interface is deceptively simple; it's just a 2×2 grid of square spaces that can be filled with up to four illustrations at one time. Within those four illustrations, however, there are tons of possibilities for ways the pieces can fit together. Sometimes you need to match up the edges (the closest thing to a traditional jigsaw-style puzzle in the game), but other times you might need to zoom in, pan around or even layer pieces on top of one another to complete the scene.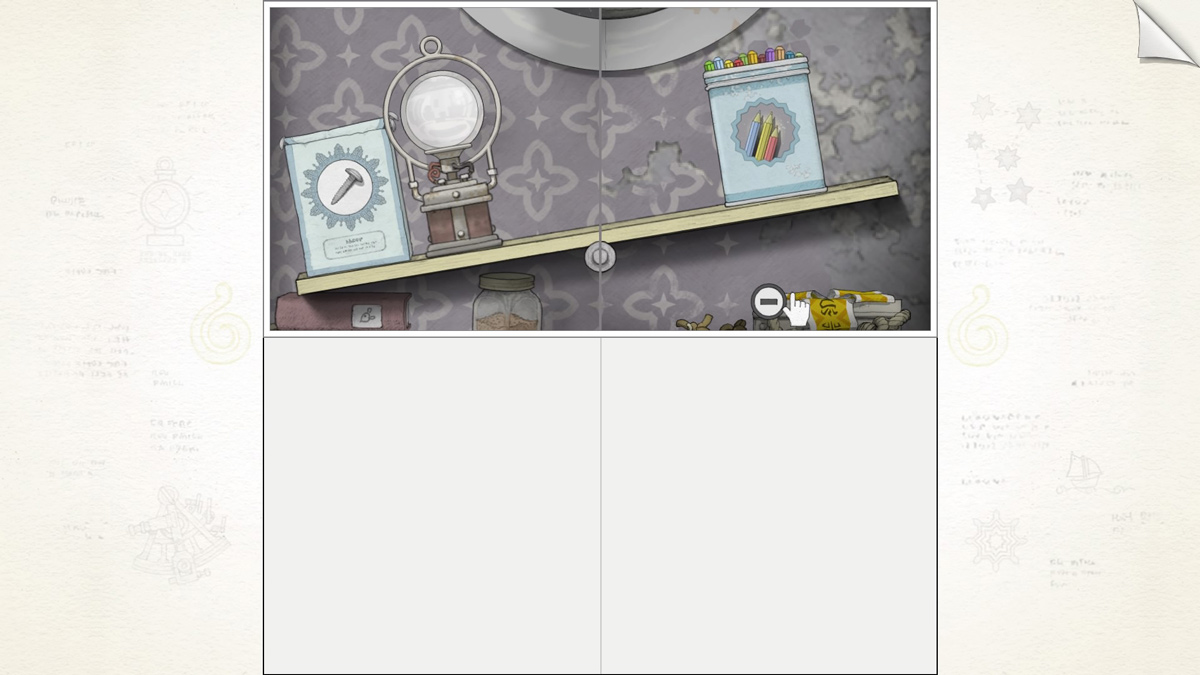 The puzzles range from quick and obvious to challenging, but even on the more difficult parts I never got stuck to the point of frustration. Just like with a physical jigsaw puzzle, Gorogoa sometimes requires you to check every configuration before you see the right one. There were definitely a few puzzles where I looked at the same pieces four or five times before realizing that the solution was in front of my face.
And do you know that feeling when you finally find a fit for a jigsaw puzzle piece that's been driving you bonkers for a while? Like maybe you're already half-convinced that your cat lost the corresponding piece(s) and you will spend the rest of eternity trying to finish a puzzle that's impossible to complete? But then! Then you find that puzzle piece's perfect little home, and it's such a good feeling! Do you know that one?
Well, in Gorogoa that feeling is even more satisfying, because when you fit things together they animate and change and open up whole new puzzles you didn't even know were there! Pure delight is the only way I can describe it.
Unlike Edith Finch, which is all about a single family and the stories that shape them, Gorogoa focuses way less on the narrative. I guess if I had to try to sum it up, I would say Gorogoa is a non-linear story about a kid trying to collect fruit for an offering to a dragon-esque creature that may or may not be evil.
The thing about it was – and maybe I only felt this way because of how stressed out I've been – I didn't care about the specifics of the story one bit. Even after finishing the game, I don't know whether some of the secondary characters are just older versions of the main kid or are totally different people. I'm still not sure if the dragon monster is a destroyer or a savior.
Usually I focus on a game's story, but something about the dreamlike quality of Gorogoa and, specifically, the art, made the lack of concrete narrative completely work for me. It's melancholy and beautiful and ominous and sad in ways I can't fully put my finger on. I just know I loved floating through it, being delighted by all the details.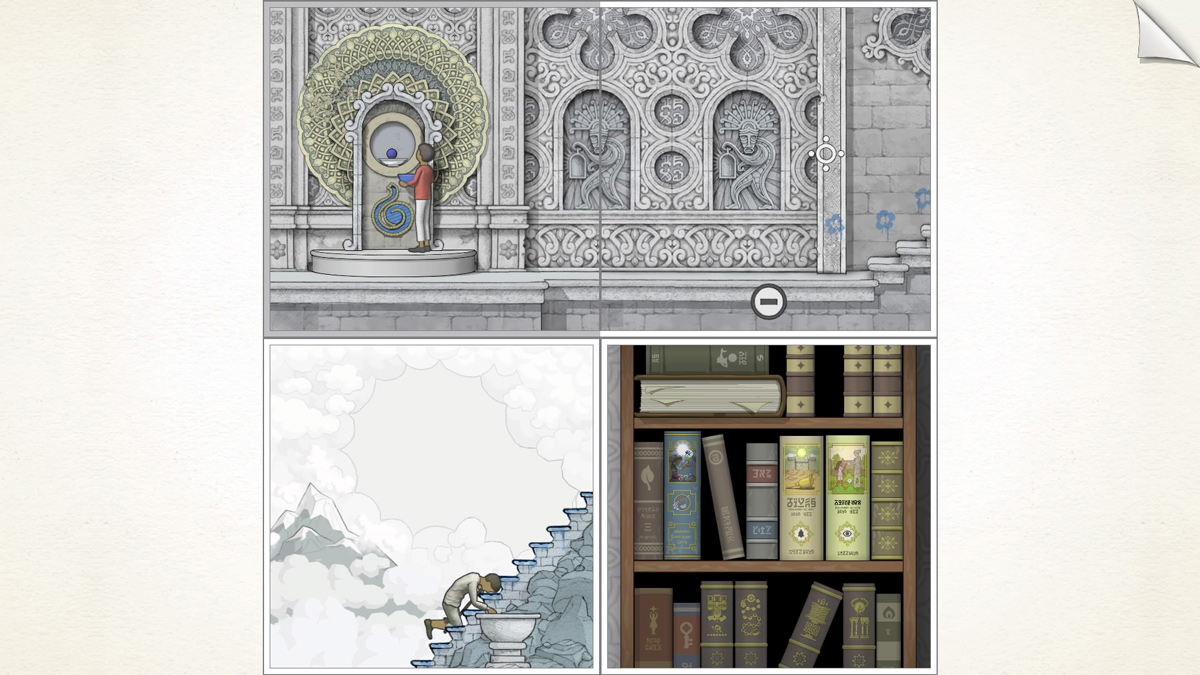 iOS was one of the first platforms Gorogoa was released on, and I imagine it might be even better as a mobile experience. You'll be able to get closer to all the gorgeous illustrations, and the mechanics of swiping or pinching to zoom make sense for a game like this. It's also a little more cost-effective at $5 versus the $15 I paid for PS4, which is maybe slightly on the higher end considering the game only takes a couple of hours to finish. But, to be honest, I would've gladly paid a few more dollars to get lost in Gorogoa's dreamy puzzles for just a little longer.
Gorogoa is available on PS4, Xbox One, Steam, Nintendo Switch, and iOS.