The most important thing I should tell you is that What Remains of Edith Finch is a game, yes, but it is first and foremost a story. Specifically, it's a story about stories—about their power, about their weight, about the effect they have on those who wield them and those who hear them. It's an experience that reminded me just because something isn't true, that doesn't mean it's not real.
You play as Edith Finch, the last living member of her large family. Throughout their history, Finches have done two things consistently: they tell stories, and they die, often tragically or mysteriously. Edith's mother thought that the two were connected, that the stories perpetuated some kind of family curse, so she sealed up the bedrooms of dead relatives and turned their family home into a living mausoleum. But Finches kept dying, and now Edith is back after some time away to unearth the secrets that live on in the house.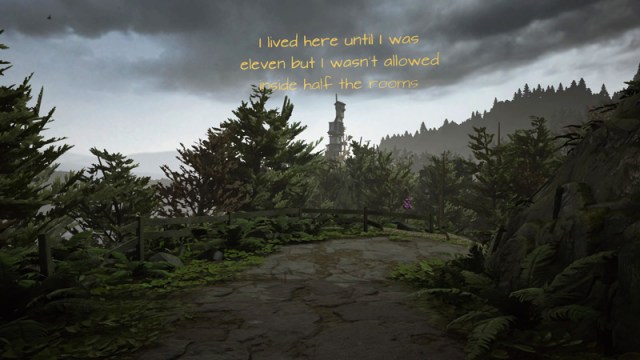 What Remains of Edith Finch is a visually stunning game. I've seen some folks complain about performance issues on PS4, but they honestly did not bother me. I think it might be because I'm very used to old graphics, so my standards are lower. If performance is something you're super conscious of and you have the ability to play on PC, it seems like that's the better option.
Despite a few noticeable glitches, I still found the artwork to be absolutely gorgeous. Set on an island in the Pacific Northwest, the scenes surrounding Edith are always brimming with life. Exteriors are rich, full of lush greenery and choppy water, while the interiors are even more textured and elaborate. The Finch house feels real and lived in, and it's as much of a character as any of its past inhabitants.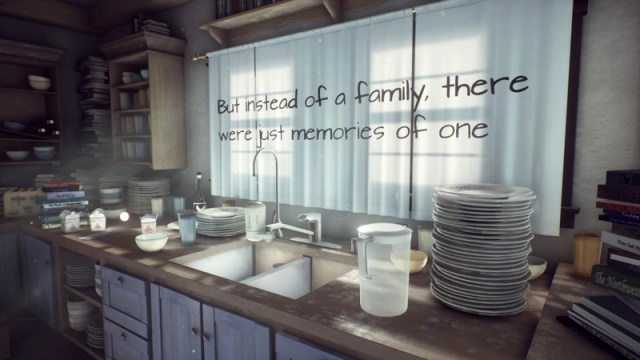 Throughout the game, Edith narrates her experiences as she documents the Finch history—both hers and her family's, the truth and the fiction. These words appear scrawled in the environment around you as you explore, physical reminders that you're experiencing it all through someone else's lens. Sometimes you can interact with the words, but more often than not the letters simply scatter into the ether.
The gameplay is extremely simple; except for a few instances, you really only have to walk around the house and interact with highlighted items using one button. It's a first-person exploration game, which I enjoy, but may cause motion sickness for some people (like my wife).
The overall concept of the game is immediately reminiscent of Gone Home: a young girl explores an empty house to figure out what happened. I loved both games, and I understand the comparison, but their tones couldn't be more different. Gone Home is tense and mysterious—it feels like something terrible could happen to you at any moment—while What Remains feels quiet and full of melancholy. The other major difference between the games is how you learn about the events that took place in each house. Where Gone Home relies on audio clips and objects to shed light on prior incidents, What Remains actually pulls you into the past and lets you relive it.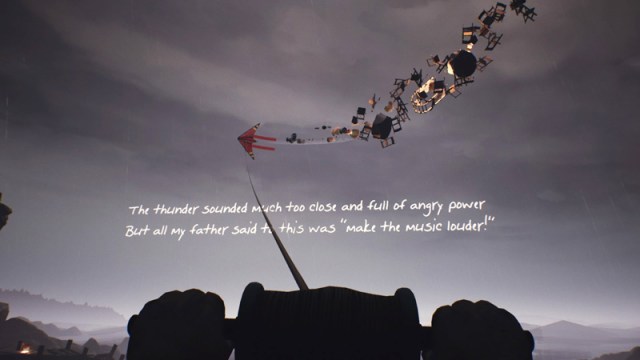 These vignettes, the tales of how each Finch died, are where the game really excels. While some stories are stronger in gameplay and/or narrative than others, the collection as a whole is extraordinarily inventive and honestly just a joy to experience. I loved how the game mechanisms for each tale are totally different. For instance, one story has you zoom and focus a camera to capture the moments leading to someone's death, while another requires you to pump your legs back and forth to power a swing set. There are about a dozen of these scattered throughout the game, and, with just a few exceptions, they had me enraptured.
You go into each one of these vignettes absolutely knowing the outcome, so there's a looming feeling of inevitability as you play. You are sure that you are marching each Finch toward their death, and you want to do something different, but these stories have already been written. A few of the scenes made me feel visceral, physical anguish, which is a testament to how well they were crafted. I even had to take a break after Gregory's scene, the Finch who died youngest.
The story of how Edith's brother, Lewis, died is the most well-crafted — in both content and gameplay — and it's also the most upsetting. Lewis was a half-Indian, bisexual kid with substance abuse issues living at home in a rural town. He had an unfulfilling job at a cannery, and he used his time there to let his mind wander in a vivid daydream. In this world, he was a well-loved and successful traveler, visiting faraway lands in search of a beautiful prince or handsome queen. You control the daydream with one hand, while your other hand is back in a strikingly different and stark reality: at the cannery, repetitively slicing the heads off of fish.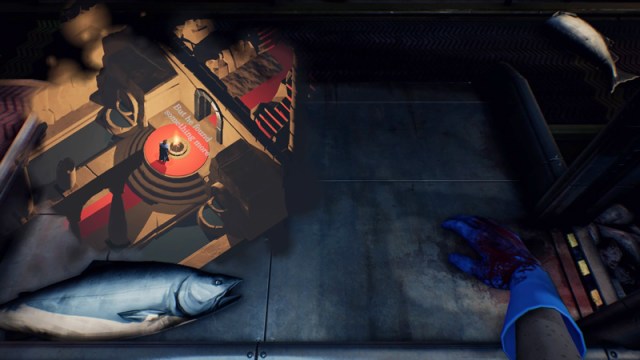 Though I mostly loved What Remains of Edith Finch, there were are few missteps. Edith's father was an Indian man named Sanjay, but he is barely mentioned. Before Sanjay, the Finch family was entirely white and it seemed odd to me that the game didn't explore his experiences entering into the Finch clan, or discuss Edith and her brothers' identities in any detail. Similarly, the game mostly ignores Sanjay and the other people who married into the family. We only learn little things about their lives in passing, and we do not get to see how they died. A family is about a lot more than blood, and I would have liked for their stories to be included.
How you feel about the ending of What Remains of Edith Finch will likely depend on your personal experiences with family, secrets, and stories. Death is the only sure thing in this world, so is the Finch family really more special, or more cursed, than any other family? Edith, like her great-grandmother Edie before her, believes in the importance of storytelling, so she makes sure to document the Finch family history for any and all future generations. Edith believes it is a privilege to be alive and experience any of life at all—the good and bad, truth and fiction, joy and sorrow—and there's something heartbreakingly beautiful in that.
What Remains of Edith Finch is a little pricey for the length of gameplay — about $20 for 2 or 3 hours — but it's an experience that will stay with you long after the game is over. You can find it on PS4 and Steam.