Art Attack Month: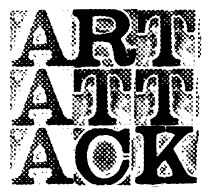 0. 1/28/2012 – Art Attack Call for Submissions, by Riese
1. 2/1/2012 – Art Attack Gallery: 100 Queer Woman Artists In Your Face, by The Team
2. 2/3/2012 – Judy Chicago, by Lindsay
3. 2/7/2012 – Gran Fury, by Rachel
4. 2/7/2012 – Diane Arbus, by MJ
5. 2/8/2012 – Laurel Nakadate, by Lemon
6. 2/9/2012 – 10 Websites For Looking At Pictures All Day, by Riese
7. 2/10/2012 – LTTR, by Jessica G.
8. 2/13/2012 – Hide/Seek, by Danielle
9. 2/15/2012 – Spotlight: Simone Meltesen, by Laneia
10. 2/15/2012 – Ivana, by Crystal
11. 2/15/2012 – Gluck, by Jennifer Thompson
12. 2/16/2012 – Jean-Michel Basquiat, by Gabrielle
13. 2/20/2012 – Yoko Ono, by Carmen
I love Yoko Ono (and I don't think she broke up the Beatles).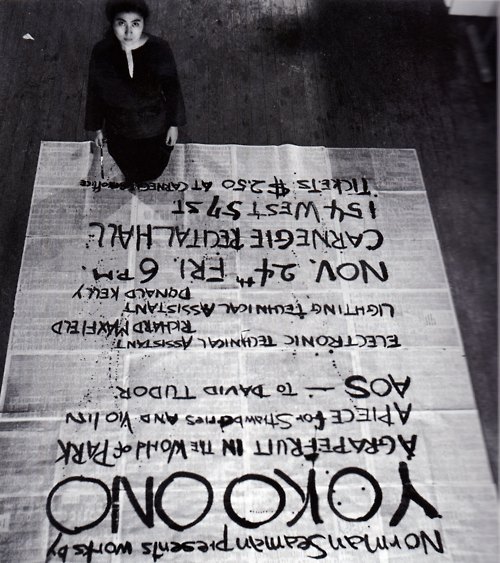 "True artists are prophets. I don't want to be that prophetic in that sense because it's so lonely."
It is hard to write about Yoko Ono as an artist for a few reasons, including but not limited to my inability to separate Yoko Ono's tweets from spoken word poetry. It is also hard because of the sheer length and depth of her artistic career: Yoko was creating art – and feminist art at that – before she even met that dude John Lennon. Afterward the work she had been doing, and continued to do, kind of got eclipsed by his. And it's a shame, because her work was and remains prophetic, profound, and honest. John Lennon once said everyone knew who Yoko Ono was but nobody knew what she did. But what she does is create art – performance art, conceptual art, fine art, visual art, the written word, music – that moves people deeply and talks about what's going on on the inside. Yoko Ono's art is about communicating the inward outward, challenging people to think about the world around them, and, of course, peace. I tend to see her pieces as being about peace — world peace, inner peace, peace and quiet.
Plus, she's completely and totally provocative. What's not to love?
"Everybody's an artist. Everybody's God. It's just that they're inhibited."
Yoko Ono has produced far too many works of art for me to choose a "favorite." She's also done far too much for me to provide you with a truly rich history of it all that doesn't come bound in hardcover. So I'm just gonna pick a handful of the things I've loved when I've looked into Yoko Ono's work, and the stuff I've appreciated.
In 1964, Yoko performed a happening called "Cut Piece," in which she wore a draped shirt, knelt down, and instructed people to cut. Just "cut." She wanted her shirt to be cut until she was naked. It was about suffering, about the pain inside, about loneliness and nakedness and how other people take things away from you and put you back together, and about getting rid of all of it from the outside.
Yoko also released a film piece in 1965 called simply "Fly." I have a lot of feelings about this, mostly because she identified strongly, at the time, with the fly as an alter ego:
In the '60s Ono took the common housefly as an alter ego. Clearly, the artist, mocked and maligned long before she began attracting the misguided ire of rock fans, regards the fly as an embodiment of her public persona–its apparent insignificance counterbalanced by its outsize ability to annoy. But even more important to Ono's associative thinking is the fly's constant, nervous "performing" and its elusively melodious buzz.
This kind of makes me think maybe we all have something in common with the fly. It's how it keeps flying around looking for something and making this noise. "I am here. I am here." And even if you don't want it there, it keeps buzzing. You can't turn off a fly. You can rarely even get rid of one. So maybe Yoko Ono has even more in common with the housefly than she originally thought. She just keeps keeping on. It's really inspirational.
The movie follows a fly as it moves up a woman's body. The noise is weird and, in the case of this specific video, the film quality is a little low. But you can get the drift.
I want to close, though, with the 1961 "Painting to Hammer a Nail." This is not to be confused with "Painting to Sleep On."
"Painting to Hammer a Nail" was pure in purpose: a white painted panel of wood had a hammer attached to it by a chain, and a box of nails sat next to it. Everything was there for the purpose of suggesting to viewers and passerbys that they should hammer a nail in themselves.
The piece, however, hasn't stopped since 1961. Yoko Ono met John Lennon when she was showcasing this piece in 1966. True story. And in 2009, it was displayed at the Seattle Art Museum, and participants had a variety of approaches. Here's one:
Clean and simple. Nails. Wood. Pure in purpose.
But then there is this one:
And her reaction to that? "I had a great laugh with my friends." She isn't even batting an eyelash. It's like she kind of predicted this would happen, or maybe had no predictions for the piece. It's like maybe Yoko Ono doesn't think the same piece of art should ever have to look the same from day to day to be just as complete.
And it's in this moment where one has to look around and think, "Yoko Ono has given everyone this huge gift." And the gift is not "Painting to Hammer a Nail," or any other specific piece. The gift is about being able to express something else. Yoko Ono communicated to us her pain, her suffering, her happiness, and her life. She shared a lot with us, and she still does. She stood up for us. She stood up for others. And in the end, she made us all a little bit more free. And maybe a little more peaceful.