Art Attack Month: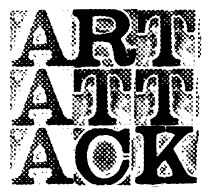 0. 1/28/2012 – Art Attack Call for Submissions, by Riese
1. 2/1/2012 – Art Attack Gallery: 100 Queer Woman Artists In Your Face, by The Team
2. 2/3/2012 – Judy Chicago, by Lindsay
3. 2/7/2012 – Gran Fury, by Rachel
4. 2/7/2012 – Diane Arbus, by MJ
5. 2/8/2012 – Laurel Nakadate, by Lemon
6. 2/9/2012 – 10 Websites For Looking At Pictures All Day, by Riese
7. 2/10/2012 – LTTR, by Jessica G.
8. 2/13/2012 – Hide/Seek, by Danielle
9. 2/15/2012 – Spotlight: Simone Meltesen, by Laneia
10. 2/15/2012 – Ivana, by Crystal
11. 2/15/2012 – Gluck, by Jennifer Thompson
12. 2/16/2012 – Jean-Michel Basquiat, by Gabrielle
13. 2/20/2012 – Yoko Ono, by Carmen
14. 2/20/2012 – Zanele Muholi, by Jamie
15. 2/20/2012 – The Malaya Project, by Whitney
16. 2/21/2012 – Feminist Fan Tees, by Ani Iti
17. 2/22/2012 – 12 Great Movies About Art, by Riese

Film itself is an art, and then sometimes people make films ABOUT art, which makes it a piece of art about art, which is meta, and often very entertaining!
Here's 12 that I like, in no particular order. What are your favorites?
+
Twelve Movies About Art
+
+
Frida (2002)
starring: Salma Hayek, Alfred Molina, Antonio Banderas, Ed Norton, Saffron Burrows, Valeria Golino
Frida Kahlo has a lot going on, and some of that involves Diego Rivera and a lot of it involves her art and also some of it involves other women.

I Shot Andy Warhol (1996)
Starring: Lili Taylor, Jared Harris, Martha Plimpton, Stephen Dorff
[get]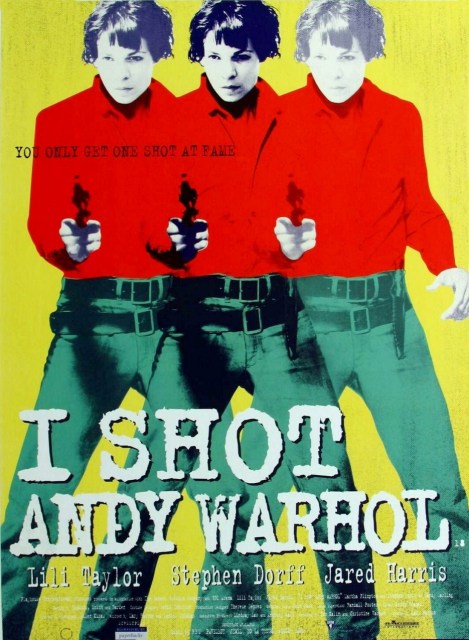 This is a bit of a double-whammy — you get the story of Andy Warhol and The Factory and you ALSO get the story of radical lesbian feminist anarchist Valerie Solanis, author of The SCUM Manifesto (SCUM = Society For Cutting Up Men). It's widely accepted that Solanis suffered from  untreated mental health issues, but nobody knew enough about that then to do anything about it, and if they had, one can imagine that it wouldn't have been very humane.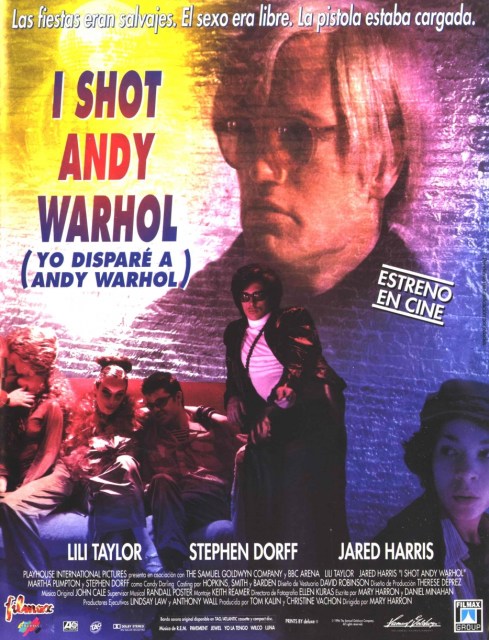 Regardless — Lili Taylor was like Queen Weirdo in 90's indie films, she was my favorite along with Parker Posey. In some ways this movie is like my worst nightmare; the idea that someone who feels unfairly rejected by your artists' collective decides to get revenge on you via attempted murder. Anyhow — this indie gem is criminally overlooked.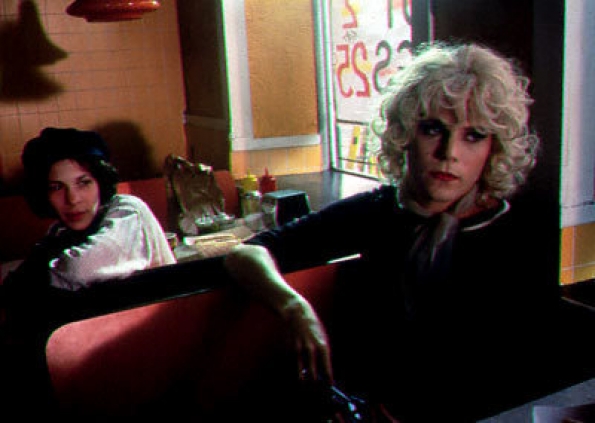 Art School Confidential (2006)
[watch]
starring: Max Minghella, Sophia Myles, John Malkovich
The primary point of this film is that Kate Moennig is in it and she plays a lesbian with hair worse than Shane's ever was.

Exit Through the Giftshop (2010)
[get] 
This is one of our Design Director Alex Vega's favorite movies of all time. This is what she has to say about it: "Exit Through the Gift Shop is Banksy's shot at a documentary, and it's a total success obviously. Don't know who Banksy is? You should because he's only the most notorious (and brilliant) street artist ever but if you don't it's cool — this is still a great film that captures a piece of the underground street art movement, as well as the story of Thierry (pronounced "Terry") Guetta, the documentary's filmmaker.
Thierry is batshit crazy but also endearing. And the story that develops as he films all these street artists (and eventually his encounter with Banksy) becomes something unexpected — and I love a documentary that totally grows and becomes something it never intended to be. It really makes this a special gem of a film… and a super funny and entertaining one too."


Six Degrees of Separation (1993)
Starring: Will Smith, Donald Sutherland, Stockard Channing, Ian McKellen, Mary Beth Hurt, Anthony Michael Hall, Heather Graham, Anthony Rapp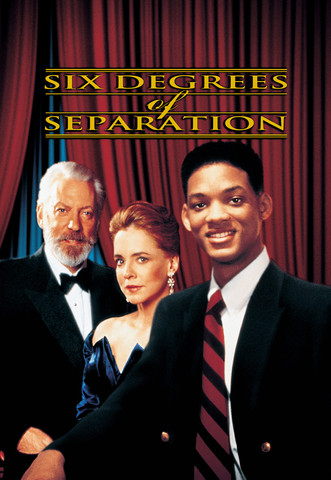 This is actually one of my favorite movies of all time and it's based on one of my favorite plays of all time. Based on the play by John Guare, the film introduced me to Kandinsky — a double-sided Kandinsky painting is the film's central motif — who I consequently became obsessed with.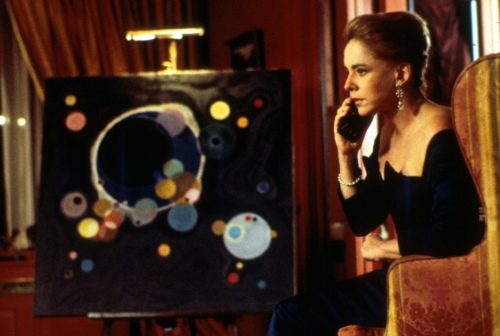 I had a few Kandinsky posters up in my room throughout college, along with Rothko who I also love.


My Kid Could Paint That (2007)
[watch on amazon]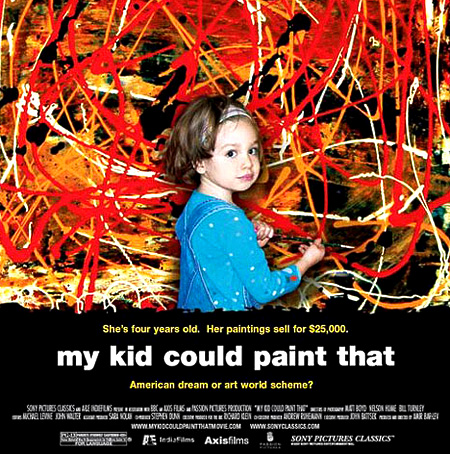 The filmmaker who made this film was interested in Marla's story because it was its own commentary on the popular perception of modern art as a "racket."
See, four-year-old Marla really liked to paint pictures and her Dad had some paints and canvas around. Then somebody noticed and displayed her paintings at his cafe and then people wanted to buy them and then there was a newspaper article about it and a gallery opening and people started buying the paintings for a lot of money and it became a thing. Television and all that.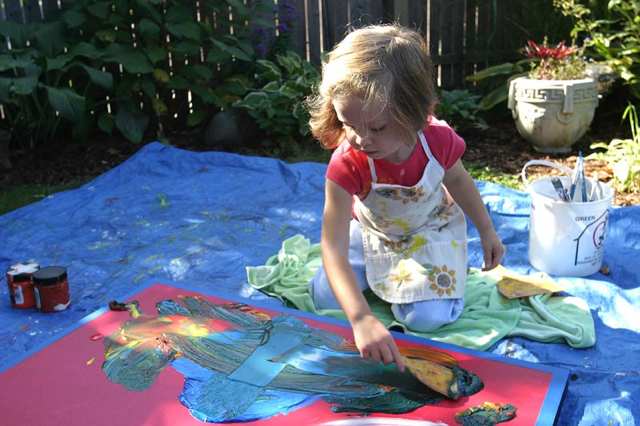 When the media coverage gets oddly out of control and 60 Minutes accuses the father of doctoring the work, claiming that it's not really Marla, the filmmaker becomes a character in his own documentary as he questions his belief in the family and the purpose of his documentary.


Basquiat (1996)
Starring: Jeffery Wright, Benicio Del Toro, Claire Forlani, David Bowie, Dennis Hopper, Gary Oldman, Christopher Walken, William Dafoe, Parker Posey, Courtney Love, Tatum O'Neal
[buy? (but I think it's on Netflix)]

When I saw this film, the story of graffiti artist and Neo-expressionist painter Basquiat, at the State Theater in Ann Arbor, all my teenage punk friends felt lukewarm towards it and I thought it was just the greatest thing. I went back and saw it again by myself, and then rented it. It's a brilliant story, and also: David Bowie as Andy Warhol!
Basquiat died at the unbearably tender age of 27 from a heroin overdose, about a year and a half after Andy Warhol's death, which affected him greatly.

High Art (1998)
Starring: Radha Mitchell, Gabriel Mann, Charis Michelsen, Ally Sheedy, Patricia Clarkson
[watch]
+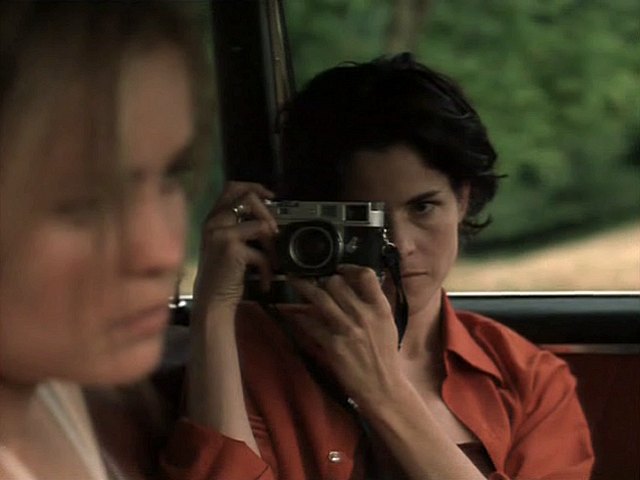 Most lesbians have really strong feelings about this film, which as you can imagine, involves Ally Sheedy as a drug-addicted wildly talented super intense photographer Lucy Berliner and Rahda Mitchell as the artsy girl upstairs Lucy Berliner woos away from her boyfriend. You know that story.

Pollock (2000)
Starring: Marcia Gay Harden, Ed Harris, Jennifer Connelly, Val Kilmer
This was one of the best films of 2000 and it was on everybody's Top Ten list. I'm gonna be honest with you that I didn't actually see this movie, but I wanted to, and I think I will. Did you? I'm asking for a friend. The same friend who saw it and said she liked it, therefore empowering me to include it here.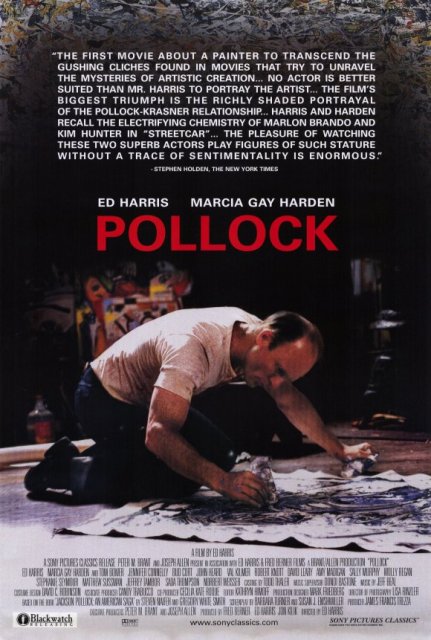 Pecker (1998)
Starring: Edward Furlong, Christina Ricci, Bess Armstrong, Mary Kay Place, Martha Plimpton, Brendan Sexton III, Lili Taylor, Patricia Hearst
This underrated masterpiece by John Waters stars Edward Furlong — slightly past his peak, but still full-on Furlong — as Pecker, a sandwich shop worker whose photographs of his insane family launch him into art world fame.  The film takes place in Baltimore and features a typically Waters' cast of outrageous characters, including Pecker's "fag hag" go-go-dancer older sister played by Martha Plimpton and his grandmother Memama, who talks to a Virgin Mary doll.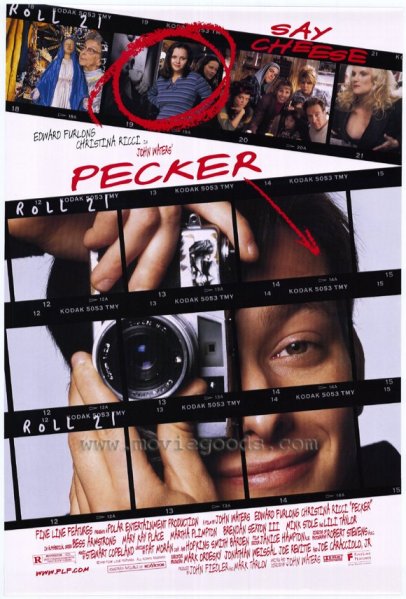 I was really into Christina Ricci in the 90's. She was so bad-ass but also vulnerable, with her moon-shaped face and dark dark hair and giant rack. Either she was sexy in your face, or she was being pouty/petulant, and she was good at both.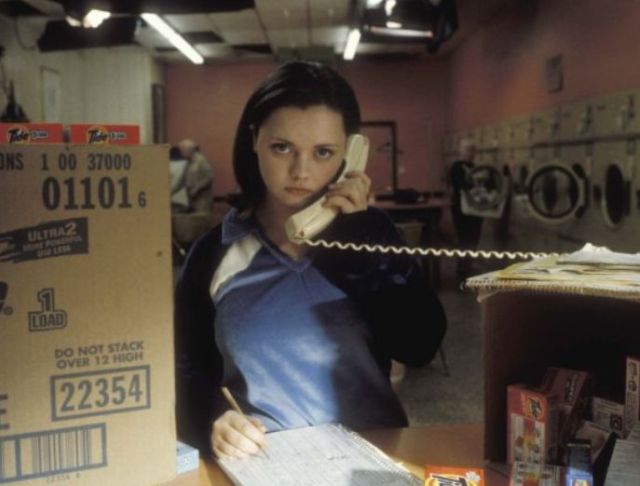 Don't Eat the Pictures (1983)
Starring: Cookie Monster, Big Bird, Telly, Oscar the Grouch, The Count, Grover
By far the best movie about art ever invented is Don't Eat the Pictures, a classic named after the film's titular musical number in which Cookie Monster wants to eat the pictures.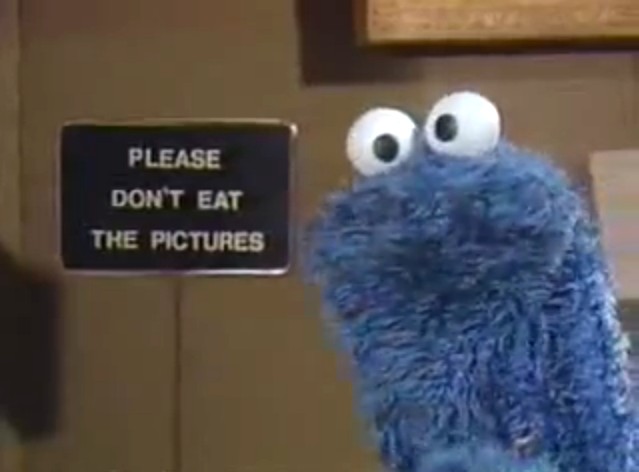 When the gang visits the Metropolitan Museum of Art, Big Bird gets lost looking for Snuffy (at this point in Sesame Street history, Snuffy remained Bird's imaginary friend who nobody besides Bird could actually see), and the entire cast has to hide out in the museum overnight, hunting for Bird while avoiding detection by the museum security guard.