6. Gia, 1998
Directed by: Michael Cristofer
Written by: Jay McInerney and Michael Cristofer
Starring: Angelina Jolie, Elizabeth Mitchell, Faye Dunaway
Remember 1998 before Angelina Jolie was super famous? Neither do I. Only in 2005 did I go through my Angelina Jolie phase and thus discovered Gia which made my little lesbian heart beat faster.
Based on the true story of top fashion model Gia Carangi, Gia tells the tale of one of the first women in America to have died from AIDS in the 80's. Known as America's first "supermodel", Gia is a young, rebellious, free woman who lands a modeling job almost by accident. She quickly rises to fame but falls into a bad drug habit to deal with her loneliness. She begins a passionate affair with her makeup artist, Linda, when they both pose for a nude photoshoot. The sex scene which ensues is very well done, both in terms of acting and filming. Linda eventually asks Gia to choose between her and the drugs, and Gia's choice turns out to be her downfall.
Including excerpts from Gia's real journal, Gia is told in a pseudo-documentary style, with interviews from the people closest to her. The commentary adds an outside perspective and just goes to show how many different sides of Gia there were, probably because she wasn't even sure who she was. Perhaps the reason Gia is such a powerful story is because there is a little bit of Gia in all of us – lost, confused, and just wanting to be loved.
Besides starring Angelina Jolie in a lesbian sex scene, Gia is an incredible and interesting movie. In fact I have a notebook filled with my favourite quotes. I can't think of any reason not to watch Gia ASAP, actually I'm going to go watch it right now. Angelina Jolie will probably break your heart, so don't be ashamed of crying.
(by Intern Emily)

7. All Over Me, 1994
Directed by: Alex Sichel
Written By: Sylvia Sichel
Starring: Allison Folland, Tara Subkoff, Wilson Cruz, Leisha Hailey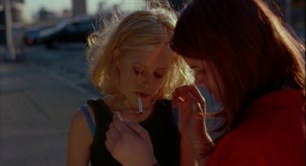 If not even just to witness a pre-L Word Leisha Hailey, pink punky dreadlocks 'n all, watch All Over Me if you like a sweet, raw story which bills itself as, "They broke all the rules. They fell in love." Lesbian Claude has a crush on her straight (well, technically bisexual, but het-identified) BFF she just can't shake, even though Ellen is a twat and then she gets in trouble with the wrong boy. Shot in New York City, this earnest indie small film wasn't advertised as a lesbian flick but a story about friendship …though its most endearing romance is the one between Claude and the lesbian musician she meets at a club … played by Leisha Hailey. Rickie from My So-Called Life was in it too (Wilson Cruz).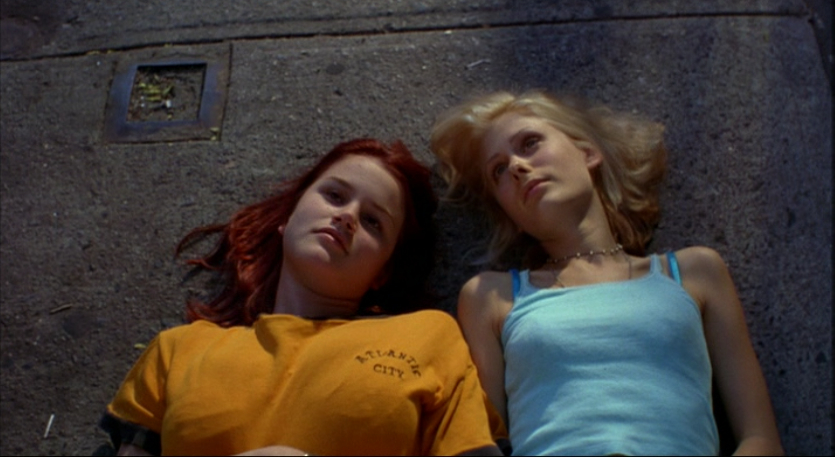 My straight(ish) friend warned me that if I saw All Over Me it would "make me want to be a lesbian," and maybe it did, or maybe it just followed through on its premise to tell the story of a girl in love with her straight best friend, an experience the writers cite as being familiar to everyone. In All Over Me, Ellen's recklessly flirtatious teasing of her best friend and freestyle application of sexual power rings precisely and powerfully true. (by Riese)

8. High Art, 1998
Written & Directed By By: Lisa Cholodenko
Starring: Ally Sheedy, Rahda Mitchell, Gabriel Mann, Patricia Clarkson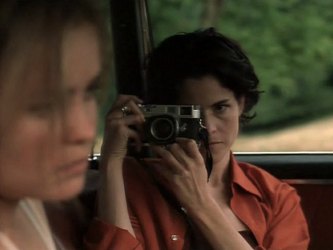 Syd, an assistant editor at a photography magazine, lives with her boring boyfriend James but quickly finds herself intrigued by the woman living upstairs; talented, enigmatic, elusive lesbian drug addict photographer Lucy who lives with her crazy German actress girlfriend, Greta. Though Syd's initial attraction to Luce is more about career advancement than lesbian lust, Lucy is drawn to and changed by Syd's youth & enthusiasm and the two quickly find themselves totally caught up in each other. The first time I saw High Art, my psuedoladyfriend made fun of me for crying, and when I said it was "sad & beautiful" she said it was just "tragic." Whatever.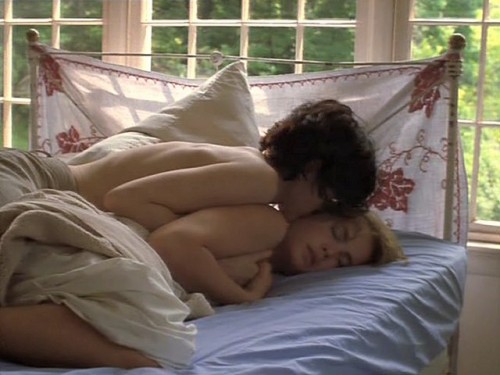 What I Learned from High Art:
1. Duct tape fixes everything. And makes the panties drop.
2. Doing heroin with the homogays upstairs will NOT make your boyfriend want to have sex with you. But, if you're so intrigued by those otherwise-inclined ladies, do you really want to have sex with your boyfriend?
3. Don't do drugs. Drugs are bad, mkay?
(by Intern Elizabeth)


9. D.E.B.S., 2004
Directed & Written by: Angela Robinson
Starring: Sarah Foster, Devon Akoi, Meagan Good, Jordana Brewster, Holland Taylor
D.E.B.S. was released in 2004, but was based on a short that won L Word writer/director Angela Robinson a film grant from Power Up! in 2002 (giving her the funds to create the feature). The short featured Tammy Lyn Michaels (you might know her better as Tammy Etheridge, I will forever know her as Nicole Julian on Popular), Alex Breckenridge, and Claire Kramer (Glory from Buffy!) in the lead roles. It also apparently featured a lot more girl-on-girl but I can't reall corroborate that as I haven't seen it (but you can get it on iTunes if you'd like).


The feature (which is what I'll be talking about here) stars Meagan Goode, Sara Foster, and Jordana Brewster (swoooon) as the leads. Foster plays Amy, a girl who got a "perfect score" on a secret test contained within the SATs and attends a special school for lady spies who wear varying degrees of ridiculous blue and white schoolgirl outfits. Her team is rounded out by Goode and Max, the tough-as-nails leader; Devon Aoki as Dominique, whose only contributing assets appear to be sluttiness and being French; and the funniest part of this movie, Jill Ritchie as Janet, Amy's BFF and confidant. Jill Ritche is on my 'Hilariously Underrated Funny Ladies' list (along with Judy Green, a fellow Arrested Development alum, and Jennifer Elise Cox).
Anyway, the lady spies are about to graduate when Amy meets Lucy Diamond (Brewster), an international jewel thief. Newly single, having just broken up with her boyfriend, Amy is itrigued by Lucy. Lucy is totally smitten with Amy and she asks her out. Janet inadvertently ends up coming along, and cute sneakiness (of the love-that-dare-not-speak-its-name variety) ensues.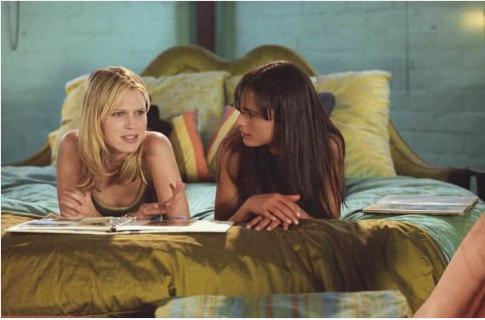 D.E.B.S. is like the Little Engine That Could of lezzy films. D.E.B.S.'s small budget and subsequent green screen overdose gives it a campy & silly look which I totally love. The script & the acting are decent and the soundtrack is fantastic. Unfortunately it's pretty tame as far as the girl-on-girl action goes, but what we do see is adorable and feels realistic.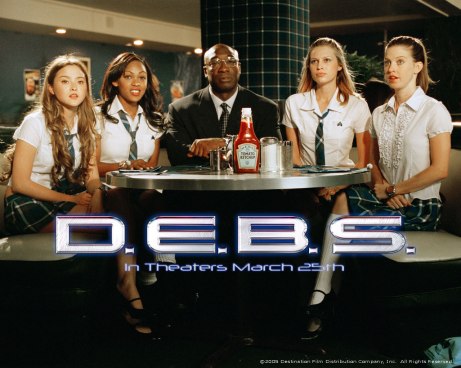 Did I mention Jordana Brewster? Yow. If you like girls with guns, you'll love this coming-of-age girl-meets-girl love story, set amongst spy missions and national security.
Oh, and D.E.B.S. stands for Discipline, Energy, Beauty, Strength and not Dykes Enjoying Banana Splits, as I originally assumed. (by Carlytron)


10. If These Walls Could Talk 2, 2000
Directed by: Jane Anderson (segment "1961"), Martha Coolidge (segment "1972"), Anne Heche (segment "2000")
Written by: Alex Sichel, Sylvia Sichel, Jane Anderson, Anne Heche
Starring: Ellen DeGeneres, Michelle Williams, Sharon Stone, Natasha Lyonne, Vanessa Redgrave, Chloë Sevigny, Nia Long, Kathy Najimy.
If These Walls Could Talk 2 follows three stories about lesbians who lived in separate eras. Like the original If These Walls Could Talk [which was about abortion fyi], all three storylines take place in the same house. I would like to know what this house was built out of that caused all its owners to turn gay. I would theorize that it was probably insulated with recycled bits of flannel.
Nominated for four Emmys and the winner of a Golden Globe Award, the movie was written by Jane Anderson, who contributed to The Celluiod Closet; Sylvia Sichel, who wrote All Over Me; and Anne Heche, who was dating Ellen at the time, obvs.
While If These Walls Could Talk 2 occasionally wades into the waters of TV Movie–there's this one part where dildo Dido is used as the soundtrack to a lesbian sexy moment– you can't help but like it. This movie deals with issues like hospital visitation, inheritance, conflicts between feminism and lesbianism, butch/femme dynamics, and pregnancy. It goes there. Amidst all the drama, parts of the movie even get a little hot up in hurr.
With short, well-acted segments taking place over four decades, ITWCT2 has been criticized for leaving you wanting more. Ranging from heartbreaking to enlightening, it ends on a lighthearted note with the couple from 2000, played by Sharon Stone & Ellen DeGeneres, dancing around their bathroom to "Everlasting Love," which is so cute you forgive it for being corny.
In addition, Chloë Sevigny is a fox. (by Intern Hot Laura)

And also, when you're done watching all of these and commenting and/or yelling at us for leaving out Imagine Me & You, go see This Film is Not Yet Rated to find out how the MPAA is making it tough for us to assemble more than ten great lesbian films!
[ad#postads]
Pages: 1 2See entire article on one page