Art Attack Month: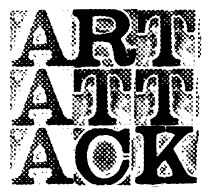 0. 1/28/2012 – Art Attack Call for Submissions, by Riese
1. 2/1/2012 – Art Attack Gallery: 100 Queer Woman Artists In Your Face, by The Team
2. 2/3/2012 – Judy Chicago, by Lindsay
3. 2/7/2012 – Gran Fury, by Rachel
4. 2/7/2012 – Diane Arbus, by MJ
5. 2/8/2012 – Laurel Nakadate, by Lemon
6. 2/9/2012 – 10 Websites For Looking At Pictures All Day, by Riese
7. 2/10/2012 – LTTR, by Jessica G.
8. 2/13/2012 – Hide/Seek, by Danielle
9. 2/15/2012 – Spotlight: Simone Meltesen, by Laneia
10. 2/15/2012 – Ivana, by Crystal
11. 2/15/2012 – Gluck, by Jennifer Thompson
12. 2/16/2012 – Jean-Michel Basquiat, by Gabrielle
13. 2/20/2012 – Yoko Ono, by Carmen
14. 2/20/2012 – Zanele Muholi, by Jamie
15. 2/20/2012 – The Malaya Project, by Whitney
16. 2/21/2012 – Feminist Fan Tees, by Ani Iti
Alissa and I met at art school, where we spent four years hanging out in the same studio space and learning to do art-talk. Art school is pretty heavily focused on the individual, obviously for good reason, but the experience can leave you feeling isolated. The medicine for this is collaboration!
We became the "Creamed Corn Collective," named after the rejected — the very last can that lingers in the cupboard for years. Also we both found this scene from Twin Peaks hilarious.
Our first project, the Feminist Fan Tee, was born from a shared desire to wear a t-shirt emblazoned with our mutual feminist icon, Helen Clark — former Prime Minister of New Zealand and now Administrator of the United Nations Development Programme, and lovingly referred to by supporters as Aunty Helen. However, we couldn't settle for just one feminist icon! We wrote lists and lists of women whose fan clubs we would definitely join: Kate Shepherd, Kim Hill, Missy Eliott, Ripley, Carrie Fisher. To narrow down our final selection, we decided to embrace a few of the running themes we'd noticed, mainly that we were especially fond of aggressors and referential pop culture. Also we were selling the shirts, meaning our choices couldn't be so obscure as to be unrecognisable to the casual passer by.
So it came to be, we produced the Feminist Fan Tees: Action Heroine Edition.
We chose to do a series of eight designs — a number that felt both ambitious and plausible, seeing as we were screen printing everything by hand. Our final selection ended up being Sarah Connor, Princess Leia, Foxy Brown, Buffy, Divine, Ripley, Thelma & Louise, and my personal fave, Xena. You guys, Xena is not only a feminist icon but also totally a lesbian, so I feel like you get more bang for your buck there. I really wanted to do a Scully t-shirt, but we struggled to find a picture of her armed and looking aggressive, rather than scared. It was important to us that the images we used looked powerful and empowered. I mean, who would fuck with an armed Foxy Brown, ya know?
While there were heaps of characters regretfully omitted (Scully and my girl Captain Janeway of Star Trek Voyager), the end result is a collection of some pretty sweet tees (organic & fair trade because we're good like that) featuring some damn badass ladies, all in scenes of confrontation, wielding weapons.
We still really want to do that Helen Clark t-shirt — I'm thinking Feminist Fan Tees: Political Warrior Edition?
If you're interested in getting some action hero action on your body, you can e-mail anamerleiti [at] gmail [dot] com. The t-shirts are NZ$50.00, prints are also available for purchase. View more of Ana Iti's work and  Alissa Gilbert's work, and be a fan on Facebook.