Five years ago, I hadn't even taken off my snowy boots in the decorated foyer of my childhood home before my mom asked me to help her with the holiday preparations and make the Irish cream.
My face froze.
"You want me to what?" I asked, thinking I'd heard wrong.
"Go make the Irish cream, please," she replied, cheerily bustling about. "I need to put it in the gift baskets for tonight and haven't even made it yet and OH MY GOD is it really 6 p.m. already?"
About eight months sober at that point, I had two thoughts scream through my mind at nearly the same time – first, "Oh hell yeah, all the whiskey at my fingertips" quickly followed by, "Oh hell no, this is cruel."
I said nothing, put down my bags, changed into my slippers, went to the kitchen and began pouring all the ingredients into the blender – heavy cream, instant coffee, chocolate syrup, condensed milk, and of course, a healthy helping of Canadian whiskey. Staring warily at the half-gallon jug like it would bite me, I threw caution to the wind and picked it up to measure out cups of the golden liquid. I smelled it, dredging up memories of drunkenness and failure, and began to pour.
Then, like it was the most natural thing in the world, it spilled over the rim of the measuring cup. It felt cosmically personal. Of course the whiskey would splatter onto my hands, and of course the initial response tracking through my body was to just lick it up. But instead, I just looked at it, unsure what to do because I already knew the truth about myself: One taste would be too much.
Giving up booze the April before, I knew I'd be careening into the holidays eventually, but I didn't really understand how difficult it would be to exist as a sober person in the land of hot toddies and spiced rum and mulled wine and hot schnapps-colate.
Alcohol is everywhere, something I hadn't noticed until I was trying to avoid it, but holidays are especially boozy. Crystal punch bowls offer sugary-sweet surprise concoctions at parties, sure to shoulder some of that seasonal-depression for you; holding paper cups steaming with hot cider and whiskey while standing outside, giving you a booze layer to wear under your thermals and ward off the chill.
And then add how I was using alcohol – as a crutch, as a coping skill, as my only means of stress relief – to the ever-tense specter of forced family time, and well, you've got a blizzard of feelings, a storm that booze used to help me numb out and quiet down.
But without it, I walked into that holiday season a naked, raw nerve, as opposed to a drunk, naked, raw nerve. Never one for the Christmas spirit – except if I've had some Christmas spirits – the prospect of being sober through all of the green and red and mistletoe and caroling and sitting for extended periods talking to people I haven't seen in months or years seemed overwhelming. But a big part of my sobriety was learning how to handle these socially uncomfortable situations on my own, without alcohol holding my hand or greasing the skids. It was a chance to practice my other coping skills, which, like muscles, will atrophy without use.
My first plan of attack was to remind myself that I'd been sober for about 260 days, and that's a lot of days in a row. Did I want to end my streak? No. I was, and still am, very self-competitive about it (1,679 days as of this writing).
Which brings me to the next step in this coping skill: Remind myself that beyond those 260 days, I'd survived every day of my life so far. I'd made it, maybe not gracefully, maybe not perfectly, but I was alive and functioning. I had resilience in me somewhere, and I needed to find a well of it within myself because I hadn't found it in bottles or barrels or pint glasses.
OK, so I'm sober and I'm alive, and those are two miracles in and of themselves, but now what? What about all the holiday parties and general frivolity of the season?
It's easier to get through these events once I figured out how to not take other people's drinking personally. That seems like a simple idea, but when I first sobered up, I was enraged about other people's seemingly casual relationships with alcohol, a relationship I could never master within myself. I wasn't mad at them, but I was painfully jealous and ashamed about what I assumed was a character flaw that only I possessed, in that I couldn't drink just one or two beers and socialize. No, instead I needed to know there would be a steady supply of alcohol and a party atmosphere so no one noticed how many times I went back to get another one.
The secret to getting over this was a) realizing that I am not, in fact, the only one who might have trouble with alcohol, a realization I came to after being sober long enough to watch other people be drunk, and b) time.
The latter one I can't do much about, sorry to say, but I can say eventually, after about a year, the jealousy of drinking lessened for me and it became less about my personal failings and more about seeing how other people didn't seem to recognize theirs.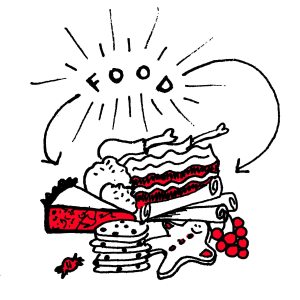 One of the biggest bonuses of being sober during the holidays is the food. Nearly every holiday event has food, which I didn't really know because I was focused on the bar and if it was free. Now that I don't have that distraction, there's an amazing bounty of treats and cookies and meats and even entire houses made from candy and gingerbread.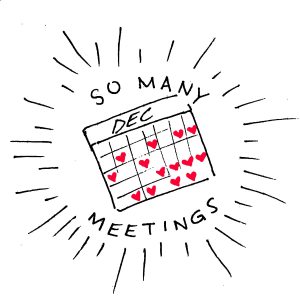 Also, though I've not gone the Alcoholics Anonymous route myself, AA (and Narcotics Anonymous, any group really) is reliable during the holidays, because it's overwhelming for so many people.
And for those times when I socialized with people outside of my family during the holidays, I made sure to bring my own seltzer or Diet Coke. This serves two purposes: I knew I'd have something to drink, and if I poured it into a cup, people would stop bothering me about having something to drink.
I can't tell you how many times I've gotten, "Why aren't you drinking?" at parties. Being sober when you don't really want to be is hard enough, but people asking you about a super personal issue as if they're making small talk about the weather is excruciating.
(Shout out to non-sober people: Stop asking this question!)
Even with all those coping skills, the idea in which I found the most solace was that fulfilling a momentary desire would make me feel intense regret in the morning. It might not sound comforting, but knowing that regret would eclipse the immediate discomfort I felt not drinking helped keep those urges in check. I knew I wouldn't wake up wondering if I had to apologize to someone, or if I'd said too much to my mom or my sisters, giving myself and my secrets away. I wouldn't wake up with a hangover, and I wouldn't have the sneaking suspicion that I'd fucked up somewhere and couldn't place it.
Because I knew there was no possibility of "I'll have just one booze-nog to celebrate," just like I knew there wouldn't be coming back from licking up the whiskey that had spilled on my hands in the kitchen.
That day in the kitchen when my mom asked me to make the Irish cream, after a few moments contemplating my next move, the desire to keep my non-drinking streak alive and avoid soul-crushing disappointment in myself for giving in won out. I unspooled a paper towel and mopped up the stray whiskey and threw the damp paper towel in the trash, an action that both made me proud because I knew I'd made the correct choice and bummed me out because I'd thrown away perfectly good whiskey.
That Christmas set the tone for the next five years of holidays for me. It was sloppy, it wasn't perfect, and I struggled, but somewhere inside of my chest, the idea that my future and myself were worth fighting for took root. I didn't know it then, but through that one, small action of standing up for myself and my sobriety, I'd given myself the gift of trusting myself, and with every passing holiday and year, that small seed of hope blossoms.
Now, when I go to my parents' house for the holidays, I'll still offer to make the Irish cream, much to my mom's delight. "Molly makes it the best," she told a visitor dropping off presents and, in turn, taking home a quart of the Irish cream. "She's got a heavy hand with that whiskey."