Art Attack Month: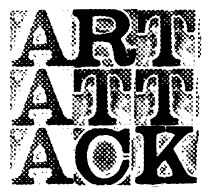 0. 1/28/2012 – Art Attack Call for Submissions, by Riese
1. 2/1/2012 – Art Attack Gallery: 100 Queer Woman Artists In Your Face, by The Team
2. 2/3/2012 – Judy Chicago, by Lindsay
3. 2/7/2012 – Gran Fury, by Rachel
4. 2/7/2012 – Diane Arbus, by MJ
5. 2/8/2012 – Laurel Nakadate, by Lemon
6. 2/9/2012 – 10 Websites For Looking At Pictures All Day, by Riese
7. 2/10/2012 – LTTR, by Jessica G.
8. 2/13/2012 – Hide/Seek, by Danielle
9. 2/15/2012 – Spotlight: Simone Meltesen, by Laneia
10. 2/15/2012 – Ivana, by Crystal
11. 2/15/2012 – Gluck, by Jennifer Thompson
12. 2/16/2012 – Jean-Michel Basquiat, by Gabrielle
13. 2/20/2012 – Yoko Ono, by Carmen
14. 2/20/2012 – Zanele Muholi, by Jamie
I continue to bleed each time I read about rampant curative rapes in my 'democratic' South Africa.
I bleed every time queer bodies are violated and refused citizenship due to gender expression and sexual orientation within the African continent.
I constantly bleed when I hear about brutal murders of black lesbians in our townships and surrounding areas.
I'm scarred and scared as I don't know whose body will be next to be buried.
I bleed because our human rights are ripped.
I cry and bleed as mothers, lovers, friends, relatives lose their beloved ones, let alone the children that become orphans because of trans/queerphobic violence.
We bleed, our life cycles invaded, we bleed against the will of our bodies and beings.
– Zanele Muholi
Horrific homophobia and "corrective rape" in South Africa is something we reported on when it made the news last year. Activist and artist Zanele Muholi uses "visual activism" –  photography, poetry and even her own menstrual blood – to address the queerphobia and violence she has experienced as a South African lesbian.
In describing her process for the portraiture series Faces & Phases Zanele Muholi writes:
With Faces & Phases, I intended to show our emerging South African black lesbian aesthetics through portraiture, especially because positive images of us within the women's and queer archives are almost non-existent. Natasha Distiller argues that a vocabulary to represent lesbian desire and the pleasures of their fulfillment is provided by a linguistic and representational system which has no space to engage with the notion of the lesbian, except in relation to its own hetero/sexuality (Distiller 2005:45). I wanted to resist the heterosexual representation of lesbians through portraits.
See more of the photos from this series taken from 2006-2010. Of her 2007 series Being Muholi writes:
Being is an exploration of both our existence and our resistance as lesbians/women loving women, as black women living our intersecting identities in a country that claims equality for all within the LGBTI community, and beyond.
The work is aimed at erasing the very stigmatisation of our sexualities as 'unAfrican', even as our very existence disrupts dominant (hetero)sexualities, patriarchies and oppressions that were not of our own making. Since slavery and colonialism, images of us African women have been used to reproduce heterosexuality and white patriarchy, and these systems of power have so organised our everyday lives that it is difficult to visualise ourselves as we actually are in our respective communities. Moreover, the images we see rely on binaries that were long prescribed for us (hetero/homo, male/female, African/unAfrican). From birth on, we are taught to internalise their existences, sometimes forgetting that if bodies are connected, connecting, the sensuousness goes beyond simplistic understandings of gender and sexuality.
Through her use of menstrual blood in her show Isilumo siyaluma (Period Pains, 2006-2011) in Cape Town, Muholi sought to tell the story of black lesbians in South Africa and represent "curative rape."  (If you want some company in parsing how you feel about your menstrual blood and its place in art, Feministe can hold your hand.) She wrote of the project in a press release for the exhibit:
Isilumo siyaluma is a Zulu expression that can be loosely translated as "period pains/ periods pain". Additionally, there is an added meaning in the translation that there is something secretive in and about this blood/"period in time."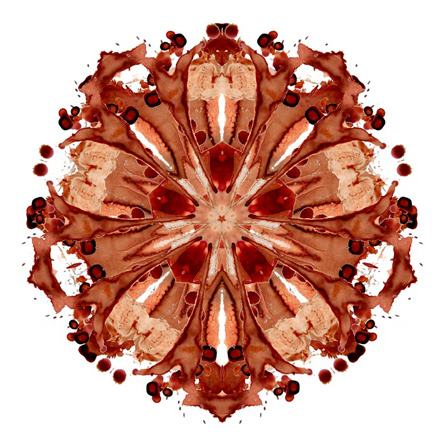 At one level, my project deals with my own menstrual blood, with that secretive, feminine time of the month that has been reduced within Western patriarchal culture as dirty.


On a deeper level then, my menstrual blood is used as a vehicle and medium to begin to express and bridge the pain and loss I feel as I hear and become witness to the pain of 'curative rapes' that many of the girls and women in my black lesbian community bleed from their vaginas and their minds.
Between March – May 2011, three (3) young black lesbians under the age of 25 were brutally murdered in various townships [….] As we continue to live and survive in troubled times as black lesbians in South Africa and within the continent, where rampant hate crimes and brutal killings of same gender loving women is rife, this ongoing project is an activist/artist's radical response to that violence.
In the documentary Difficult Love, Muholi dicusses the necessity of sharing the family life of black South African lesbians and the need to mainstream the movement for queer rights:
Drawing on her experiences as a lesbian in South Africa, Muholi's body of work speaks eloquently to the violence and attempts at erasure visited upon her community. In my mind, one of the most important and effective means of creating real change in any community is by inspiring people to personally recognize and respect the humanity of the "others" experiencing brutal violence. In this capacity, art can succeed where politics sometimes fail.