Art Attack Month: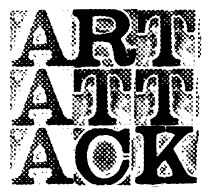 0. 1/28/2012 – Art Attack Call for Submissions, by Riese
1. 2/1/2012 – Art Attack Gallery: 100 Queer Woman Artists In Your Face, by The Team
2. 2/3/2012 – Judy Chicago, by Lindsay
3. 2/7/2012 – Gran Fury, by Rachel
4. 2/7/2012 – Diane Arbus, by MJ
5. 2/8/2012 – Laurel Nakadate, by Lemon
6. 2/9/2012 – 10 Websites For Looking At Pictures All Day, by Riese
7. 2/10/2012 – LTTR, by Jessica G.
8. 2/13/2012 – Hide/Seek, by Danielle
9. 2/15/2012 – Spotlight: Simone Meltesen, by Laneia
10. 2/15/2012 – Ivana, by Crystal
11. 2/15/2012 – Gluck, by Jennifer Thompson
12. 2/16/2012 – Jean-Michel Basquiat, by Gabrielle
13. 2/20/2012 – Yoko Ono, by Carmen
14. 2/20/2012 – Zanele Muholi, by Jamie
15. 2/20/2012 – The Malaya Project, by Whitney
16. 2/21/2012 – Feminist Fan Tees, by Ani Iti
17. 2/22/2012 – 12 Great Movies About Art, by Riese
18. 2/22/2012 – Kara Walker, by Liz
19. 2/22/2012 – Dese'Rae L. Stage, by Laneia
20. 2/22/2012 – Maya Deren, by Celia David
21. 2/22/2012 – Spotlight: Bex Freund, by Rachel
22. 2/24/2012 – All the Cunning Stunts, by Krista Burton
23. 2/26/2012 – An Introductory Guide to Comics for Ladygays, by Ash
24. 2/27/2012 – Jenny Holzer, by Kolleen
25. 2/27/2012 – Tamara de Lempicka by Amanda Catharine
26. 2/27/2012 – 10 Contemporary Lesbian Photographers You Should Know About, by Lemon/Carrie/Riese
27. 2/27/2012 – Read a F*cking Book: 'The Last Nude,' by Amanda Catharine
28. 2/27/2012 – Spotlight: Alice Hyde, by Laneia
29. 2/28/2012 – Spotlight: Mars Hobrecker, by Laneia
30. 2/28/2012 – Spotlight: Michelle Muldrow, by Laneia
31. 2/28/2012 – Spotlight: Laura Doughtie, by Rachel
32. 2/28/2012 – Spotlight: Sadie Lee, by Mira
33. 2/29/2012 – Spotlight: Kathryn Weaver, by Laneia


Kathryn Weaver makes paper sculptures. She does lots of things, actually — drawing, painting, writing, studying deep sea fish, bird watching, researching Victoriana and Edwardiana, and intaglio printmaking, which I'll be googling later tonight — but today we're going to look at her paper sculptures. Are you a person who describes things as neat? Because I am, and Kathryn Weaver's paper sculptures are NEAT.
This is Estella. She's part of Weaver's Abyssopelagic Victoriana series:
Kathryn Weaver, on her creative process and unique take on the artist statement:
"I wouldn't say that my art is necessarily about me as a person — it's more like a physical demonstration of how I think. I'm very meticulous and compulsive and, in terms of the right-brain/left-brain divide, I sit squarely on the left-brain side. I'm a planner and a problem-solver. Logic and art aren't mutually exclusive!
The subject matter — fantasy — allows me to play with imagination, metaphor and narrative, all the things that I love, but that are one step outside myself. I also do some fiction writing, so that's tied into a lot of my artwork. Because of this, my artist's statements are actually tiny short stories. I'm creating fantasy worlds that encourage the viewer to start making up stories on their own (I hope)."
Emily, Kathryn's girlfriend, on Kathryn's creative process:
"Kat is just my precious peach and really dedicated to her art. I remember when I was first starting to get an inkling that I liked her, she'd invite me to her dorm room and while I watched movies she'd just crouch over a piece on the floor for hours at a time. It afforded me a very nice view of her bottom. Also I learn too much about things from her. At any given time she will be lecturing me on jellyfish or octopodes, but I'm all right with it; her art is about new and fantastic discoveries."

Abyssopelagic Victoriana Series
Artist Statement:
Books trail the ship like sleepy doves; currents catch their bindings, ruffle their pages, splay them into squares of fading sunlight. First the single sheets work free, then more as the glue dissolves. Words blur into moss and fog, and pages crumple to pulp as shy fish dart close, back, and close again. Some take shelter under empty covers – the shark-torn leather strips drift until they're swallowed by other mistaken predators.
Some books survive long after their shadows die. An angler's light proves them intact; when she lures everyone to her treasure, a few are delighted enough to read with her. They cannot fathom the sun, much less buildings or humans, but the stories draw their fascination. Everything fluorescent does. They craft paper scraps into costumes, mucus-pasted imitations of illustrations, and they pile shipwrecked beams into sets, for the books taught them theater, too. However foreign they find land's trappings – lace, tea, kisses and carriages – they choose roles they understand.
Additional Images

Hexagon Rooms Series
Artist Statement:
First built during the Honeycomb Court's rule, this hexagonal chamber served as a bedroom for the magistrate's daughter. It withstood the first war, when the Empress–Our Lady of Shimmering Scales, may she live forever–conquered the bee country. The subsequent wars only heightened Her glory and our riches.
We have endeavored to recreate the chamber's many iterations: from its humble, bumblebee inception to its rebirth–a vessel for the Empress's rippling will.
We hope these models amuse and delight.
Additional Images
Learn more about Kathryn Weaver!