Art Attack Month: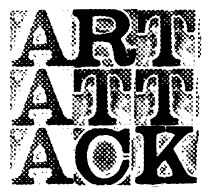 0. 1/28/2012 – Art Attack Call for Submissions, by Riese
1. 2/1/2012 – Art Attack Gallery: 100 Queer Woman Artists In Your Face, by The Team
2. 2/3/2012 – Judy Chicago, by Lindsay
3. 2/7/2012 – Gran Fury, by Rachel
4. 2/7/2012 – Diane Arbus, by MJ
5. 2/8/2012 – Laurel Nakadate, by Lemon
6. 2/9/2012 – 10 Websites For Looking At Pictures All Day, by Riese
7. 2/10/2012 – LTTR, by Jessica G.
8. 2/13/2012 – Hide/Seek, by Danielle
9. 2/15/2012 – Spotlight: Simone Meltesen, by Laneia
10. 2/15/2012 – Ivana, by Crystal
11. 2/15/2012 – Gluck, by Jennifer Thompson
12. 2/16/2012 – Jean-Michel Basquiat, by Gabrielle
13. 2/20/2012 – Yoko Ono, by Carmen
14. 2/20/2012 – Zanele Muholi, by Jamie
15. 2/20/2012 – The Malaya Project, by Whitney
16. 2/21/2012 – Feminist Fan Tees, by Ani Iti
17. 2/22/2012 – 12 Great Movies About Art, by Riese
18. 2/22/2012 – Kara Walker, by Liz
19. 2/22/2012 – Dese'Rae L. Stage, by Laneia
20. 2/22/2012 – Maya Deren, by Celia David
21. 2/22/2012 – Spotlight: Bex Freund, by Rachel
22. 2/24/2012 – All the Cunning Stunts, by Krista Burton
23. 2/26/2012 – An Introductory Guide to Comics for Ladygays, by Ash
24. 2/27/2012 – Jenny Holzer, by Kolleen
25. 2/27/2012 – Tamara de Lempicka by Amanda Catharine
26. 2/27/2012 – 10 Contemporary Lesbian Photographers You Should Know About, by Lemon/Carrie/Riese
27. 2/27/2012 – Read a F*cking Book: 'The Last Nude,' by Amanda Catharine
28. 2/27/2012 – Spotlight: Alice Hyde, by Laneia
29. 2/28/2012 – Spotlight: Mars Hobrecker, by Laneia
30. 2/28/2012 – Spotlight: Michelle Muldrow, by Laneia

Michelle Muldrow paints American landscapes with a frankness that feels a little disconcerting, but also really beautiful. She's holding a mirror to your existence, or rather the existence of an era or a generation, and you'd like to believe it's distorted or embellished, but you also know that it's not. In fact you've likely seen the same things of your own accord, even talked about them at length with whomever would listen. Seeing it painted there, though, in a way that doesn't even flirt with preciousness and still turns out being lovely, is almost a relief. At least, that's what it feels like from here.
Muldrow's paintings deal with a couple of themes, my favorite being how "familiarity and nostalgia can color our experiences of the mundane." Here's "L.A. Wires" from her series Edge Cities and the Exurban Environment.
Michelle Muldrow on how her most recent series, Cathedrals of Desire, came to be:
"I started this series back in 2004 when I still lived in San Francisco. At first, it was a response to the vastness and immensity of consumer goods, but when I moved to Cleveland, Ohio, I began to see the ubiquitousness of these box stores taking on elements of the experiences of landscape. The ideas of big box stores as cathedrals, the worship of consumerism/ideas of god and landscape and consuming of land are all ideas I address."
Artist Statement:
My work begins as a landscape painter and investigates the experience of the repulsion and seduction of the American environment. My paintings of big box stores are intended to elicit fear and awe at the vast American consumer landscape. I am inspired by the theories of Edmund Burke's treatise on the sublime and its relationship with terror. This, paired with the concept of the divine power of the sublime, heavily influenced my depiction of these consumer spaces as cathedrals. These environments represent not only the actual structural space and overwhelming chaos of goods, but also the psychology and vernacular of American consumerism. The obtrusive massive structures built with no attempt at aesthetic beauty reveal the most naked of American consumer desires. (cont. below)
My paintings embody the struggle I go through of representing a seductive state of paint and color while using representational elements to anchor the paintings in their contextual reality. I intend to mirror the psychological state of desire, gluttony and a manipulated experience with what is the essence of these consumer landscapes.
From macro to micro, I am interested in the relationship of the individual within these colossal environments, and the individual's relationship with the American vernacular of manufactured symbols of marketing. I respond to this landscape by obviating the contrast between the mundane and the dramatic – the absurd experience of both comfort and the profane.
The scroll-down factor of Cathedral 1 is so top notch. Like it should be required that you view the painting slowly from top to bottom.
Michelle Muldrow lives in Cleveland, Ohio, with her partner, Julie, and their son. In 2009, she was named a fellow for the Creative Workforce Grant in Cuyahoga County, Ohio. Her work is featured in the 2010 Midwest edition of New American Paintings. Muldrow's paintings reside in the art collections of the Cleveland Clinic, Microsoft, California Cryobank and IndyMac Bank. Michelle Muldrow is represented by Jen Bekman Gallery in New York City, Bonfoey Gallery in Cleveland, Ohio and Koplin Del Rio Gallery in Los Angeles, where her solo show opens May 16, 2012.