Art Attack Month: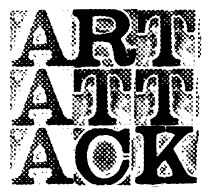 0. 1/28/2012 – Art Attack Call for Submissions, by Riese
1. 2/1/2012 – Art Attack Gallery: 100 Queer Woman Artists In Your Face, by The Team
2. 2/3/2012 – Judy Chicago, by Lindsay
3. 2/7/2012 – Gran Fury, by Rachel
4. 2/7/2012 – Diane Arbus, by MJ
5. 2/8/2012 – Laurel Nakadate, by Lemon
6. 2/9/2012 – 10 Websites For Looking At Pictures All Day, by Riese
7. 2/10/2012 – LTTR, by Jessica G.
8. 2/13/2012 – Hide/Seek, by Danielle
9. 2/15/2012 – Spotlight: Simone Meltesen, by Laneia
10. 2/15/2012 – Ivana, by Crystal
11. 2/15/2012 – Gluck, by Jennifer Thompson
12. 2/16/2012 – Jean-Michel Basquiat, by Gabrielle
13. 2/20/2012 – Yoko Ono, by Carmen
14. 2/20/2012 – Zanele Muholi, by Jamie
15. 2/20/2012 – The Malaya Project, by Whitney
16. 2/21/2012 – Feminist Fan Tees, by Ani Iti
17. 2/22/2012 – 12 Great Movies About Art, by Riese
18. 2/22/2012 – Kara Walker, by Liz
19. 2/22/2012 – Dese'Rae L. Stage, by Laneia
20. 2/22/2012 – Maya Deren, by Celia David
21. 2/22/2012 – Spotlight: Bex Freund, by Rachel
22. 2/24/2012 – All the Cunning Stunts, by Krista Burton
23. 2/26/2012 – An Introductory Guide to Comics for Ladygays, by Ash
24. 2/27/2012 – Jenny Holzer, by Kolleen
25. 2/27/2012 – Tamara de Lempicka by Amanda Catharine
26. 2/27/2012 – 10 Contemporary Lesbian Photographers You Should Know About, by Lemon/Carrie/Riese
27. 2/27/2012 – Read a F*cking Book: 'The Last Nude,' by Amanda Catharine
28. 2/27/2012 – Spotlight: Alice Hyde, by Laneia
29. 2/28/2012 – Spotlight: Mars Hobrecker, by Laneia


Mars Hobrecker is a Nova Scotian studying art in New York, and I know you'll like this photography because I know you, and this is up your alley. From the "Moments" series:
Hobrecker's photography is mainly focused on portraits of queer and gender-variant individuals, thanks to their interest in the issue of gender presentation, trans* identities, and queer/feminist ideas. Some of Hobrecker's work, including the most recent series, "Transcending Identity," will be published in an upcoming issue of Missfits Magazine.
Artist Statement:
Mars Hobrecker's most current series (which is still very much a work in progress) depicting the transgender and gender variant community. With portraits of Mother Flawless (famed drag queen), to Amos Mac (creator of Original Plumbing magazine), Lucas Silveira (musician), and the busboy at your local cafe, this series aims to improve visibility to the diverse group which it tries to represent while paying a direct homage to the original groundbreakers of this movement.
Scanned from 35mm film prints.
Excerpt from upcoming issue of Missfits Magazine:
"In my newest project, I put out a series of ads looking for gender variant people in the New York area. To the people who replied, I agreed to meet them wherever they felt most comfortable, and I was astounded to find that when I arrived at each location, the people became remarkably candid. They were eager to share their stories with me, often without having been asked. It's a rare thing to feel truly understood by someone, but again and again I felt like I was meeting people who knew exactly who I was before they shook my hand. We all had different stories, but we had the same struggles. These people had all been given barbie's when they wanted GI Joes as children, called sir when even m'am would have been preferred (and it very rarely is). My portraits weren't looking to exploit a community, but create one.
Working with a structured style, I shot these people kind enough to answer my (probably rather desperate) ad, where they asked, and focused entirely on them. I wanted my photos to be about the subject, about this person and who they are, without the hand of the photographer lying heavy upon the image. They're not styled, nor are they posed – as much as a photo of someone who is aware of the the camera can be. Though most of my work involves gender politics in some way, this project has definitely been the most personal. To a large extent, it's more about my own quest for a community to call my own after moving to New York (being born and raised on the coast of Nova Scotia, Canada), and less about the images themselves. Individually, they're nothing, but as a collective they show how large of a spectrum gender really is, and acts as something much more political."
The gallery below contains more images from the "Transcending Identity" series. You can also see more of Mars Hobrecker's photography by visiting their website.