Art Attack Month: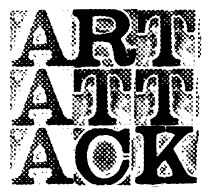 0. 1/28/2012 – Art Attack Call for Submissions, by Riese
1. 2/1/2012 – Art Attack Gallery: 100 Queer Woman Artists In Your Face, by The Team
2. 2/3/2012 – Judy Chicago, by Lindsay
3. 2/7/2012 – Gran Fury, by Rachel
4. 2/7/2012 – Diane Arbus, by MJ
5. 2/8/2012 – Laurel Nakadate, by Lemon
6. 2/9/2012 – 10 Websites For Looking At Pictures All Day, by Riese
7. 2/10/2012 – LTTR, by Jessica G.
8. 2/13/2012 – Hide/Seek, by Danielle
9. 2/15/2012 – Spotlight: Simone Meltesen, by Laneia
10. 2/15/2012 – Ivana, by Crystal
11. 2/15/2012 – Gluck, by Jennifer Thompson
12. 2/16/2012 – Jean-Michel Basquiat, by Gabrielle
13. 2/20/2012 – Yoko Ono, by Carmen
14. 2/20/2012 – Zanele Muholi, by Jamie
15. 2/20/2012 – The Malaya Project, by Whitney
16. 2/21/2012 – Feminist Fan Tees, by Ani Iti
17. 2/22/2012 – 12 Great Movies About Art, by Riese
18. 2/22/2012 – Kara Walker, by Liz
19. 2/22/2012 – Dese'Rae L. Stage, by Laneia
20. 2/22/2012 – Maya Deren, by Celia David

"I think that my films, putting as much stress as they do upon the constant metamorphosis, one image is always becoming another, that is, it is what is happening that's important in my films, not what is at any one moment. This is a woman's time sense, and I think it happens more in my films than in almost anyone else's." –Maya Deren
It was Februrary 2009 and I was at the Tate Modern in London, attempting to make the most of my study abroad semester for as little money as possible (museums in London are free!). I was coming up on my second hour of Appreciating Art, and I was beginning to suffer from museum fatigue. All of the paintings were starting to blend together into one sort of pulpy Dalí landscape, and the florescent overhead bulbs were starting to buzz some kind of coded message into each of my brain cells. It was time to take a break.
I stumbled through a swaying Dada gallery, and there it was: an open doorway emitting some sort of pulsating light. A video screening room. "I hope the benches have backs," I thought.
The benches didn't have backs. They were also all completely occupied. I slumped down to the floor and groggily peered up to where a black and white movie was being projected over the sea of people. On the screen, a woman with a dark mass of curly hair appeared at the window. She peered through the glass while another woman, down below on the sidewalk, chased after a hooded figure. As she turned up some steps a face was revealed, and we saw that the woman at the window was mired in some sort of repetitive lucid daydream.
The movie I had stumbled upon was Maya Deren's first and most famous film, Meshes of the Afternoon (Now, it's still my favorite film of hers). It's an experimental piece of surrealist art, playing with time and sense of self. It stars Deren, who seems to have fallen into a sort of paranoid midday dream, where objects appear and reappear and disappear, and time elapses into a circular nightmare where she continuously stumbles on new (or perhaps old) versions of herself.
There's something incredibly captivating about this film. Maybe it's the eerie violin music that hums in the background like an anxious fly. (The movie was originally silent, and the music was later added by Maya's third husband Teiji Ito. If you're a purist and want to watch it in its original form, you know, turn your sound off.) Or maybe it's the lighting. The film has this great sort of unsettling midday sunlight, like a lazy summer day right before the sun starts to set, when that afternoon weariness washes over you. Or maybe it was just the excitement of what this film represents. Finding female voices in any medium always seems a little like cracking open a rock to find that it's filled with bright purple amethysts. This was a movie made in 1943. And it was made by a woman. And now it's on display in a museum for being a pioneer piece of experimental film. All of these things make a little part of my brain go yesssss.
Film wasn't Deren's first medium. She graduated from NYU in 1936, and went on to receive her masters from Smith College in English Literature and Symbolist Poetry in 1939. But film is where she felt she really found her voice.
"When I got a camera in my hand it was like coming home. It was like doing what I always wanted to do without the need to translate it into a verbal form." -Maya Deren
Deren was also a dancer, and her passion for dance saturates much of her film. You can feel it in the choreography of her movements in many of her experimental films, as well as more directly in films like A Study of Choreography for Camera, which documents a dancer moving rhythmically through various spaces. Later in life, Deren became enamored with Voudoun culture and ritual, and traveled to Haiti where she filmed and participated in voudou ceremony and dance. Her film remained unfinished during her lifetime, but was edited post-mortem (she died suddenly from brain hemorrhage at age 44) by Teiji Ito.
The cheeky title card on Meshes of the Afternoon, which Deren shot for only $275, reads "Made in Hollywood." Deren believed that film was an amazing creative tool, and that Hollywood was underutilizing film's artistic possibilities in favor of big-budget glamour coupled with trite, linear storylines.
"Hollywood has been a major obstacle to the definition and development of motion picture as a creative fine-art form. I make my pictures for what Hollywood spends on lipstick."! – Maya Deren
Deren was an important player in the avant-garde art movement in the 40s and 50s. Her films and film theories have had an invaluable influence on movie making, and continue to remind us that film can be more than Transformers 300, or whatever new blockbuster Hollywood is shelling out millions for at the moment — it can makes us uncomfortable, making the familiar strange and the strange familiar. Her films also offer a female voice in the predominantly male legion of experimental film creators, something that we're still sorely in need of over 50 years later. For more on her greatness, check out the film "In the Mirror of Maya Deren", a great documentary about Deren's life and works.
Also, while Deren seems to have been consistently heterosexual in her choice of partners, I think that she and her second husband Alexander Hammid deserve 1944's Lesbian Couple of the Year Award for their collaboration on The Private Life of a Cat, a 7 minute video documenting romantic cat dates and kitten birthing. (Graphic cat-birth scenes, possibly NSFW).