This week in music, Kurt Cobain would have celebrated his 45th birthday. What's your favorite Nirvana song? Mine is "Heart-Shaped Box".
Metric Are On Their Way
Your favorite Canadian outfit (no, the other one) have finally revealed details about the highly anticipated follow-up to 2009's Fantasies. The full-length record will be titled Synthetica and it's set to drop on June 12. That's in approximately 109 days. You should probably add the date to your calendar right now. If you don't own a calendar then you won't find a better reason to buy one.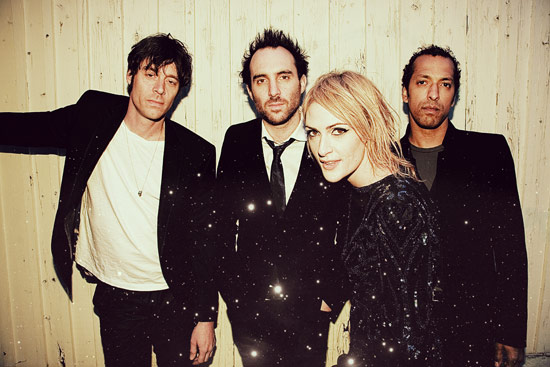 So do you wanna know what Synthetica is all about? Emily Haines has your answer:
"Synthetica is about staying home and wanting to crawl out of your skin from the lack of external stimulation. Synthetica is about forcing yourself to confront what you see in the mirror when you finally stand still long enough to catch a reflection. Synthetica is about being able to identify the original in a long line of reproductions. It's about what is real vs what is artificial. Synthetica is about insomnia, fucking up, fashion, all the devices and gadgets attached to our brains, getting wasted, watching people die in other countries, watching people die in your own country, dancing your ass off, questioning the cops, poetic justice, standing up for yourself, sex, the apocalypse, doing some stupid shit and totally regretting it but then telling everyone it made you stronger, leaving town as a solution to unsolvable problems, owning your actions and owning your time." Read the full letter.
Fiona Apple Announces US Tour Dates
So it turns out that the cryptic date posted on Fiona Apple's facebook page earlier this month ("Tuesday, February 21, 2012") that whipped fans into a frenzy was not the date that she would release her new album, but rather the date that she would announce a tour to select cities in the United States. Do you live in one of those cities? You lucky thing, you.
tUnE-yArDs Announce US and Canadian Tour Dates
As a result of widespread demand / global domination, tUnE-yArDs has announced a string of new summer tour dates across the United States and Canada. Read this PSA by Marni and see if the show's coming to your town.
Sia Denounces Pop Stardom
You know who really doesn't like fame? Aussie singer slash songwriter slash genius Sia. She has (re)announced on twitter that while she will continue to make music, she will no longer tour or promote it. Her plan is to stay behind the scenes and "make bank writing pop songs for pop starz".

When the announcement made headlines this week I was super confused because it already made headlines two years ago. I'm just repeating it for those of you who weren't on the internet in 2010.