Even people who don't follow basketball, or sports at all, think they know at least one thing about the WNBA: all those women are gay, right? In 2005, when Sheryl Swoopes came out as gay, that suspicion seemed like it was confirmed. But now it's 2011, and Swoopes has announced that she's no longer with Alisa Scott, her former partner, and is now engaged to marry a man.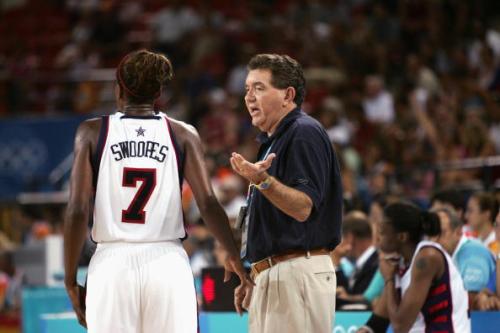 In some ways, this news isn't a surprise. When she first came out, Swoopes didn't shy away from the word "lesbian," but she also said something a little unusual – she didn't believe she was born gay. For most people in her position – had a child with her highschool sweetheart, separated and fell into a long-term relationship with a woman who she met through basketball – the narrative would be of someone who had always been gay, and had hidden it from herself for most of her life until this moment. But that's not what Swoopes said to ESPN:
"I can't help who I fall in love with. No one can.…I didn't always know I was gay. I honestly didn't. Do I think I was born this way? No. And that's probably confusing to some, because I know a lot of people believe that you are…Discovering I'm gay just sort of happened much later in life… I'm content with who I am and who I'm with. Whether people think that's right, whether they think it's wrong, I don't care."
Or later, in an interview with Outsports:
"I'm not bisexual… I don't think I was born [gay]. Again, it was a choice. As I got older, once I got divorced, it wasn't like I was looking for another relationship, man or woman. I just got feelings for another woman. I didn't understand it at the time, because I had never had those feelings before."
So if she's not a lesbian, and didn't identify as bisexual, what's going on? Swoopes' life as a gay woman has made so much sense, and seemed like nothing short of idyllic for a top athlete who risked being taken even less seriously than female athletes already do by coming out. She was the Most Valuable Player of the WNBA the year she came out, and since then has remained a force to be reckoned with while maintaining family life with her partner and her son; she was a spokeswoman for Olivia Cruises and is reported to have "frequently appeared at LGBT fundraisers." It appears that no one in the industry even knew, except for quiet rumors, that she had split with Scott and was now dating her current partner and fiance, Chris Unclesho.  How do we describe the change? It seems like a significant number of headlines are going with "not so gay after all," which is not entirely unfair, if a little derisive.
Swoopes doesn't seem to have a word for it herself – she seems to have no interest in going through another sort of 'coming out' process as not-gay. ESPN writes that "Swoopes didn't seem to want to have — for lack of a better way to put it — a 'coming out as straight again' interview. She wasn't renouncing homosexuality or saying she wished she hadn't said what she did in 2005." There's no indication that she considers her relationship with Scott a mistake or, worse, a "phase." All the evidence, what little of it there is, indicates that Swoopes is exactly where she said she was in 2005: in love, and wanting to be honest about it without compromise. Her words then were "I'm tired of having to hide my feelings about the person I care about. About the person I love." Is this different?
In 2005, Swoopes was described as "the first African-American professional athlete to come out while at the top of her game." Six years later, she doesn't seem to be the out-and-proud lesbian face of basketball that many had wanted. But maybe she's something else, something that could be even more groundbreaking. Even minor gay characters in media or TV used to be viewed as major progress, but now there are major gay storylines in shows as mainstream and popular as Glee and Grey's Anatomy. Now the boundaries are being broken by characters like Franky in Skins; where pop culture once was barely ready for men with lisps, now they're taking on a genderqueer pansexual kid. In 2005, seeing a successful and wildly talented woman risk everything she'd won by being honest about who she loved was big news. But in 2011, maybe we're ready to see this as a story about being honest about everyone you love and have loved, being honest about the weird and indescribable ways love works inside you by refusing to really try to describe them at all. For a culture as obsessed with labels as ours is, that's truly brave and transgressive. And for anyone else who doesn't feel like they were born into a label, Swoopes may now be a real role model – the question is whether everyone else will be able to accept those terms, or whether "not so gay anymore" is the story we're going to stick with.
Editor's Note Update: Comments on this article will be moderated as normal. Thanks for contributing to a healthy discussion!