Sebastian's Team Pick:
When Intern Grace posted her dope team pick of Theophilus London's new track featuring Sara Quin, it reminded me that I've also been meaning to share a song featuring one of the Quin sisters! It first came out quite a while, over two years ago, but for anyone who hasn't heard it before, prepare to really enjoy it!
Jim Ward, former frontman of 90s punk stars At The Drive-In (as well as Sparta and Sleepcar), has been working on his solo career and will be rereleasing his solo EPs this summer on the compilation Quiet In The Valley, On The Shores The End Begins & The Electric Six. The compilation will also feature some newer work, including Broken Songs, which is basically an anthem for tortured commitmentphobes. (Video for the song is here.)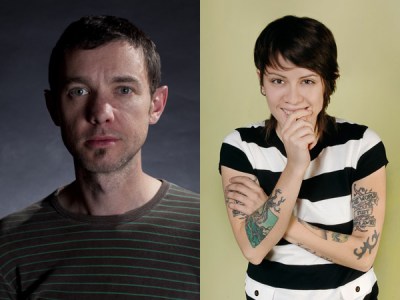 The part that y'all are going to get all excited about is that the acoustic version of Broken Songs features Tegan Quin and is just so ridiculously good that I've been playing it on loop for over a week and featured it on my most recent summer mixtape.
Ward told Spinner that he wrote the song with Tegan in mind! "Tegan and I had a long conversation over dinner one night in Vancouver about our mutual habit of leaving situations early in life, bailing before it can bail on you maybe. A little after that I was in Marfa on vacation, and sat down and wrote this song pretty much in one sitting. I wrote a verse for Tegan and asked if she would sing on it, and she did and it blew my mind. I am forever indebted to her for that."
Listen below!
[yframe url='https://www.youtube.com/watch?v=NiD2V4uBnAg']
The EP compilation thang comes out August 2, so keep your eyes out for that. Read more about the release (AND GET A FREE DOWNLOAD OF THIS SONG) at Brooklyn Rocks.