Art Attack Month: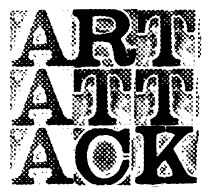 0. 1/28/2012 – Art Attack Call for Submissions, by Riese
1. 2/1/2012 – Art Attack Gallery: 100 Queer Woman Artists In Your Face, by The Team
2. 2/3/2012 – Judy Chicago, by Lindsay
3. 2/7/2012 – Gran Fury, by Rachel
4. 2/7/2012 – Diane Arbus, by MJ
5. 2/8/2012 – Laurel Nakadate, by Lemon
6. 2/9/2012 – 10 Websites For Looking At Pictures All Day, by Riese
7. 2/10/2012 – LTTR, by Jessica G.
8. 2/13/2012 – Hide/Seek, by Danielle
9. 2/15/2012 – Spotlight: Simone Meltesen, by Laneia
10. 2/15/2012 – Ivana, by Crystal
11. 2/15/2012 – Gluck, by Jennifer Thompson
12. 2/16/2012 – Jean-Michel Basquiat, by Gabrielle
13. 2/20/2012 – Yoko Ono, by Carmen
14. 2/20/2012 – Zanele Muholi, by Jamie
15. 2/20/2012 – The Malaya Project, by Whitney
16. 2/21/2012 – Feminist Fan Tees, by Ani Iti
17. 2/22/2012 – 12 Great Movies About Art, by Riese
18. 2/22/2012 – Kara Walker, by Liz
19. 2/22/2012 – Dese'Rae L. Stage, by Laneia
20. 2/22/2012 – Maya Deren, by Celia David
21. 2/22/2012 – Spotlight: Bex Freund, by Rachel
22. 2/24/2012 – All the Cunning Stunts, by Krista Burton
23. 2/26/2012 – An Introductory Guide to Comics for Ladygays, by Ash
24. 2/27/2012 – Jenny Holzer, by Kolleen
25. 2/27/2012 – Tamara de Lempicka by Amanda Catharine
26. 2/27/2012 – 10 Contemporary Lesbian Photographers You Should Know About, by Lemon/Carrie/Riese
27. 2/27/2012 – Read a F*cking Book: 'The Last Nude,' by Amanda Catharine
28. 2/27/2012 – Spotlight: Alice Hyde, by Laneia
29. 2/28/2012 – Spotlight: Mars Hobrecker, by Laneia
30. 2/28/2012 – Spotlight: Michelle Muldrow, by Laneia
31. 2/28/2012 – Spotlight: Laura Doughtie, by Rachel



Laura Doughtie's work is something that you really need to see in person. Their ink drawings are densely layered, with millions of tiny lines building upon one another in a way that makes the clearly laborious process of building them upon each other as least as much a work of art as the finished product. Their creations of crumpled and collaged advertisements and society pages have a looming presence in the room, and are diminished unfairly by a tiny glowing screen. Unfortunately, a tiny glowing screen is the only space we have to give them. Luckily, Doughtie has an upcoming show of new large scale work opening March 10 at 500X in Dallas, TX! If you're in the area, going to see this work in person is the only way to do it justice, and a way to do a huge favor to yourself as well.
Doughtie is 26 and spent years working in the contemporary art scene in New Orleans and Dallas. They now help run the 500X gallery in Dallas, and decorate cakes by day. Doughtie's drawings are "all about mark making and the understanding of forms through that process… Biomorphic or organic in form the final image comes out of the repetition in line as opposed to a preconceived subject or theme." Doughtie is inspired by obsession and repetition, both in the world around us and in our own rituals and habits. "Embracing failure. Obsessive thoughts. Banal repetition of actions.  For me they can be both very meditative and calming or crazed and overwhelming. Intensely intimate."
Artist Statement:
I live and work in Dallas, TX. I graduated from Tulane University in New Orleans in 2007. I am represented by 500X, Texas' oldest, artist run, cooperative gallery.
I work with ink on paper.
What I want to create is a reversion to minimal organic forms accomplished through complex means. Both process and final work are simple yet consuming, reflecting my inclination toward minimal aesthetics and biomorphic patterns that take over the page into abstraction.
Ink on paper reflects my ideal in simple, monochrome materials. My work is set in the process of obsessive compulsive movement broken down and repeated until it fills the surface. I'll begin with a set movement and repeat it over and over until the form is complete, with variations created through moments of failure. Such as, when the pen begins to run out of ink and a new one is needed, or my hand tires to the point it can no longer create the same line again and again. My work is created on a large scale in order for the viewer to be as consumed and absorbed into the drawing as I am creating them.
In process I try to recreate subjects that are appealing to me or I simply repeat a movement until it forms itself or some bigger pattern emerges that I find interesting and follow it. For me it's about being lost in something so small, in both action and subject, that circumscribes an importance as fundamental units of something larger.
Laura Doughtie's work can be seen at the 500X gallery on March 10, 2012.