Art Attack Month: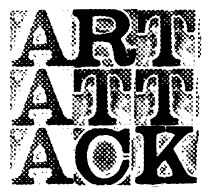 0. 1/28/2012 – Art Attack Call for Submissions, by Riese
1. 2/1/2012 – Art Attack Gallery: 100 Queer Woman Artists In Your Face, by The Team
2. 2/3/2012 – Judy Chicago, by Lindsay
3. 2/7/2012 – Gran Fury, by Rachel
4. 2/7/2012 – Diane Arbus, by MJ
5. 2/8/2012 – Laurel Nakadate, by Lemon
6. 2/9/2012 – 10 Websites For Looking At Pictures All Day, by Riese
7. 2/10/2012 – LTTR, by Jessica G.
8. 2/13/2012 – Hide/Seek, by Danielle
9. 2/15/2012 – Spotlight: Simone Meltesen, by Laneia
10. 2/15/2012 – Ivana, by Crystal
11. 2/15/2012 – Gluck, by Jennifer Thompson
12. 2/16/2012 – Jean-Michel Basquiat, by Gabrielle
13. 2/20/2012 – Yoko Ono, by Carmen
14. 2/20/2012 – Zanele Muholi, by Jamie
15. 2/20/2012 – The Malaya Project, by Whitney
16. 2/21/2012 – Feminist Fan Tees, by Ani Iti
17. 2/22/2012 – 12 Great Movies About Art, by Riese
18. 2/22/2012 – Kara Walker, by Liz
19. 2/22/2012 – Dese'Rae L. Stage, by Laneia
20. 2/22/2012 – Maya Deren, by Celia David
21. 2/22/2012 – Spotlight: Bex Freund, by Rachel
22. 2/24/2012 – All the Cunning Stunts, by Krista Burton
23. 2/26/2012 – An Introductory Guide to Comics for Ladygays, by Ash
24. 2/27/2012 – Jenny Holzer, by Kolleen
25. 2/27/2012 – Tamara de Lempicka by Amanda Catharine
26. 2/27/2012 – 10 Contemporary Lesbian Photographers You Should Know About, by Lemon/Carrie/Riese
27. 2/27/2012 – Read a F*cking Book: 'The Last Nude,' by Amanda Catharine
28. 2/27/2012 – Spotlight: Alice Hyde, by Laneia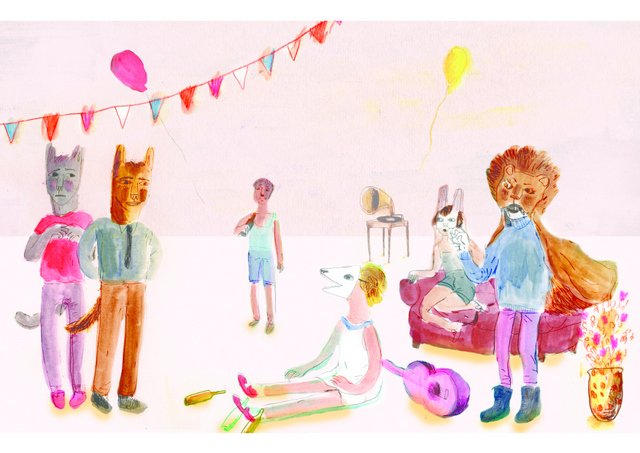 Alice Hyde's illustrations are whimsical, colorful things, and you could almost just leave them at that, but you'll want to look deeper. There's something eerie and a little sad there. And just as you're realizing that it's not quite eerie, that it's maybe shyness — or embarrassment? — it's rushed past you and you're urged to look! Over here! At something else! You didn't see anything back there. It was all in your head, maybe.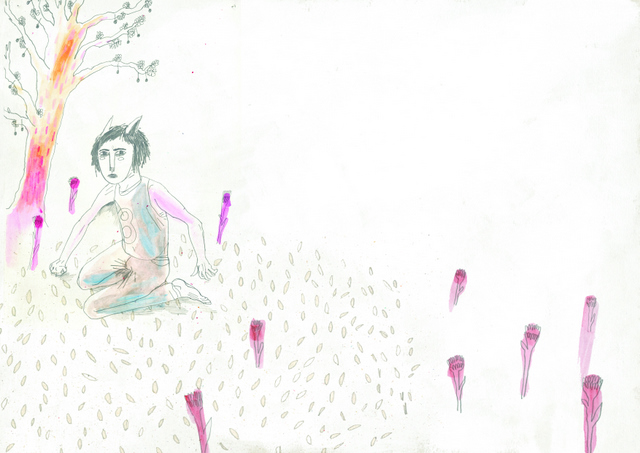 Artist Statement
Deep inside I am somebody else. An animal, a great bear, a wolf, a boy. My desire for you, for life, is like a beast. Untameable, held back only by the exertion of all my muscles, all my beliefs, all my fears. My whole being cries out to be free. The creature inside cries out, faint but ever-present. Sometimes it escapes. It leaps out of me and runs through the forest naked, kills other animals in a vengeful fury. I know myself better now. I know how I would show myself to you. Slowly, carefully unclench my body. My furry animal body. (continued below)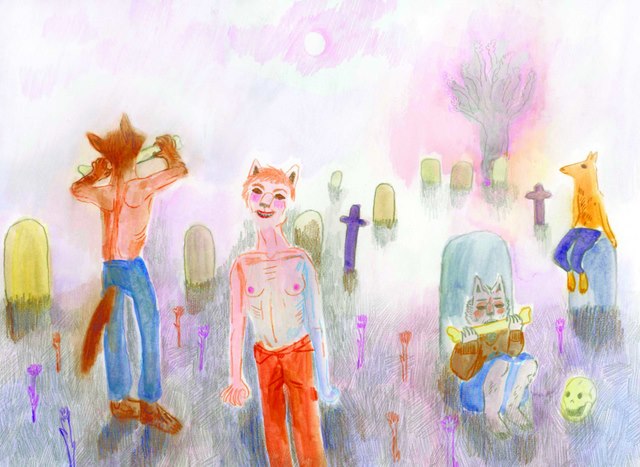 To me, werewolves represent what it feels like to have a hidden part of yourself. It's dangerous, to be controlled and ashamed of. Always worried that you will be discovered and shunned, ridiculed, declared a menace to society.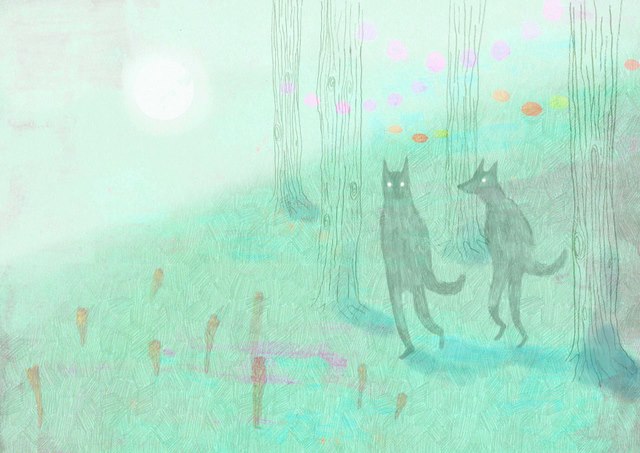 For much of my life my queer identity has been hidden. My masculinity has been hidden. My desire has been hidden. My work about werewolves mirrors my own secret inner life. It has taken me years to feel comfortable with all of me, and to not feel ashamed of who I am.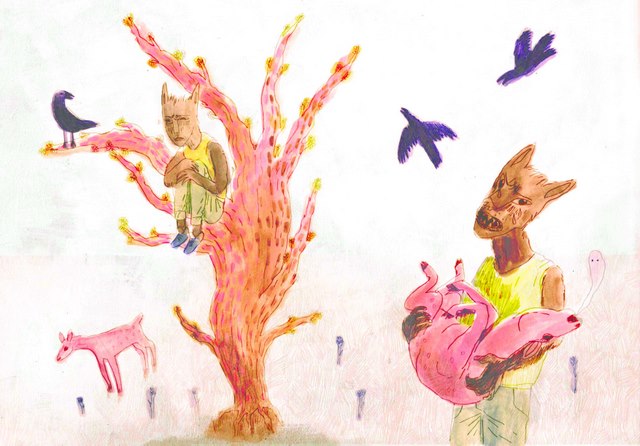 Learn more about Alice Hyde!