Art Attack Month: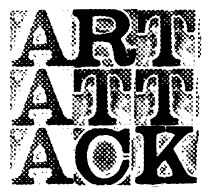 0. 1/28/2012 – Art Attack Call for Submissions, by Riese
1. 2/1/2012 – Art Attack Gallery: 100 Queer Woman Artists In Your Face, by The Team
2. 2/3/2012 – Judy Chicago, by Lindsay
3. 2/7/2012 – Gran Fury, by Rachel
4. 2/7/2012 – Diane Arbus, by MJ
5. 2/8/2012 – Laurel Nakadate, by Lemon
6. 2/9/2012 – 10 Websites For Looking At Pictures All Day, by Riese
7. 2/10/2012 – LTTR, by Jessica G.
8. 2/13/2012 – Hide/Seek, by Danielle
9. 2/15/2012 – Spotlight: Simone Meltesen, by Laneia
10. 2/15/2012 – Ivana, by Crystal
11. 2/15/2012 – Gluck, by Jennifer Thompson
12. 2/16/2012 – Jean-Michel Basquiat, by Gabrielle
13. 2/20/2012 – Yoko Ono, by Carmen
14. 2/20/2012 – Zanele Muholi, by Jamie
15. 2/20/2012 – The Malaya Project, by Whitney
16. 2/21/2012 – Feminist Fan Tees, by Ani Iti
17. 2/22/2012 – 12 Great Movies About Art, by Riese
18. 2/22/2012 – Kara Walker, by Liz
19. 2/22/2012 – Dese'Rae L. Stage, by Laneia
20. 2/22/2012 – Maya Deren, by Celia David
21. 2/22/2012 – Spotlight: Bex Freund, by Rachel
22. 2/24/2012 – All the Cunning Stunts, by Krista Burton
23. 2/26/2012 – An Introductory Guide to Comics for Ladygays, by Ash
24. 2/26/2012 – Jenny Holzer, by Kolleen


Jenny Holzer is a feminist and an artist whose work you need to know. She combines writing with art-making, private thoughts with public space, and provocation with sincerity and compassion. Her work affects me in a way that art, literature, or poetry alone cannot – it's the haphazard combination of words, environment, and circumstance that makes her work so special.
Jenny Holzer's art takes many forms, appearing on everything from posters, billboards, condoms, and racecars, to huge projections and large-scale museum installations. But her work almost always centers on a simple line of text – an aphorism, a saying, an idea – or as she calls it, a "Truism".
For instance:
SELF AWARENESS CAN BE CRIPPLING.
LACK OF CHARISMA CAN BE FATAL.
ROMANTIC LOVE WAS INVENTED TO MANIPULATE WOMEN.
YOU ARE A VICTIM OF THE RULES YOU LIVE BY.
MEN CAN'T PROTECT YOU ANYMORE.
Just reading these statements produces a visceral reaction: identification, disgust, paranoia. Now imagine stumbling across one of those lines plastered all over an anonymous wall, or projected in huge letters onto a building across the street, or on a giant billboard in Times Square.
Holzer's first major (and arguably most famous) series of work is "Truisms," where she wrote hundreds of one-liners and scattered them all over New York City. Originally the project was a series of broadsheets featuring statements that she composed based on her reading list at the Whitney Independent Study Program. Since then, her "truisms" have been flashed from LEDs, projected onto buildings, engraved into plaques, and printed onto tshirts. You couldn't avoid her if you wanted to.  She conducted the series from 1977 – 79, before she was a recognized artist with major grants or funding.  She transferred her Truisms onto t-shirts and stickers, and carved them into public benches. Very few photographs of the original works exist, but a full list of the writings can be viewed here, and have since been reused in many of her later works.
My favorite thing about Truisms is how raw and unplanned it all seems to be. Now, people go deliberately to see Holzer's installations. Her work has been analyzed and canonized; I had read all her texts and seen photos of her work before experiencing it in the flesh.
But imagine the shock of seeing art like this for the very first time in the late 70s. Most people who saw it probably didn't even recognize it as art; they just read the text, felt something deep inside of them stir, and knew it had to do with the pain, sadness, happiness, and fear within all of us. The romantic in me always imagines someone stopping by one of Holzer's posters on their way home from work. They read it closely and are affected by it, then continue on with their lives with that one phrase stuck in their minds, but never hear of the artist Jenny Holzer again.
Other works by Holzer include Inflammatory Essays (1979-82), in which she brought texts inspired by Emma Goldman, Rosa Luxemberg, Hitler and Mao to the streets. The Living series (1980-82) was shown on bronze plaques and hand-lettered signs, a change from her previous, more underground posters. The biggest change in Holzer's work was marked by her Survival series (1983-85), as she progressed to using public LED screens and billboards, gaining a much larger audience for her work. I don't know if anyone's actually found (and used) a Jenny Holzer condom, but I wouldn't be surprised.
Holzer has also written words on literal skin and bones in "Lustmord" (the German word for "lust-killing"), lifted text from torture documents from the war in Iraq, and explored subjects as diverse as AIDS, war, and motherhood. She's had entire museum shows made up of flashing LED signs, and once wrapped up the rotunda of the New York Guggenheim in lights to look like a flashing, circular billboard. Her latest work consists of light projections onto buildings and embankments, enveloping public spaces and transforming them into gigantic pieces of art.
Holzer is incredibly prolific, and her infiltration from the streets to galleries and museums has also found its way onto the internet. With Twitter, Tumblr, and our culture of reblogging one pithy one-liner after another, Holzer's Truisms have never been more relevant or meme-esque.
In fact, Holzer has been getting in on Web 2.0 before it even existed – her collaboration with the website adaweb, Please Change Beliefs, began in 1995. It invites users to rewrite Holzer's aphorisms and add their own Truisms. By 1998, over 10,000 new Truisms had been posted onto the site.
Recently, there's been a whole slew of Twitter feeds inspired by her writings, including parodies such as "Jenny Holzer, Mom" and "Jenny Holzer, Cat", fan-written aphorisms "Fake Jenny Holzer" and "Also Jenny Holzer", as well as people who could be mistaken for Jenny Holzer herself.
Jenny Holzer-inspired "truisms" are also undeniably awesome. Can you guess where each statement came from?
ANGER OR HATE CAN BE A USEFUL MOTIVATING FORCE BUT CAT TREATS TASTE BETTER.
REAL UNFETTERED FREEDOM CAN CRIPPLE YOU SO WEAR YOUR SEATBELT.
RESPECT MUST BE EARNED AND PUSHING YOU THROUGH A BIRTH CANAL COUNTS AS EARNING IT.
Much of her art is site-specific, but the good news is that works by Holzer can be found everywhere. I spent a month at Barnard College before finding a bench on campus that was engraved with her line STUPID PEOPLE SHOULDN'T BREED. But what's great about Jenny Holzer's art is that it's also easy to make it your own — for months, I had this line taped across the top of my computer monitor:
IT IS IN YOUR SELF-INTEREST TO FIND A WAY TO BE VERY TENDER.