Um, we need to talk about Cate Blanchett's Ocean's Eight character. Specifically, we need to talk about the set photos that have been popping up that show Cate Blanchett wearing what can only be described as "Carol Aird's wardrobe if Carol Aird were a modern-day rockstar and not a 1950s housewife.wp_postsHere I was, thinking Sarah Paulson's casting was the gayest thing to happen to this movie. And then along came Cate Blanchett in her multiple leather pants and her blazers and her longing looks at Sandra Bullock. It's like Blanchett did Carol and then said "you know what I want to do next? Something much gayer."
There is, so far, zero official confirmation as to whether Blanchett's character — or any character in Ocean's Eight, for that matter — will be queer. We don't even know most of the characters' names. So I am operating under the assumption that they all are queer. Don't let me down, Hollywood!!!!
Blanchett's wardrobe for the film includes a lot of different takes on suiting, a lot of leather, and a lot of metallic shoes. I'm pretty sure Blanchett's character will wear approximately 75 different outfits over the course of the film and is only involved in this heist as a way to increase her leather pants budget, which is already astronomical. Every outfit combines undeniably queer aesthetics, and I'm already planning my entire winter wardrobe around these very bold, very gay looks. The last time set photos got me this riled up was when we got our first few looks of Kate McKinnon as Jillian Holtzmann in Ghostbusters.
Here are seven of Blanchett's already iconic looks from the movie with ideas for how to recreate them on a budget that does not require executing an elaborate heist.
---
Cheetah Girls, If Cheetah Girls Were More Explicitly Gay And Not Just Subtextually Gay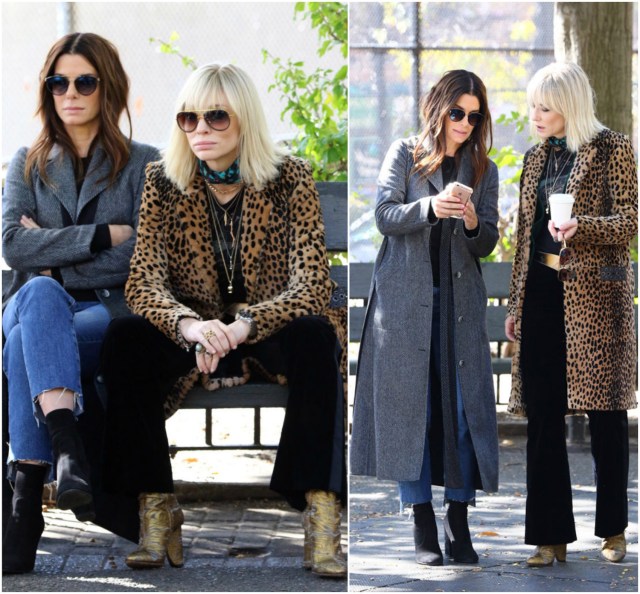 First off, I will take this moment to reiterate the fact that Cheetah Girls ranks in the Top 5 Most Subtextually Queer Disney Channel Original Movies. I have to get that one off my chest every few weeks or so. Now, Blanchett was wearing this printed coat in the first set photos that came out, and it was our first glimpse at the wonderfully queer costuming to come.
ASOS Geometric Necklace Pack // Glitter Faux Leather Booties // Forever 21 Floral Square Scarf // ASOS Slim Coat in Leopard Print or Y.A.S. Leopard Print Coat or Forever 21 Leopard Print Faux Fur Jacket // RiverPanda Gold Metal Mirror Waist-Belt // Nasty Gal Flare Game High-Waisted Pants // Sleater-Kinney Silhouette T-Shirt (She is wearing some sort of graphic tee, and I can't quite make out what it says, so I'm just choosing something gay) // ASOS Aviator Sunglasses In Brushed Gold
---
Modern-Day Queer Willy Wonka

My dear friend Jillian came up with the name for this look, and she is not wrong. Blanchett is literally wearing a green three-piece velvet suit. Now, this is not an easy look to replicate without spending hundreds of dollars, so I've come up with a slightly more practical outfit inspired by the original.
Black Heeled Ankle Boots // Thai Silk Accent Scarf // New Look Pajama Style Velvet Jumpsuit  // Forever 21 Layered Chain Necklace 
---
Hop Onto My Motorcycle And Let's Ride Into The Sunset

I SWEAR IF CATE B AND SANDY B ARE NOT ACTUAL GIRLFRIENDS IN THIS MOVIE, I WILL LOSE MY SHIT. Look at these two perfect gals being pals along a rocky beach. How many vests does Cate Blanchett's character own? Here's an embarrassing but relevant story about myself: In 6th grade, I started wearing vests because Cameron on the television show House M.D. wore vests. Please share any and all vest stories you have in the comments.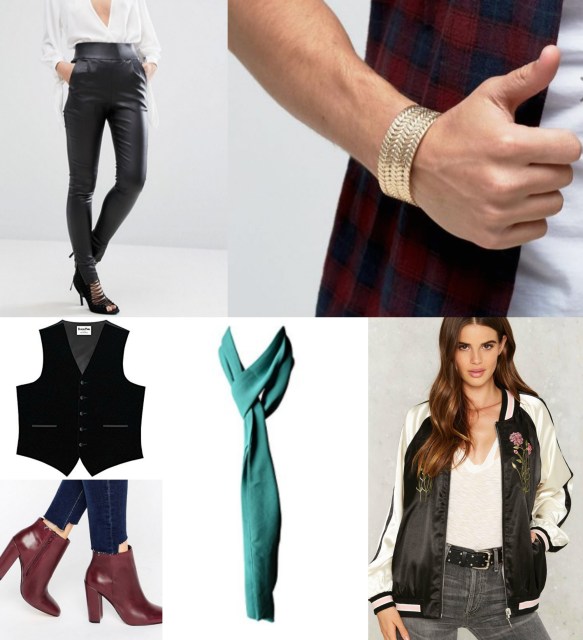 Parallel Lines High-Waist Leather Look Pants or River Island Plus Leather Look Pants or Contemporary Faux Leather-Paneled Leggings // ASOS Plaited Bangle // Black Velvet Vest // ALDO Aravia Leather Heeled Ankle Boots or ASOS Rosaline Heeled Ankle Boots // Anny's Silky Solid Tie Scarf // Rhythm Carnation Bomber Jacket
---
Campy 1980s Villain Chic
Will the other members of Ocean's Eight comment on the fact that Blanchett's character looks like she is perpetually about to crash a party in Gotham and start threatening people? Please note that her belt has two wolf heads on it. Unless you casually have $600 to drop on a Gucci belt, you're not going to find something exactly like this two-headed wolf belt (even the Gucci version only has one wolf head!).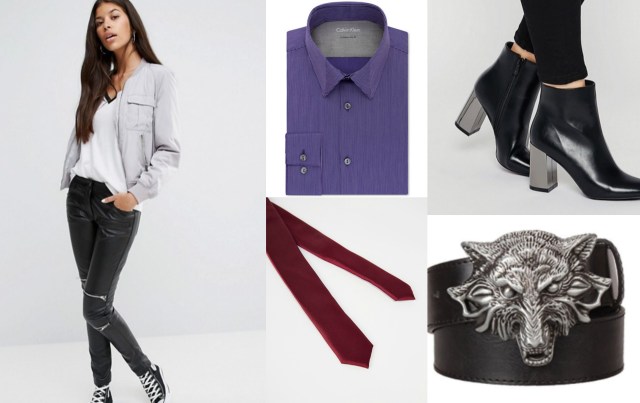 Boohoo Leather Look Zip Detail Pant // Calvin Klein Stretch Purple Dress Shirt // ASOS Skinny Tie // Public Desire Darla Black Mirror Heeled Ankle Boots // Wolf Head Belt
---
Power Clashing While Power Posing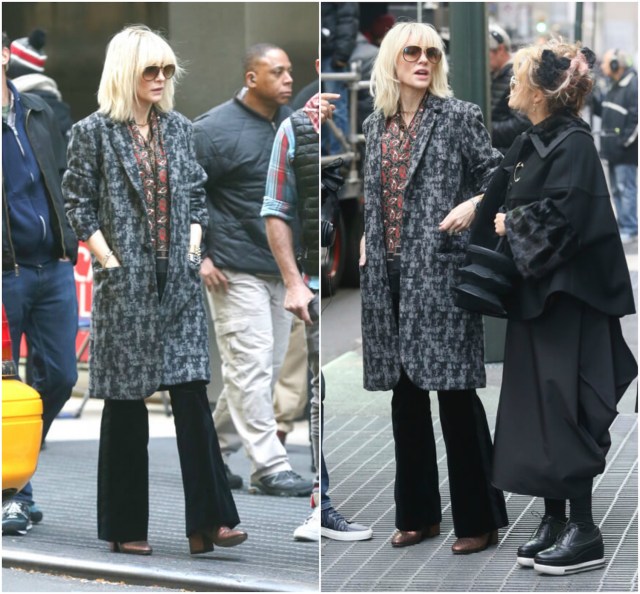 I will be the first to admit that Blanchett looks a little bit like curtains here. But she is Cate Blanchett, so she looks like hot curtains. You, too, can look like hot curtains with the right power clashing combo. Mixing paisley with another pattern seems to be the right way to go.
So Glad You Sassed Bootie // Stretch-Knit Flare Pants // Miss Selfridge Longline Duster Coat or H&M Long Jacket // Vintage Paisley Long-Sleeve Shirt // River Island Gold Aviator Sunglasses
---
Oh You Really Thought I Was Just Going To Wear One Three-Piece Suit In This Movie?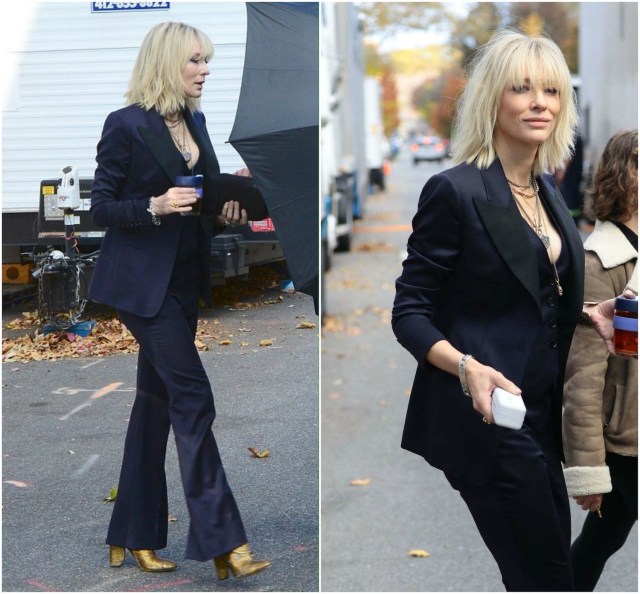 Three-piece suits ain't cheap, but if you're in the market for one, ASOS has some of the most affordable options. But you can still pull off Blanchett's bold look by mix-matching different pieces. It won't look as cohesive, but Blanchett's general aesthetic in this movie is quite audacious, so mix-matching still seems faithful to the character.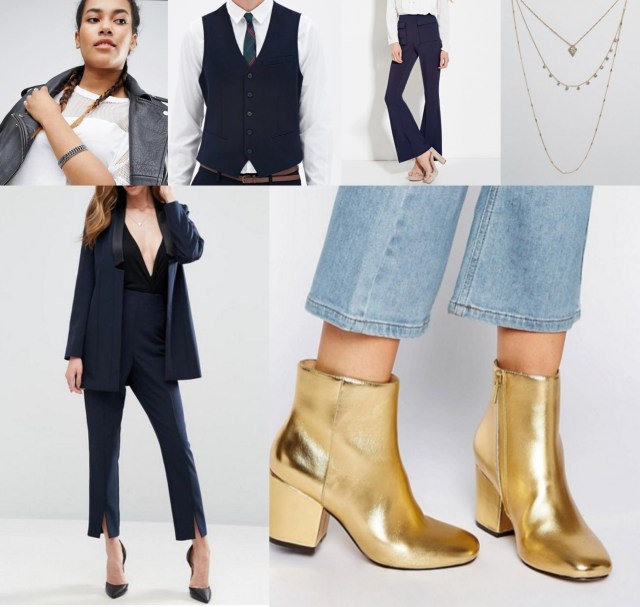 ASOS Curve Curb Chain Cuff Bracelet // Satin-Back Suit Vest  // Contemporary Flap-Pocket Flared Pants or Forever 21 Texture Flared Pants // ALDO Guion Layering Necklace // ASOS Longline Tux Jacket or Forever 21 Single-Button Blazer // ASOS Rachelle Heeled Ankle Boots
---
Rocking Velvet On Leather Because I Don't Give A Fuck
In addition to mixing patterns in this movie, Blanchett is also mixing materials. Like Sandra Bullock and Cate Blanchett, leather and velvet make a very cute couple.
Wintage Velvet Blazer or The Fenty Blazer // ASOS Jersey Vest // New Look Chelsea High Patent Boots // Tripp NYC Faux Leather Pant or EDENKISS Women's High-Waist Faux Leather Legging