This month's installment of Ask Your Friendly Neighbourhood Lesbrarian tracks down some books for a reader of the first column, which was about books with lesbian May-December romances. Autostraddler Allison commented on that post and said that she was looking for
"QUEER. HIGH. FANTASY. Like, Guy Gavriel Kay, but queer. Tolkien, but queer. Melanie Rawn, but queer. That is all I want in life."
I am so excited to give some suggestions for queer Lord of the Rings readalikes. For those of you not steeped in fantasy nerdom: when people talk about high or epic fantasy, we mean fantasy set in a lush, very detailed, imaginary world intricately created by the author, often with its own comprehensive history, mythology, species, languages, landscapes, and all sorts of stuff. Typically these worlds are pseudo-medieval Europe, although I think the best authors switch that up. Think of those fat books with glossaries and maps in the back, often with sword-wielding maidens on the cover. Another key feature is that usually the main character(s) are going on some kind of epic quest. Guy Gavirel Kay in particular also focuses a lot on characterization; you get to know the characters really well over the course of these lengthy novels. High/epic fantasy can usually be found in trilogy form.
I had no idea when I took on this question just how epic — ha ha — the search for queer high/epic fantasy would be. I put out a simple call on Twitter, and boy did queer book nerds respond with gusto. I got so many suggestions, in addition to the few I already had in mind, that I didn't know what to do with them all. So this list that I've come up with is by no means complete, especially if you're interested in high fantasy with queer male characters as well (I've focused on women).
---
I am so pumped to suggest Cherokee author Daniel Heath Justice's The Way of Thorn and Thunder trilogy, which I think is criminally underrated. People, this is the queer, feminist, Indigenous high fantasy you never knew you needed so bad. The whole story is an allegory to colonization in the Americas, but it's also an action-packed story that totally works on its own. It features, among others, Tarsa, a bisexual former warrior whose destiny to be a Wielder—a kind of healer/priestess/witch — and Denarra, a feisty trans woman traveller full of hilarious tall tales, getting shit done "by any means necessary.wp_postsIf you've wondered what LOTR would be like if it were queer, trans, feminist, poly, and decolonizing, look no further.
---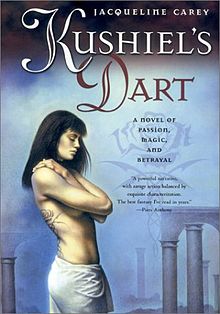 Kushiel's Dart by Jacqueline Carey is well-loved among queer and feminist fantasy readers, so I hope you haven't already read it! There are actually nine books (three trilogies) set in Carey's vast universe. The first trilogy, of which Kushiel's Dart is the first novel, centres on Phèdre, who is "trained equally in the courtly arts and the talents of the bedchamber,wp_postsaka a sex worker. This massive tale is set in a noble world of political intrigue, ripe with a scheming villainess, courtly poets, traitors, you name it. There's also lots of sex, of the lesbian and S&M variety, in as much detail as the world-building. Kushiel's Dart comes in at about 900-1000 pages depending on the edition, meaning it's for the seriously committed high fantasy fan.
---
Two much more commitment-phobic friendly options are two YA books Ash and Huntress by Malinda Lo. Ash and Huntress are set in the same lush fairy tale world steeped in Chinese mythology, although hundreds of years apart, so they can be enjoyed together or on their own. Huntress definitely fits the epic genre more tightly, following two 17-year-old human girls Kaede and Taisin as they go on an grand quest to the city of the Fairy Queen in an effort to save humankind, whose world is dying. As you can probably guess, they also fall in love along the way. I loved the balance of the girls' strengths — one thrumming with magic, the other proficient in earthly skills — as they grow and learn on their journey.
---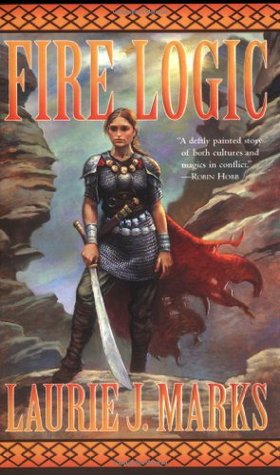 Laurie J. Mark's Elemental Logic trilogy is more classic, European-influenced high fantasy, but with a matriarchal and working-class twist. It stars Zanja, a lesbian warrior of colour, but the spotlight is perhaps equally shared by a female half-giant "smokewp_postsaddict blacksmith named Karis, and Emil, a middle-aged soldier with a disability, plus others. The action, simply put, is a guerilla war against evil oppressors in a war-torn country using elemental magic. Sounds awesome, right? All of this comes about when their country's leader dies, there's no successor named, and everything goes to shit. This is a novel about wounded, complex characters navigating war, political chaos, and emotionally complex (lesbian) relationships.
---
Labyrinth Lost by Zoraida Córdova just came out this fall and it's the first in a YA trilogy called Brooklyn Brujas. We meet the main character, bisexual teenage bruja Alex, on the eve of her 16th birthday and her Deathday, a bruja's coming-of-age ceremony. Unfortunately for Alex, who doesn't actually want to be a witch anyway, her spell to try to rid herself of her powers goes horribly wrong and she ends up sending her entire family to Los Lagos, an alternate realm full of vicious creatures and danger at every turn. Of course, she has to go save them. Although not typical high fantasy in some ways, I think what makes Labyrinth Lost fit here is the detailed, inventive, Latin American-inflected alternate world Córdova has built.
---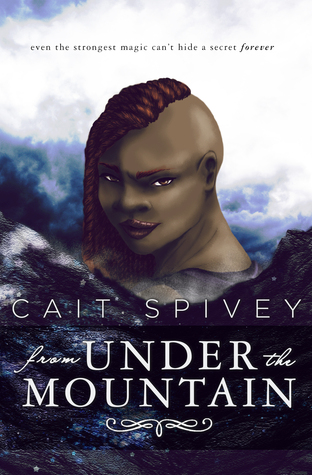 Like Labyrinth Lost, From Under the Mountain by Cait Spivey is another 2016 first book in a series full of people of colour with meticulous world-building. It also features queer and asexual characters! Nineteen-year-old Guerline is the protagonist, a member of the royal house who has fallen in (forbidden) love with her lower class companion, Eva. This indiscretion is soon dwarfed, though, by Guerline unexpectedly becoming empress. She finds herself in the middle of a centuries-old conflict between the clans of witches charged with protecting her family and a council who believes these witches are actually waging a secret war against humans. Who can Guerline trust as her political control begins to slip from her grasp?
---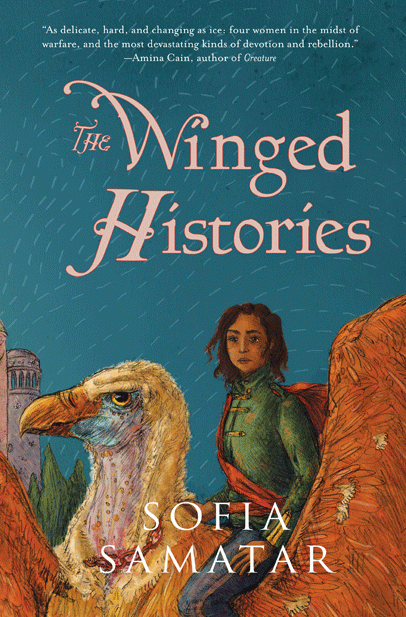 Sofia Samatar released the second book in The Olondria series earlier this year and it sounds just as amazing as the first one, but with queer characters! It's not essential to have read A Stranger in Olondria to pick up the latest book, The Winged Histories, but it will help you get a feel for the elaborate, diverse, beautiful, dark world Samatar has created. Olondria is a distant, book-loving land where war has broken out, and four women — a soldier, a scholar, a poet, and a socialite — are caught up in a violent rebellion. Each section explores the war from a different woman's point of view, their haunting voices filling your mind. Samatar is fast becoming known for her exquisite writing as well as her sophisticated world-building.
---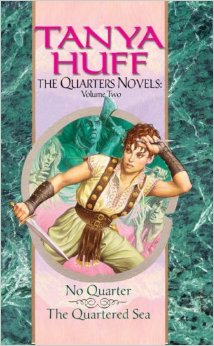 Tanya Huff's Quarter series is a classic now, having been first published in the 90s. You can either read it as four separate novels, as they originally came out, or in two omnibus editions, which contain two novels each. Either way, there's lots to be enjoyed in this Canadian author's elemental magic fantasy series where every character seems to be bisexual and polyamorous. There are both unforgettable characters and thrilling adventures to be had. This series was really revolutionary when it came out, with its non-tragic queer characters and matter-of-fact gender equality world and I think it still stands up today. If princesses becoming magical bards and assassin twins trying to track down lost bodies in a queer feminist world is up your alley, give it a try!
Okay, I know how hardcore fantasy fans (myself included) can be: tell me, what wonderful books did I dare leave off this list?