So. Earlier this month the much-anticipated, star-studded, collaborative album from Jay-Z and Kanye West, Watch the Throne, dropped to mixed critical reviews, mixed popular reception. But most of all, it dropped to overall awe that two of hip-hop's biggest personalities and egos were able to fit themselves into one LP. The (literally) gold-plated record charts the rappers' success stories over 16 tracks that are mostly about having a lot of fucking money but also discuss everything from the Civil Rights Movement to future progeny. And even though you may have already listened to it, re-listened to it, not listened to it at all, or scoured the Internet for reviews (I recommend this one in particular, written by Ghostface Killah), I know what you're thinking — "but what do the lesbians have to say about it?"
Well, I'm not really sure what all the lesbians have to say about it, but I do know that I have a lot of feelings about both these guys, particularly Mr. West. To give this review some context/recognize my own limitations and to possibly decrease my self-consciousness about being an Asian girl from the New York suburbs talking about hip hop, I'm going to start by laying down some common ground that I share with each of the artists:
Jay-Z: that we are from New York, that we love Beyoncé, that we love Kanye West (as a friend and an artist)
Kanye West: that we grew up middle-class, that we dropped out of college, that we have too much ego, that we do not like George Bush, that we admire Jay-Z, that we have the tendency to equate success with material wealth, and that we sometimes hate ourselves for it
Everything else about my appreciation for the two rappers is mainly aesthetic. I like the way they sound. I like the things they talk about, even if I can't always relate to them. But that's what hip-hop is about, isn't it? Telling a story of one man's (and very occasionally a woman's) success and to look to the past and give props where props are due.
Watch the Throne, as Jay me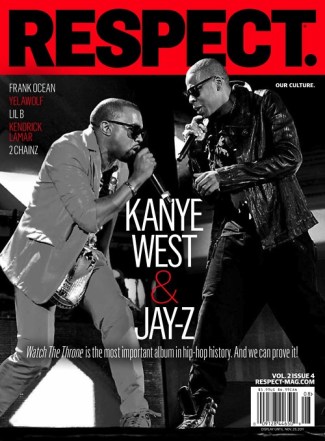 ntioned in an interview with a Miami radio station, is about hip-hop maintaining its relevance and prevalence in the music world. Dance music, he said, is dominating the clubs while indie music is dominating the festivals. Watch the Throne seeks to be about "protecting the music and the culture […]. Just to hold our place and make sure that Hip Hop culture is the most dominant form of music in the world."
But just as hip-hop is about protecting and maintaining culture, it's also about telling the stories of the individuals who made it; it's autobiography in the form of rhyme. In addition to being a tribute to the heroes and the history that made the world we live in today possible, Watch the Throne is the story of two hip-hop titans. It's a collaborative passing-of-the-torch that finds Jay-Z already on the throne, over a decade and a half into his career, and Kanye West with an easy decade or more to go. As a collaboration, Watch the Throne is a solidification of a partnership that's building the bridge from hip hop's turn in the early 90s and far, far into the future.
After surveying reviews of the album, there seem to be two prevalent criticisms: 1) that Watch the Throne is too gaudy and materialistic, and 2) that Kanye West is too obnoxious. And, admittedly, these are two pretty valid and obvious observations. Boasting, bragging, and name-dropping, Kanye and Jay skip over that part where success means bitches, hoes, champagne, and cars and launch
themselves into the American elite, filled with CEO power, couture wealth, and god-like status. Ye and Jay are two men who know that success today means money, power, and influence and who know that they've attained it.
Although the two make numerous references to their backgrounds, what really redeems the album's lyrical bombast is where it lies in context of the duo's individual careers. Much of Kanye's music in his two most recent albums, 808s and Heartbreak and My Beautiful Dark Twisted Fantasy, focuses on the downfalls of fame almost to the point of obsession. The result at first is, honestly, kind of obnoxious. It's hard to feel sorry for West, the abrasively arrogant, shit-talking playboy. But looking into his first three albums puts his rhymes into an entirely different context, making him an entirely different Mr. West from the one we know and love to hate and hate to love today. A closer look and a second listen reveals a painfully self-aware West who knows that his haters reach far beyond personal drama and into structural racism, violence, class war, street war, and politics.
West's first album The College Dropout was released in 2004 under Jay-Z's label Roc-a-Fella Records. Since then, the five singles he released, including "Through the Wire," "Jesus Walks," and "All Falls Down," as well as much of the rest of the album, have become instantly recognizable hip-pop staples. "All Falls Down" acted as the album's anthem, a catchy, accessible track that laments the feeling that the only way to achieve status is to buy it, despite knowing that, in the end, we're all only contributing to a destructive cycle: "Things we buy to cover up what's inside/'Cause they make us hate ourself and love they wealth/That's why shorties hollering 'Where the ballas at?'/Drug dealer buy Jordans, crackhead buy crack/And a white man get paid off all of that."
Kanye comes onto the tracks confident in his talent, knowledge and experience, determined to rise against and above the the systems and the ideas that hinder him. His cockiness is protection that sometimes falls for his family, or to God ("Jesus Walks"). West's following albums, Late Registration and Graduation, follow a similar model, touching on topics from blood diamonds ("Diamonds from Sierra Leone") to street violence and racial stereotypes ("Everything I Am"), to again, the shallowness and dangers of materialism ("Gold Digger," "Good Life"). On "Can't Tell Me Nothing" West begins to push around his power and money while also reflecting on his own decisions: "I had a dream I could buy my way to heaven/When I awoke I spent that on a necklace/I told God I'd be back in a second/Man, it's so hard not to act reckless."
West's self-consciousness turned into full-on self-aggrandizement somewhere between 808s and MBDTF, perhaps reaching a climax in the douchebag-toasting "Runaway." The track, which is also the title of his 30-minute, stunningly beautiful but equally nonsensical promotional movie for MBDTF, finds Kanye guilty, lonely, and resigned to the fact that it's all his fault: "And I always find, yeah, I always find something wrong/You been putting up with my shit for way too long/I'm so gifted and finding what I don't like the most/So I think it's time for us to have a toast."
So in Watch the Throne when Kanye is dropping lines about dropping bills, it's about more than just conspicuous spending. To read in between the lines is to listen to a story about insecurity, regret, and anxiety about the future. It's an awareness that he can afford excess but he can't buy happiness. On "New Day" he speaks to his future son about not making the mistake of pursuing money and protecting ego: "See, I just want him to have an easy life/Not like Yeezy life/Just want him to be someone people like/Don't want him to be hated, all the time judged/Don't be like your daddy that would never budge." Kanye West is seeking redemption —  he's just having a hard time wading through all the diamonds to get there.
And as for Jay, there's not as much to be said. He's successful. He's a rapper, an entrepreneur, the winner of 13 Grammy Awards, the part-owner of the New Jersey Nets, Forbes Magazine's 2011 No. 1 hip hop cash king, and he's married to Beyoncé. No one in hip hop or the media is in a place to question his success, and at this point, he's making music because he enjoys it. It's his throne that's being watched, and instead of being knocked off the top or fading into obscurity, he's choosing his successor.
Watch the Throne is an album about making it in America, but it's also a question about what's been sacrificed to get there. It's flashy, but it's aware. It's about the future of hip hop, but it throws back to the past. Whether or not this album will be a game-changer remains to be seen (although, admittedly, it probably won't be), but if there's one thing that's for sure, it's that neither Kanye or Jay-Z are going anywhere any time soon. For the rest of us, there's not much else to do but sit back and Watch the Throne.
And check out their power bromance in the video for Watch the Throne's first single, "Otis":
[yframe url='https://www.youtube.com/watch?v=BoEKWtgJQAU']