Lizz's Team Pick:
I've got a secret. Can you keep it? Swear this one you'll save?
I know by now you guys must think I'm bizarrely obsessed with Pretty Little Liars, but I swear this just sneaked up on me. So there I was, minding my own business searching on abc Family's website for the latest designers to include in this week's Pretty Little Liars fashioncap when I stumbled upon something truly amazing. American handbag and jewelry designer Heather Belle has officially released a line of Pretty Little Liars inspired jewelry and tote bags.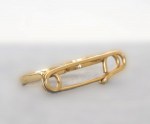 While I would secretly love a line of jewelry based on the stunning jewelry the Liars come up with each week, this collection takes its inspiration from the underlying messages of the show.
According to abc Family, the collection is made up of four lines. The most constant theme comes from the "Pin" line. Belle used safety pins to play on the girl's conflicting situation and feelings as A toys with them. The liars are pinned to each other through their friendship and secrets, but also pinned against a wall by their past and by A. Am I being cheesy? Don't tell anyone.
My favorite piece from this line is the double finger ring with the pin on top.
Remember when Nole saw Aria and Ezra making out in Ezra's car and wrote "I see you" on the windshield? Well the "I See You" line takes this epic back-window-writing-moment and sprawls it across glass rings and silver engraved necklaces. I suppose these pendant take on new, even creepier, meaning now that we're beginning to understand that the Liars are truly being recorded. While the silver necklaces are cute in their simplicity, they are not nearly as haunting as the glass.
The third line, "Never Forget," includes messenger tote bags with quotes from Alison and A as well as similarly themed "Forget me Not" bracelets. The quote bags are sort of unreal.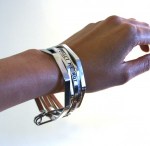 If you don't have a back-to-school book bag yet, I seriously suggest investing. That way, wherever you go you'll have Alison reminding you, "You know you want to kiss me." I think Belle must have been inspired by Alison's true dream not to be liked, but to be known and remembered. Why? "It's immortality, my darlings." The only part of this line I'm not crazy about, is that the "forget me not" rings look slightly like promise rings. I'm not in to that.
Finally, the last theme is a straightforward one. Perhaps one I should remember the next time I'm verbally tearing apart one of Spencer's ludicrous tops. The words "Be Nice" appear inside Belle's signature octagon. The angle of the text withholds could have been a Best Friends Foreveresque charm.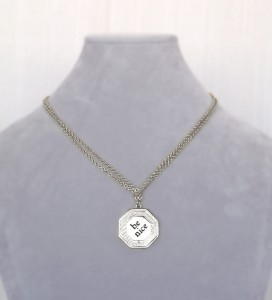 Just a little reminder from Heather Belle and A, that if you don't have anything nice to say, then "nosy bitches die."