Sorry for my absence last week but I was preoccupied with my life turning into a real life version of the Parent Trap. Sort of. In order for you to better understand this story I have to go back to the year 2006, better known as the year I got a Myspace. Upon creating this Myspace I did what every normal human does and typed my last name in the search bar to see if I could find anybody related to me. I did obviously find lots of people – aunts, uncles, cousins, second cousins, etc. I already knew all of them in real life. Then at the bottom of the search results I see a girl with my last name who looks almost identical to me. I look like nobody in my entire family so this was pretty exciting. Also her name was Brittany and not "Maria Cristina del Mar" or something excessively Puerto Rican like the rest of my family members. This led me to believe she probably lived in the states, potentially Florida like myself. I clicked on her page. Seattle. Bummer. BUT there was something on her page alluding to how much she liked that Beyoncé ballad from Dream Girls WHICH was my absolute favorite song at the time. This girl could be my best friend. I friend requested her, she accepted, and I continued to cyberstalk her pretty much to this day. Over time I learned she had an equally awesome sister, Alicia, and that she was in fact my second cousin. We spoke to each other all the time but sadly never met since I never came to Seattle and they never came to Florida.
THEN. Flash Forward to 2012. My best friend Lindsay moves to Seattle to do a little grad schooling. On the day of her orientation, a speaker tells her to turn to the right and shake the hand of the person next to her. LO AND BEHOLD, who is sitting next to her? None other than long lost cousin Brittany. Long story short this crazy coincidence led them to be best friends which made little me in NYC very jealous until they finally came and visited me last week. It was magical. We were so alike. Just look at this selfie!
The following pictures consist of my adventures with long lost cousins and other lovely moments from the past couple of weeks.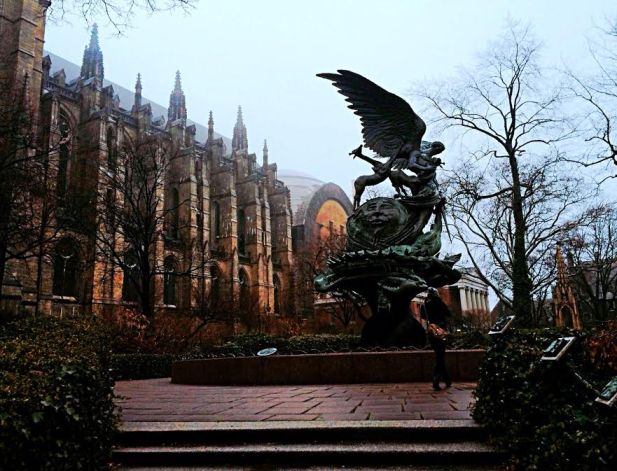 Yes, there is a recipe in here that has nothing to do with anything other than the fact that I found myself with too much Japanese eggplant one day.
Pomegranate Molasses Glazed Eggplant with Tahini Yogurt Sauce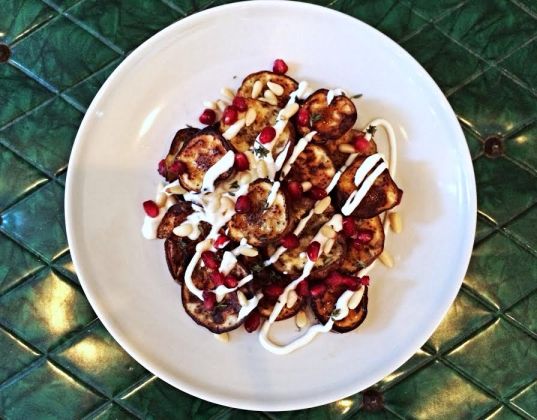 Whatcha Need:
1-2 eggplants
olive oil
salt and pepper
1\2 tablespoon za'atar (a Middle Eastern Spice but if you can't find it just omit)
1 1/2 tablespoons pomegranate molasses
1/2 tablespoon apple cider vinegar
1/2 tablespoon lemon juice
1 cups plain yogurt
1 garlic clove, crushed
1 tablespoon tahini
2 tablespoons pine nuts
2 tablespoons pomegranate seeds
Directions:
Glaze:
MIX: the pomegranate molasses, apple cider vinegar, lemon juice, and 1 tablespoon of olive oil; set aside.
Yogurt Sauce:
BEAT: the yogurt with the garlic and tahini; set aside.
Eggplant:
SLICE: the eggplants into 1/2 inch thick rounds.
COVER: a baking sheet with foil, grease with olive oil, and add the eggplant.
BRUSH: both sides with olive oil and season with salt, pepper, and za'atar.
BAKE: for 20 minutes at 475 until soft and brown, flipping them in the middle.
BRUSH: both sides with pomegranate molasses glaze.
ARRANGE: on a platter, drizzle with yogurt sauce, and top with pine nuts and pomegranate seeds!
This recipe serves two normal appetite humans but only one Gabi.