This week on The Real World: Ex-Plosion, Ari made you all fall deeply, deeply in love with her. I think something is in the water. I like it.
— kristina marie (@kristina_loesch) January 23, 2014
@itsarifitz #autoari Its not really a question but i love your fierceness — logan craycray (@CraycraftLogan) January 23, 2014
@itsarifitz I honestly love everything about you. You're just absolutely perfect #RealWorld #RealWorldEx #RealWorldExPlosion #autoari — Maleficent (@Albokindaguy) January 23, 2014
This week's episode was an emotional whirlwind when Jay's mother passed, ruining any shot – one would think – at drama. But Ashley was still around, so ya know. Phone numbers get maliciously torn up by an anonymous villain. With Jenny and Cory no longer doing it monogamously without ever really talking about it but still imposing fidelity on one another, Ari is inspired to break out of her post-Jay's-news-sadness with some classic good vibrations.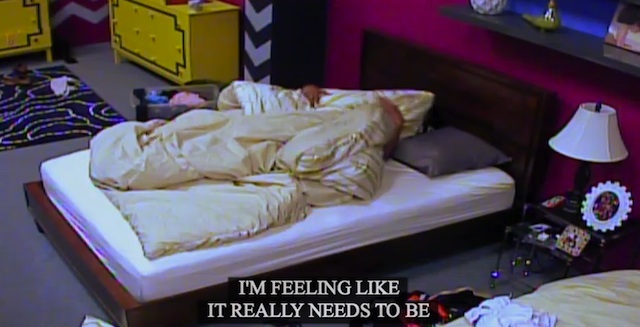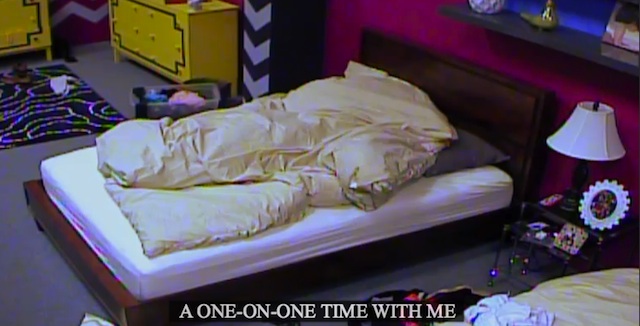 Tom interrupts, but has no f*cking clue. He talks about quesadillas.
Then, the crew goes out and gets down at Ashley's bar, where she threateningly informs them that there will be no bill and then drinks the entire bar's worth of liquor, including an entire bottle of champagne. When she gets home she throws her purse and the next morning she loses it, goes through the emotional where-are-my-keys-I-lost-my-phone grief cycle, yada yada yada.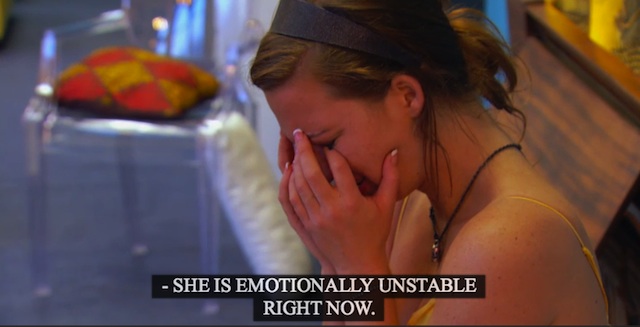 Meanwhile, in the kitchen, Ari is getting ready to steam things up with Ashley – her ex – and the rest of the crew gets ready to get trashed. Ashley stays the night.
The next day, Hurricane Ashley – the roommate – doesn't come home. And when she gives her roommates a shot at inviting her back…
Here's the questions you had for Ari One-on-One Fitz this week.
This Week's #AutoAri Q&A
On Ashley
@itsarifitz are you & @MTVASHLEYBROOKE cool ? #autoari — Naim Murrell (@jaria1998) January 23, 2014
Meh…
@itsarifitz did you guys know she did it before this was aired? — Abi A (@RhythmOfAbii) January 23, 2014
Yes, we knew before the show aired but after she had left the house.
Did you think it was Ashley?! I knew it!!!! @itsarifitz #autoari — iLLy Muse™ (@iLLysWeb) January 23, 2014
@itsarifitz how come ashely's still in the house? she's done so much crap. #autoari — Sublime Morceau (@nie_dor) January 23, 2014
@itsarifitz how much do you LOVEEE ashley?? ;)) #AutoAri — (@nickkndhaley588) January 23, 2014
Watching her do that put a really bad taste in my mouth. I think everyone thought it was her, honestly. It's just the way she did it and her general disrespect for Jay's situation pushed me over the edge. I was happy to see her leave.
@itsarifitz Why do you guys not say anything to Ashley as she keeps drinking before it gets bad #autoari #RealWorldExPlosion

— Elayareay. (@lara_azalee) January 23, 2014
I did, I gave her one word… "Relax".
@itsarifitz Why do you guys not say anything to Ashley as she keeps drinking before it gets bad #autoari #RealWorldExPlosion — Elayareay. (@lara_azalee) January 23, 2014
Does Ashley ever get help with her drinking #autoari — Nabaree (@Che3r_nABz) January 23, 2014
No, but according to the Aftershow… she doesn't have a drinking problem. Or does she? ;)
#autoari @itsarifitz how is it living with Ashley? Cuz she seems like an awweessome person to live with.

— Aimee (@Aims_luvs_u) January 23, 2014
Best. Thing. Ever (read: sarcasm).
On The Not-So-Real World
@itsarifitz …what are you doing now since you are done with the real world?! #autoari #realworldexplosion

— Ruben Lara (@Radben25) January 23, 2014
I'm making a ton of film work and booking modeling gigs. (See: my work and my werk .) #allworkallplay
#autoari How is it there's fighting, and you just laugh and laugh? One of my favorite things about you… that smile though… — Katt McCloskey (@katt_mccloskey) January 23, 2014
Aww bae, thank you. I mean it was FUNNY. Sometimes that was all I could do.
#autoari who was your favorite cast member to get to know? — Ashley Marcoux (@Ashley_Marcoux) January 23, 2014
Most definitely Tom. I knew he was the guy put in the house to annoy the hell outta me, but we ended up getting close and I swear he is so incredibly genuine. Watching Tom on TV is knowing Tom IRL.
#autoari how log did it take to make your audition tape?! I need mine to be flawless. A girl from my town already made it like WTF — Anthony Wilson (@A_wils0n) January 23, 2014
Well… long. I'm a filmmaker and I wanted to be clear that I can make some raw shiz. Don't stress out about it, bae. Just show you being you. People lose when they go over the top with that stuff.
@itsarifitz #autoari why did it hit you so hard about Jay's mom passing? — (@lNHlBlTlONS) January 23, 2014
So remember that corny moment when I scream into the pillow, "we are the same exact person." Outside of how "wtf" that was, I meant it. I grew up in a single parent household and I was the "rock," the stability, the person that held my family together. Jay is the same person in his family and that's crazy to me given our differences.
When he lost his mom, I knew he'd feel so much guilt. He was the one holding down his family and the moment he leaves – for the first time in his life! – she passes. I just understood how that guilt would feel and it struck me.
@itsarifitz were you ever attracted to any of the girls in the house? #autoari

— denisse perez (@idenisseee) January 23, 2014
Negative, but I'm attracted to Jenny and Jamie's personalities.
What's the best part about being on the Real World? #AutoAri — Jasmine Wood (@jasminewood15) January 23, 2014
Just one good part!? Oh man. Okay… number one is being able to take this opportunity and pimp it out for everything it's worth. I've already met awesome people in the entertainment industry that are going to help me reach that crazy goal of mine: becoming a horror film director and media muthaf*ckin' mogul.
@itsarifitz would you go back to the house with the same people and do it again? #autoari — (@lNHlBlTlONS) January 23, 2014
Yes, but ideally just us. It's obvious I can handle the crazy with the seven of us, not sure I can handle the exes too. But we'll just have to see.
#autoari @itsarifitz how was/is the transition from being on the show and going back 2 day 2 day life? and how is the 2nd film coming along? — Sasha WIlliams (@SsAaWw101) January 23, 2014
Going from filming the show to regular life just makes me want to hustle even harder. Right now, I'm booking gigs, setting meetings, filming, writing… I'm always *on* all the time and it's because people are watching me now. The second film is going very very well. Hopefully will be in a place to show this to you guys soon.
Like did Ashley already know she'd be moving in by the time she came to visit in this ep? #autoari @autostraddle — Jessie (@donthoIdmeback) January 23, 2014
Ha, nope! My Ashley didn't know and if she did she would've told me. We don't hide secrets like that from each other.
@itsarifitz #autoari Do people treat you different since the show aired?

— SLAY ME GAGA (@miley_ke_lg) January 23, 2014
Slightly. I have HELLA cousins now…
But for the most part my life is back to normal outside of people noticing me or my hair around San Francisco and wanting IG photos.
@itsarifitz What is it like to be the only lgbt in the house? Did it effect your relationships with any of the other cast members? #autoari

— F0r3verY0ung (@Jboo2992) January 23, 2014
Not really. I was upfront about my identity and who I was from day one, so I think everyone loved that I was 100. I rarely go to straight clubs or the types of clubs my roommates like, so doing that every night was tough. But then Jenny would start to do her aerobics dance thing and suddenly all would be good in the world.
That said, I had to educate them about different things… what I mean when I say "androgynous", why it's offensive to use certain terms, etc. Cool thing was they appreciated it.
I think these days people are afraid to appear ignorant. My roommates included, almost to the point of walking on eggshells just to make sure they didn't offend me.
On Ari, Ari, Ari!
Is that a tattoo on your chest? @itsarifitz #autoari — Vibe J. (@Vibe_TheArtista) January 23, 2014
Three lines below my collarbone, boo. Yes. Thinking about a few more on the back of my arms.
@itsarifitz can we be friends? You are such a cool, down to earth person! Glad to come from the BAY :) #autoari

— Sarah Wikle (@wiklespirit33) January 23, 2014
Let's make it happen! Come celebrate my bday with me in Feb. I'll post on Twitter about it soon.
#autoari are you single? Or nah? Lol

— MixdDrinkConnoisseur (@vontA_Hole) January 23, 2014
Or nah…
@itsarifitz what products do you use on your hair?? #autoari

— a. thompson (@_aubreyanna) January 23, 2014
Man. I'm still figuring that out. I need to link up with some hair YouTubers to fix the regimen. Right now I just use Seed by Akimi for dry colored hair and do conditioner washes, for moisture I literally use olive oil. The fro needs more TLC.
#AutoAri have you ever venne to Italy?

— lorenzo saltini (@lorenzosaltini) January 23, 2014
No! *deep sigh* hopefully this year during my little fall Europe romp.
Going to need @itsarifitz to inform us of her top shopping places for supplying her perfect wardrobe. #autoari — Telegraph Ave. (@quarternotelife) January 23, 2014
Hehe, thanks bae!! What can I say, style is my heart. I work very closely with my stylist (@Kholi) and her company (@khafra_co) to look good for yall. Make sure to check them out: http://khafra.co/.
Outside of that, I use to do a lot of thrifting in SF and I love exchange stores like Buffalo Exchange, Crossroads. For new items, I keep it real H&M Men & Women.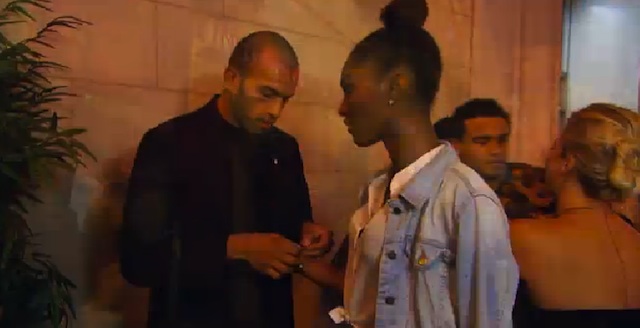 #autoari are you planning on being in any horror movies or directing them ?

— Maleficent (@Albokindaguy) January 23, 2014
Ya know, I love being behind the camera when it comes to horror. That said, I'm doing a lot more modeling and acting so I wouldn't be surprised if I found myself in a scary movie… it has to be GOOD though. Plus, I get scared easily (I know, I know… the irony).
#AutoAri did you ever think you'd have as many fans as you do? @itsarifitz — Lauren (@Its_Lauren_SAAN) January 23, 2014
Ha! Well, MTV is a huge platform so I knew I'd make a few fans. I'm just JUICED that so many people are into my films. Like that makes going through armageddon that is living in that house worth it!
On Lurve
#autoari what were the dreams your gf was holding you back from? And why did you finally decide to break?

— Nebruary 91st (@TheMentalist__) January 23, 2014
Great question. Like perfect question.
Ash and I got together and things got too perfect too fast. We moved in with each other, spent our evenings at home, talked about marriage, kids, etc… BUTTTT I'm 24 and I see myself taking over the entertainment world one film, one project at a time. I see myself traveling the world, taking a ton of risks, etc etc.
At one point, I realized it was close to impossible to live that life and make decisions (like randomly moving to Berlin!) without including Ashley in it and making plans for her, too. That got stressful and I needed to be able to make big moves on my own.
That said, Ash is one of the most loving, compassionate people I've ever met and I wish I didn't make that decision without really talking with her about it first.
@itsarifitz I'm not going to ask a really good question this week. Lol. Is cooking the way you steal hearts? #AutoAri — Perm Edwards (@_takeAgLANCE) January 23, 2014
Ha, did it steal yours? I kid, I kid. I mean I love to cook for a girl and surprise her when it's genuinely good.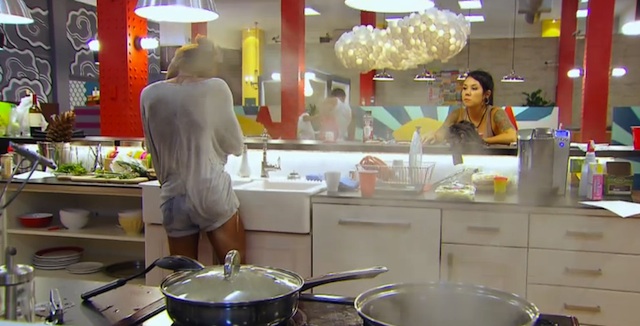 @itsarifitz do you find love at all? #RealWorldExPlosion #autoari

— The Challenge (@ChallengeRWFan) January 23, 2014
Haha, now you and I know we gotta watch to figure that out.
On Rubber F*cking Toys
@itsarifitz how do u "do that" u know that thing with the vibrator in front of cameras? #autoari — Sublime Morceau (@nie_dor) January 23, 2014
Lmao! I just had to. I was stressed, I was horny and I was alone. Hell, the one time I tried to bring someone back, I ended up falling to the floor… with Cory.
So… yeah, I needed some "me time."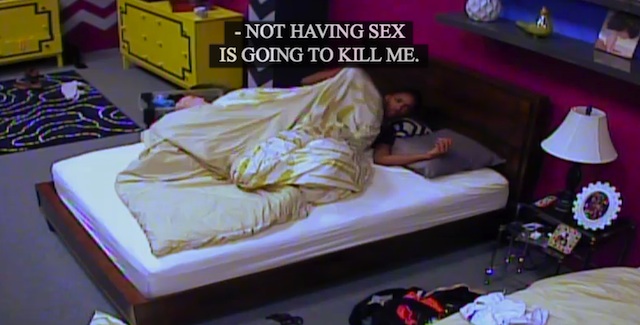 @itsarifitz did you ever get to finish getting off? #autoari — Ellie (@tooDOPE90) January 23, 2014
@itsarifitz @itsarifitz did you get to use your rubber toy lol ? #autoari

— Marie (@_nicetyMarie) January 23, 2014
Ha, nah bruh. At that point, I just gave up. Tom stay blockin!
how does tom not realize what was going on?? you had a raised eyebrow and huge smirk on your face hahaha. @itsariftz #realworld #autoari — radical (@jazmynsousa_) January 23, 2014
Please ask him that. Cuz, I'm still trying to figure it out. Like what happened to the phrase, "You busy?"
Our Winner
Every week, Ari will pick her fave question out of the bunch and we will reward them with lavish prizes. This week's winner, @TheMentalist__, is gettin' a love letter of sorts from Ari herself.
Get Into It!
Each week, you can tune in to new episodes of The Real World and tweet your questions for Ari Fitz, raging queer, using the hashtag #AutoAri. ( We can only guarantee that tweets sent during the initial screenings of each episode will be included (10PM EST/PST and 9PM CST) in each week's roundup.) Whether you're curious about her films, what she's eating in the fifth scene, the music that hot tub montage was set to, or how she gets her hair to look damn good, feel free to dig in and pop a question. Within 48 hours of the episode, Ari will answer every single one here on Autostraddle. In the meantime, you can follow Ari and Autostraddle on Twitter. (And me!)