Art Attack Month: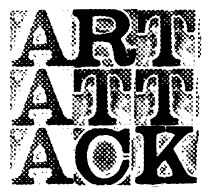 0. 1/28/2012 – Art Attack Call for Submissions, by Riese
1. 2/1/2012 – Art Attack Gallery: 100 Queer Woman Artists In Your Face, by The Team
2. 2/3/2012 – Judy Chicago, by Lindsay
3. 2/7/2012 – Gran Fury, by Rachel
4. 2/7/2012 – Diane Arbus, by MJ
5. 2/8/2012 – Laurel Nakadate, by Lemon
6. 2/9/2012 – 10 Websites For Looking At Pictures All Day, by Riese
7. 2/10/2012 – LTTR, by Jessica G.
8. 2/13/2012 – Hide/Seek, by Danielle
9. 2/15/2012 – Spotlight: Simone Meltesen, by Laneia
10. 2/15/2012 – Ivana, by Crystal
11. 2/15/2012 – Gluck, by Jennifer Thompson
12. 2/16/2012 – Jean-Michel Basquiat, by Gabrielle
13. 2/20/2012 – Yoko Ono, by Carmen
14. 2/20/2012 – Zanele Muholi, by Jamie
15. 2/20/2012 – The Malaya Project, by Whitney
16. 2/21/2012 – Feminist Fan Tees, by Ani Iti
17. 2/22/2012 – 12 Great Movies About Art, by Riese
18. 2/22/2012 – Kara Walker, by Liz
19. 2/22/2012 – Dese'Rae L. Stage, by Laneia
20. 2/22/2012 – Maya Deren, by Celia David
21. 2/22/2012 – Spotlight: Bex Freund, by Rachel


When I first saw Bex Freund's paintings, I was a little scared of them. Which is a good way to feel about art, I think. Her work is incredibly raw and visceral — sometimes it feels bloody, even. Like something newly torn open, uncomfortable but hard to look away from. Many of her works are in oil, and even on a screen you can see that the paint has a physical presence, that this is something to be reckoned with.
From Bex's artist's statement:
As someone who's deaf, the world tends to be disinclined to engage easily with me nor notice my presence within it. Walking through silent-movie city streets, my thoughts often turn to the many processes that I can't personally perceive directly, the layers of invisibly embedded systems beneath the surface of the observable world. It's noteworthy that I came of age during the events of 9/11, a monumental day that swept back the curtain and revealed the naked vulnerabilities of a society slowly descending into powerless psychosis. Around the same time, I traveled to Africa for the first time. It was the season of drought, and there were corpses everywhere, in various stages of becoming part of the landscape. One day, I came across a headless water buffalo, a huge beast, its neck a gaping black hole frayed at the edges. Parts of the body had also been eaten away, and the vegetation underneath was already thrusting up through the gaps in the flesh.
The experience sparked my fascination with the unseen processes of the living and dead organism, and how it could reflect the cycles of ancient and modern human civilizations. Living beings die, and their bone and flesh in turn nourish the soil, the insects, and the plants, which in turn nourish those that feed upon the vegetation. Death—and the energy released with it—is what sustains life itself. Even in death, we are not inert—there are always innumerable unseen processes at work, for death is not quite the end, merely a transition. We change from flesh and bone to soil and nitrogen, and the energy within our atoms is always recycled. Living and dying are two faces of the same vast process, one that ensures the continuous propagation of its own existence with an inexorable equilibrium that modern society lacks. My studio practice draws upon these systems of growth and decay in order to hold up a mirror to our society, and its current state. We are a system rotting from the inside out, grown too large to sustain ourselves, and now we eat away at ourselves, like a cancer. My paintings show that decay as well as the potential for transformation and growth.
Learn more about Bex Freund at her website.