In February 2011, everyone's favorite up-and-coming queer fashion blog, dapperQ, debuted an ingenious new column: He Said/We Said. At its heart, the column is masculine-of-center queers rocking sharp, sexy clothes, inspired by a designer's recent menswear line. The ingenious part is that the models weren't told what to wear or how to wear it — what you're seeing in the photo shoots is each individual's take on a designer's theme. Anita Dolce Vita, the brains behind He Said/We Said, from a recent interview with Curve magazine:
"The models fashion their very own looks – I give the inspiration, they give the interpretation. They come to the shoot camera ready: hair, make-up, their own clothes, accessories and props. I didn't want the series to reflect how to recreate menswear from an individual stylist's point of view. It's always a wonderful surprise to see what each model came up with and all of the different translations of the same inspiration."
Coming at a fashion shoot from this realistic, attainable angle, as opposed to over-the-top, dramatic themes, empowers readers to try these things for themselves; it gives people the confidence to find their own unique style and run with it. But the honesty doesn't stop at the clothes — you're also getting a good look at the real dapperQ community and all the diversity it has to offer. Anita, again from Curve:
"In general, my goal for the feature, and Susan's overall goal for the site, is to avoid featuring the same people over and over. Our community is sometimes guilty of knowingly or unknowingly recreating the same hierarchies, divisions, biases, preferences, and unattainable expectations that are perpetuated in society at large. We want to break through those barriers by giving everyone a voice – all shapes, sizes, races, ethnicities, ages, and gender presentations are welcome."
With a year's worth of photo shoots under their belt, we thought it would be a good time for a quick retrospective. Let's take a walk down sexy, well-fitted memory lane with He Said/We Said! Here's the first video of the column, featuring the blindingly adorable Mila Polyak discussing what it means to be a dapperQ and just how easy it is to make the panties drop.
And now to the photo shoots! Click the dates/numbers to see the original posts on dapperQ, where you'll find more videos and more pictures. You're welcome!
He Said/We Said: John Varvatos
DJ Angel Boi, DJ Filfy, Lilly Alban, Sabrina Haley
Inspiration: John Varvatos
Photographed by Sabrina Haley
+
+
He Said/We Said: Moncler Gamme Blue
Mila, Tiq, V. Bella, Rachel, Juanita, Senka
Inspiration: Moncler Gamme Blue
Photographed by DJ Vito Fun
He Said/We Said: Moschino
May 2011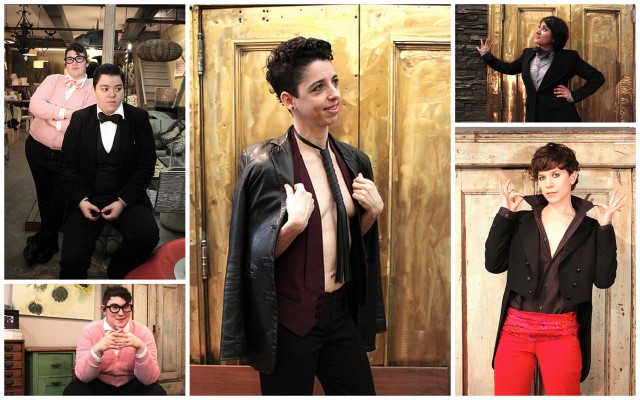 Sinclair Sexsmith, Ariel Speedwagon, Suri, Shomi Noise, Goldie Peacock
Inspiration: Moschino
Photographed by Yi Ching Lin
+
+
He Said/We Said: Marc Jacobs
December 2011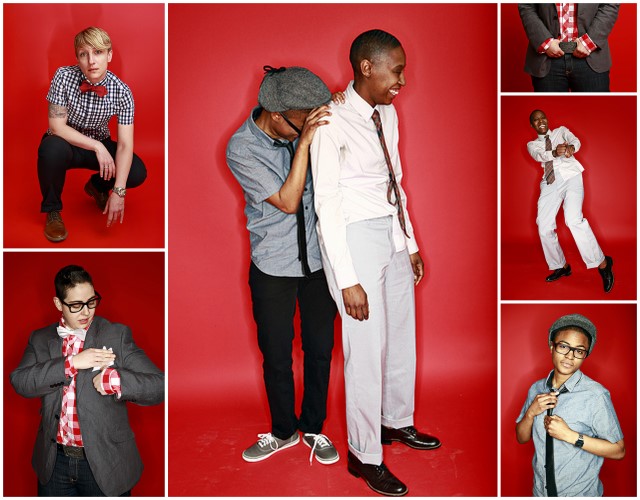 Jama Shelton, Genesis Tramaine, Ryann Makenzi Holmes, Gina Mamone
Inspiration: Marc Jacobs
Photographed by Maro Hagopian
+
+
He Said/We Said: agnès b.
Syd London, Kit Yan, Lauren Gulbrandsen, Niki Cutler
Inspiration: agnès b.
Photographed by Yann Feron

We're so excited to be teaming up with dapperQ to give you even more style inspiration and diversity realness. Look for a new photo shoot by Leslie Van Stelten from dapperQ on Autostraddle next week! In the meantime, tell us what you want you want. Any ambitious style features you'd like to see dapperQ and Autostraddle's fashion writers collaborate on? What pressing, relevant-to-your-interests questions do you have for these sharply dressed experts?