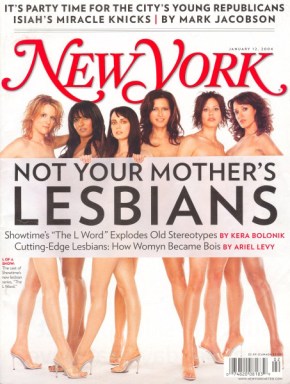 [feature image by Mark Wahweotten]
HELLO and welcome to a very special installment of Things I Read That I Love, wherein I share with you some of the longer-form journalism/essays I've read recently so that you can read them too and we can all know more about all kinds of things!
Generally this is the part of the column where I tell you that this "column" is "less feminist/queer focused than the rest of the site" but today I'm doing an all-queer edition of some of my favorite #longreads I read before I started doing Things I Read That I Love and also haven't already written about elsewhere on the website.  The title of this feature is inspired by the title of Emily Gould's tumblr, Things I Ate That I Love. To look at 100 gay magazine covers from all of herstory, check this out.
Straight Girls' Seduction (November 2004), The Village Voice – "These encounters slip out, not as hushed sorority secrets, but as casual exclamations, like my friend who told me how she was invited to a wedding where she's kissed both the bride and the groom. But sometimes I'm still surprised…"
Lesbian Chic: The Bold, Brave New World of Gay Women (May 1993), New York Magazine – This is a classic. Cannon.
Portrait of an HIV Positive Lesbian Centerfold (September 1994), The Advocate – "At 16 she declared that she wanted to be [a Playboy model], and only later did she realize that she "wanted them" as much as she wanted to be like them."
The Cuddle Puddle of Stuyvesant High School: Love and the Ambisexual, Heteroflexible Teen (January 2008), New York Magazine – Holy shit when this article came out it was SUCH A THING, everyone was talking about it. I think Haviland and I even started using the phrase "cuddle puddle" in our everyday vernacular. Of course I worked in publishing in New York City then and was writing about sexuality, so maybe it just seemed that way.
Second Nature (March 2008), 5280 – "The story of a local family raising a little girl born in the wrong body."
Why I Am A Lesbian (March 2001), Ebony Magazine – This is just kinda sweet.
Gay in Rhea (June 2004), The Stranger –  "When a county in rural Tennessee made national news by attempting to make homosexuality illegal, a local lesbian decided to host the Rhea County's first gay pride celebra- tion. She wound up paying a high price."
The Other Mother (July 2004), The New York Times – You think lesbian custody disagreements are complicated now, take a brief trip back in time and read this article.
Showtime's L Word: Not Your Mother's Lesbians (January 2004), New York Magazine – "Is the new lesbian image, as put forth by The L Word, too metrosexualized? Inevitably, there will be those who argue that it is, and just as many who will argue that it's been a long time coming. We're argumentative—it's part of our lesbodramatic legacy. But after years of living down our dumpy reputation, perhaps it behooves us to put our best, most madeup faces forward, for a change."