This is the Yellowjackets 203 recap, where I will painstakingly psychoanalyze and interpret "Digestif" so yes there will naturally be spoilers aplenty! If you haven't had a chance to watch the episode yet, do so and then return here to chat with us in the comments, where I'm very active! I try to reply to each and every one of your brilliant theories, jokes, etc.! This episode was directed by Jeffrey W. Byrd and written by Sarah L. Thompson and Ameni Rozsa. Catch up on past recaps.
---
The first image we see in "Digestif" is of Jackie's hand — or what's left of it. Brittle bone, fleshless, dripping blood. Coach Ben recalls what he witnessed the night before; everyone aside from him tearing into a corpse's flesh. He recalls not in clear imagery but with slight static, the same kind of glitchy VCR-ish effect that the show's main title sequence plays in. Suddenly, it's as if he's changing the channel in his mind, images of cannibalism intercut with something else: a memory.
For the first time, we get a flashback to before the crash squarely from Ben's perspective. The VCR haze crystalizes into clearer view. Ben's in his boyfriend Paul's apartment. Paul likes to cook and is high-strung ("he really is me," I said, out loud). He's feeding clam chowder to Ben, who compliments the cumin even though there is no cumin in it. This is serious, Ben! It's the chowderfest! Ben offers something to help Paul relax, and surprise, it's kissing! These are the kinds of low stakes conflicts Ben was dealing with before the crash, before he was surrounded by cannibalistic teenage girls who he's somehow both responsible for but also just trying to survive alongside. The channel changes in Ben's mind again, and he's back to that reality.
Later, Ben enters the cabin and hallucinates one of the JV girls asking if he's hungry and then crawling across the floor with a foaming mouth saying "I still am." He snaps back out of this walking nightmare, but reality doesn't provide an escape. He wants to mentally return to before the crash, so he does, losing himself in a flashback again. Shortly before he left for nationals and his life changed forever, Paul asked Ben to move in with him, something he opened up about to Nat last season. Flashback Ben uses the soccer team as an excuse, saying he has a lot going on with the season. "You always say those girls are vicious little monsters," Paul says, not knowing how literal that premonition will become. "Moving in with you means everything in my life changes," Ben replies. Before the crash, Ben was contending with a different kind of survival. He was navigating life as a closeted gay man, living two lives really. He couldn't envision an alternative, and Paul broke up with him because of it. Suddenly, these memories feel less like an escape and more like deeply sowed regret. Ben tortures himself for not choosing a different path, which not only would have allowed him to live more freely but also might have never put him in the position he is now, depressed and adrift. At one point when Travis tries to check in with him, he's silent and motionless, dissociative in this state of remembering.
But then, he does turn the memory into an escape hatch. He rewrites the ending, contorting the next chapter of the flashback so that he chooses the different path, tells Paul he's moving in with him and skips nationals. As he and Paul embrace, the television behind them delivers a staticky newscast of the plane crash. Only, in this version of the story, Ben isn't on the plane. He's here, with Paul, his life changing in a different way entirely.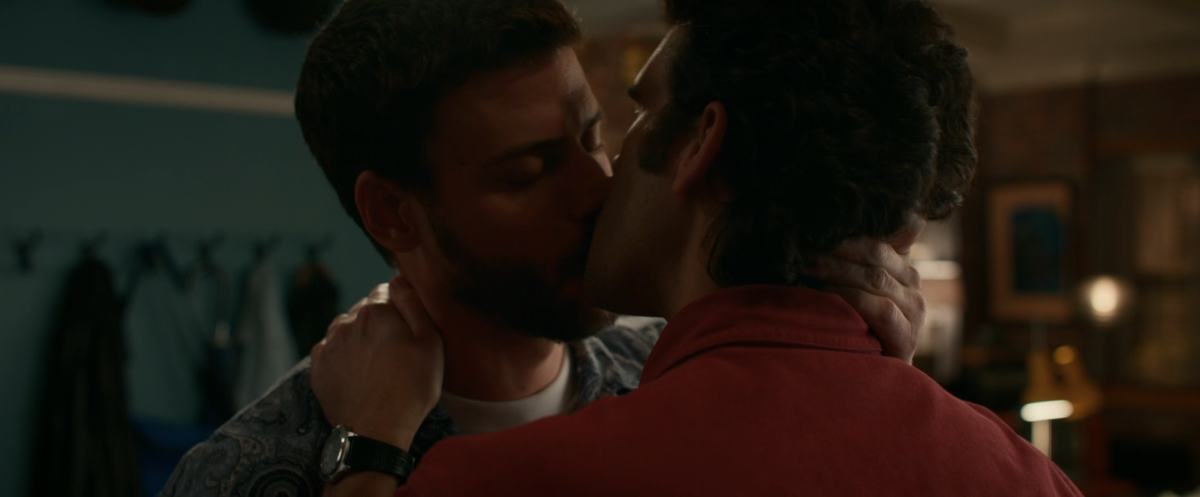 Reality bends often on this show, but this is one of the first instances we've seen of someone willfully distorting their own perception. Ben has essentially created a dissociative mindspace to burrow into in the wake of the Jackie feast, which left him in a state of horror-induced shock. Ben really is an outsider in the wilderness. And it isn't because he's queer; Taissa and Van share that with him, and he also was able to open up to Nat about some of his personal life last season. He's on the outside simply because he's an adult. The girls, for better or worse, have each other to lean on, which we've seen can sometimes lead to their hive mentality and also in-fighting. But Ben exists on the outside of this, not quite old enough to play a real paternal figure but also distinct from them in the sense of the life he lived before. They were still kids living in their parents' homes. He had his own life, one bifurcated by his closetedness and therefore even more complex than what the girls' before lives looked like. (It tracks that Nat was the person he connected with last season more so than Travis, because Nat also lived the most independently of all of them as a result of her parents' general lack of parenting.) The only way he has to connect deeply with another person is to do so in his mind, in this macabre fantasy he has crafted for himself where he can preserve Paul. The "switching channels" effect is so effective, not just because it mimics the show's opening, but because it so literally represents this conscious decision he's making to flip a switch between reality and fantasy.
Taissa's reality, meanwhile, continues to be divided in a way that's seemingly against her will. When Teen Tai sees Jackie's body in the morning, she experiences the opposite of a "digestif." She freaks out, shouting that something ate Jackie. "Taissa," Van says. "We ate her." Tai has no memory of this, immediately vomits, and concludes she must be sleepwalking. But this perplexes Van, because Taissa had been looking at her, had been talking to her. Even though Van followed sleepwalking Taissa last episode, she hasn't yet had this experience of talking to whatever she becomes in this state. As viewers, we know that sleepwalking Adult Taissa is capable of a lot, including conversing — on the phone even! — but it's news to Van. And then Van delivers very disturbing news to a very confused Taissa: "Tai, you ate her face."
My first thought, unfortunately, was: Did she eat her eyes? I don't see any on the corpse, and I wonder if the eyeless man would encourage the consumption of eyeballs — sorry to place that image in your brain!
At the hospital, Simone is alive but in critical condition. "Is this what you wanted?" Simone asks with a bandaged head in a nightmare Taissa has falling asleep against the wall of the hospital. She snaps awake, but every time Taissa "wakes up," I wonder what version of her we're getting. The nurse remarks that the symbol she drew on Simone's hand is interesting, and we see that it's THE symbol, whose real meaning we don't really know. Taissa panics and tells the nurse it's for luck and then wipes it away.
There's significant tension between Teen Taissa's claims not to believe in anything regarding the symbol, Lottie's premonitions, and some of the stranger occurrences in the woods with regard to her behaviors in her sleepwalking state. Teen Taissa rejects the symbol, but sleepwalking Taissa — as both a teen and adult — utilizes it zealously. Van decides to stay awake so she can interact with sleepwalking Taissa. "If I let you loose, can I come with you?" she asks when Taissa shoots awake. "Yes, come," Taissa says, Jasmin Savoy Brown effecting her voice just enough so that something seems off but doesn't feel as on-the-nose as Doing A Creepy Voice. Van rushes to get her shoes and jacket on and follows Taissa out, trying to get as much information out of her as possible. Sleepwalking Taissa tells her the one with no eyes chose her, and she follows him but only when she lets her. Van asks who she is, and Taissa responds "Taissa."
"Then who are you?" asks Van.
But we don't get an answer. "Taissa" instead stops in front of a tree on which the symbol has been carved, and when Van tries to demand more answers, she wakes up. In her woken state, Taissa can't help. She's just as confused as Van. But when Van asks who "the one with no eyes" is, Taissa briefly flashes back to the memory of seeing him in the mirror when visiting her dying grandmother and chooses not to say anything. She either is intentionally withholding something here or isn't consciously totally aware of this memory and what it means. Taissa is the resident skeptic, and yet some of the strangest and hardest to explain things are happening to her.
In the hospital, Adult Taissa pops a pill in the bathroom, likely in an attempt to continue staying awake. But when she turns away from the mirror, her reflection stays facing her, scowling. This time, Taissa notices. She turns to her reflection and startles when its movements don't match hers. The reflection mouths something that looks like go to her (Note: These recaps are written using screeners, which frustratingly do not include closed captions, so if the closed captions on the finalized version confirm my interpretation of what's being mouthed, feel free to let me know in the comments!) multiple times, and the silent horror works so well. Again, no need for a creepy demon voice or anything; silent is actually scarier, much like Teen Taissa's calm, hushed delivery while sleepwalking is unsettling. The reflection places her hands over her face in a pattern mimicking Van's scars. (At this point, I have written in my notes: DOES THIS MEAN WE WILL MEET LAUREN AMBROSE/ADULT VAN SOON? I HOPE SO.)
So, the symbol. Let's talk about it, because it shows up a lot in this episode. Not only do we not know the meaning of the show's ubiquitous symbol, but we don't even know if it is indeed a symbol for protection or one that portends doom. Teen Lottie insists it's the former in this episode, deepening the divide between factions in the wilderness. In an attempt to cheer up Shauna post-Jackie feast, Lottie says they should have a baby shower. Well, specifically says they should do something to "welcome him." The other girls latch onto the idea of a baby shower, because it gives them something to focus on. Anything resembling not only their lives before the crash but a semblance of ritual or order appeals to the group. A baby shower provides exactly that. Akilah reveals to Taissa that she has a little bit of experience with babies, because her older sister has one. They construct a makeshift crib. Mari makes a rather murderous looking mobile. Van makes a "changing teepee." And Lottie presents Shauna with a baby blanket embroidered with the symbol. Nat is immediately upset about it. Akilah rushes to defend Lottie by saying she undeniably "knows things," and Taissa retorts that she isn't a god. "No one is saying she is," Van replies.
Then Shauna's nose starts bleeding. When her blood hits the symbol, a repeated thumping sound echoes throughout the cabin. When they go outside, they see the lifeless corpses of a bunch of birds who crash landed into the cabin's exterior. It's eerie to say the least. The fact that it immediately follows blood hitting this symbol-endowed blanket suggests that the symbol is indeed a portent. And it's not the first time a blood sacrifice has been required by the wilderness, like last season when Lottie said "it wants blood" in French.
Someone suggests that iron-rich soil might have thrown off the birds' navigation abilities, and I did go down a rather circuitous rabbit hole about bird migration and magnetic fields and was unable to conclusively determine if such an explanation is scientifically sound but also cannot really imagine a teenager in the 90s knowing so much about ornithology, but I shall let the discrepancy slide for now. Lottie suggests that they collect the birds as blessings, which Van dutifully does, the chasm between her and Taissa widening.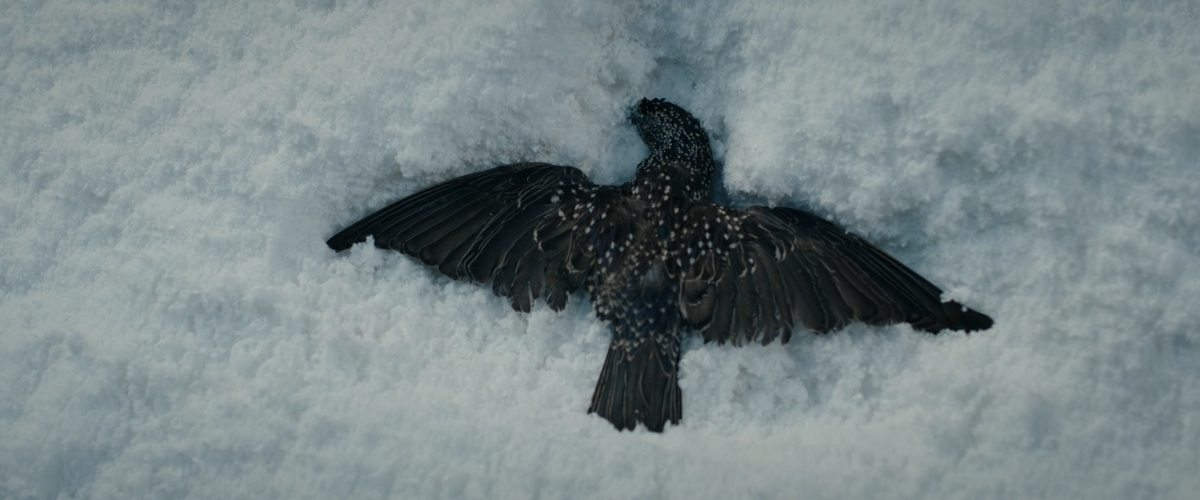 Is Lottie dangerous? It's a question I'm currently stumped about when it comes to both her Teen and Adult iterations. The devotion of her followers in the present timeline is troublesome in its cult appearances. The devotion of certain girls in the wilderness seems more understandable, potentially less nefarious, something for them to cling to in a time of desperation and despair. Adult Lottie's followers seem to be a lot of bark, little bite. As Adult Nat wanders the grounds with a smoothie in hand, she happens across Lisa, stroking a chicken, who tells her even Charlotte — as her followers call her — is allowed her secrets, for her own protection. Lisa axes the chicken's head off in a moment she clearly imagined as threatening, but Nat sucks all the power out of it with her warning: "You should never swing an axe that close to your hand."
Later, Lottie asks Nat to participate in a group therapy session, bestowing Lisa with a blade and saying that if she feels the need to hurt her back she may. Lisa, instead, drops the knife and pulls Nat into a hug, saying she understands. I can't discern Lottie's exact intentions here: Does a part of her believe Lisa could harm Nat? Does she know Lisa will not? And even if it's the latter, is this its own form of manipulation, a way to garner trust with Nat?
Perhaps the biggest clue regarding Lottie's intentions comes earlier in the episode when she's explaining the commune's bee colonies to Nat. "When a new queen hatches, the first thing she does is sting all of the other unborn queens to death," Lottie says. "I can see why you like them," Nat replies, insinuating that this is the kind of behavior Lottie exhibited back in the wilderness. Adult Lottie dismisses this though, says that without the Queen, the bees would starve, all of them would. What sacrifices did Lottie deem necessary in the wilderness for survival? So far, we've mostly just seen her doing rituals; other than stabbing the bear, usually she isn't the enactor of violence but rather in proximity to it. It's an interesting contrast to Shauna, which I'll get into at the end of the recap.
At episode's end, Lottie finds all her bees dead, their honey turned to blood. But it isn't real. It's a hallucination — or a vision. She hears one of her followers say in French: Il veut du sang, translating to "it wants blood." But this is imagined as well. Something in that moment of her finding the bees and weeping over their demise does soften the edges of Adult Lottie. I think, for now, it feels overly simple to call her commune wholly bad or good. There is a sense that she's taking advantage of these followers and deifying herself, but it's difficult to see her as some delusional religious zealot, too. As with a lot of this show, there's ambivalence sewn into the way she's portrayed. But it's also easy to be skeptical of her, because Nat is, and she acts as our audience surrogate coming into this place where secrets clearly lurk.
Teen Nat is just as skeptical of Teen Lottie as their adult counterparts are. Nat volunteers to take what's left of Jackie — which isn't much — to the airplane so that she can be buried with the others when the ground thaws. When Lottie offers her the protection blood tea, Nat denies it. She denies any assistance from Travis, too, likely because he has been getting closer with Lottie.
At the plane, Nat gives a final eulogy for Jackie, who was never very nice to her. "You're lucky, you know? I think shit is gonna get a lot worse out here." It's a bleak reality; death, especially Jackie's tragic but nonviolent one, might be preferable to what's to come in the wilderness. Suddenly, a giant white moose appears, and Nat tries to shoot it but misses. It rams the plane and then disappears. She doesn't seem to tell anyone about it afterward, making me wonder if it was real or something she imagined.
Teen Misty becomes closer to Crystal in this episode, the two hesitantly bonding over the fact that…actually, human flesh doesn't taste all that bad. Crystal reveals it wasn't the first time she "ate" another person, claiming to have absorbed her identical twin in the womb, the exact kind of gruesome fact that makes Misty's eyes light up. Nuha Jes Izman, who plays Crystal, has been a killer addition to the cast, injecting the cabin scenes with weirdo comedy. She is representation for annoying, earnest, intentionally strange theater kids everywhere (aka ME at that age). Misty likes being confided in. Crystal also gives her new power via acting lessons. We've seen Teen Misty act before, the pity party she devolved into when Ben initially turned down her dance date ask. Crystal helps Misty take things to the next level. Perched together under a glowing sheet at night, they giddily talk about the powers of performance, and it looks almost like they could be at a regular sleepover back in Jersey and not in a cabin in the woods with no electricity and nearly nonexistent food supplies. This really is Misty's perspective a lot of the time, though. She enjoys the wilderness, because it's the first place where she's able to access the sorts of regular teen experiences she sought back home. Even with Mari freezing her out, in Crystal she has once again found the kind of close camaraderie she craves.
Crystal convinces her to give the gift of a monologue to Shauna for the baby shower, and it's tough to decide what makes this baby shower more upsetting: the cavalcade of suicidal birds or Misty's monologue, taken from Steel Magnolias featuring a mother mourning her dead daughter. Everyone is a little disturbed but won over in the end by Misty's talent, clapping for her while she beams.
Misty puts her acting skills to use later on as an adult when she attempts to throw citizen detective Walter off the Adam Martin trail by saying she was close with Adam's mother and that he died of an overdose. But before that, Walter and Misty get up to a little joint acting exercise when interviewing a motel guest about Nat under the pretense of being the FBI. That motel guest turns out to be none other than Randy Walsh, always accidentally being pulled into messes he has nothing to do with. Misty knows they'll be made if Randy sees her, so she hides in the bathroom of the boat — where Walter lives, because he prefers nautical life to the bureaucracy and red tape of land living — and feeds questions into Walter's earpiece. (Misty, ever the theater devotee, compares this arrangement to Cyrano de Bergerac, which she believes to be an overrated play.)
Randy proves mostly un-useful, likely because Randy once again is rarely involved in any of the shenanigans other people are always making him complicit in. Misty convinces Walter to hit Randy and is then delighted when Walter threatens to escalate things with a weapon. This jostles Randy's weak memory, and he recalls a group of people wearing purple hanging around the motel and drinking all the Fanta out of the vending machine. This is, somehow, not my favorite soda-related detail in the episode. That comes later, when Walter asks Misty to stay for a drink, offering Mountain Dew or Tahitian Treat. It's reminiscent of when Misty offered Nat tea, coconut La Croix, or sherry. Indeed, there are quite a lot of similarities between Walter and Misty. And even though they're working together for now, using credit card information from the vending machine to pinpoint a location for the "purple people" and agreeing to go on a trek to upstate New York together to investigate further, something Walter says suggests they're destined to become nemeses and not partners. "Maybe I'm just a bored Moriarty looking for his Sherlock," Walter muses. He is already mentally casting them as foes, but Misty's also too smart to miss that. Still, I wonder if she believes a little too much in her own acting abilities to think Walter's really going to let Adam Martin go. After all, Misty falls for Walter's nursing home act; that wasn't his mother, it was just a woman he knew who was getting evicted who he wanted to help (Walter seemingly has a lot of disposable income). Has Misty finally met her match?
As tends to be my modus operandi, I have saved the best for last, and the best moments of "Digestif" belong to Melanie motherfucking Lynskey, who I'm pretty sure just secured the Emmy, Golden Globe, idk EVERY AWARD? with this episode. It isn't a Shauna-heavy episode, per se, the narrative rather evenly divided between characters in a juggling act this season has been especially good at. But when I think of "Digestif," I'll think of Shauna first and foremost.
Near the beginning of the episode, Shauna sits with Jeff at a diner. He's looking despondent, as has become his usual look in his Papa Roach era. "It was the strawberry lube," he says sadly to the table between them, prompting a waitress to perfectly spin on her heels away from whatever suburban drama this is that she certainly does not have the time for. Jeff recalls what he said about strawberry lube they acquired years before, and he asks if she remembers what he said when she suggested they try it. Shauna repeats his words from memory: "I think this stuff is for bisexuals and goths." (This is, without a doubt, the funniest thing Jeff has ever said in his life, and I say that as a devout fan of his dad jokes.)
Now, Jeff repeats what Shauna said in response: "You're no fun."
This, Jeff fears, is the inciting action of Shauna's affair, though it happened long before she met Adam. He dismissed the strawberry lube. In that moment, he chose to be this predictable, boring version of himself, the breadwinning suburban dad he feels he's supposed to be — but also that I think he genuinely wants to be. For Jeff, it doesn't seem to be an act like it is for Shauna, this simple domestic life with clear rules. And that makes sense. His high school girlfriend may have died tragically, but his childhood wasn't disrupted in the same way Shauna's was. He has always been on a path, and he has never veered from it. He feels like he can provide Shauna with comfort, with stability. But the problem is that this isn't what Shauna really craves. Shauna says this in response to his strawberry lube diner meltdown:
"First of all: That's not why I slept with him, okay? It wasn't about you. I mean, sure, it was exciting — exciting, that's not the right word. Okay. It made me feel like I didn't know what was going to happen, and I liked that. I liked not feeling like this…boring version of me."
Remember the words I've bolded, for later.
When they leave the diner, Jeff abruptly turns the car around, announcing boldly: "I'm taking us to colonial Williamsburg." He's trying to be spontaneous. This, he thinks, is what Shauna wants. I'm not sure what possesses him to think a woman who had to survive in the woods for over a year as a teenager would enjoy a tourist town where most of the attractions hinge on pretending to live in colonial times…but as the rest of the episode makes clear, he's way off the mark with this one, even if his heart is in the right place.
In the midst of their reroute, a person walks out in front of the minivan, and Jeff thinks he hit him. At first, I thought, oh no, these two are going to have to badly cover up another dead body! Is this going to become their Thing! But alas, the man was just faking it so that he could carjack them at gunpoint. But as he aims the gun at them, focusing mainly on Jeff of course, Shauna uses this to her advantage and charges him, easily incapacitating him and wrestling the gun out of his hands. This alarms Jeff, who tries to get the gun away from Shauna before she can pull the trigger, and the carjacker seizes the opportunity to drive off with the van, leaving Jeff and Shauna to fight over what has just transpired.
"Are you really gonna get us killed over our piece of shit minivan?" Jeff asks, appalled at Shauna's erratic behavior, apparently not at all impressed by her VERY IMPRESSIVE MANEUVERS. She reminds him, in a bit of very fun comedic relief, that all their quarters were in there! And Mr. Shwoozums, Callie's beloved teddy bear from when she was six.
Jeff is exasperated, frustrated. He can't see what's right in front of him: Shauna doesn't want a spontaneous trip to colonial Williamsburg. This is what she wants. Impulsiveness. Danger. Violence. She got that gun from that guy like it was nothing. If Jeff had let her threaten — or even hurt — that man and they'd gotten back in their van, I bet Shauna would have wanted to have sex in it. This is what gets her going.
Later, Jeff approaches Kevyn Tan at the gym and threatens him, but it backfires, because everything Jeff is trying on these days is like a costume. He really is at his core the dependable, predictable suburban dad who tells jokes, grills meats, goes to work, comes home and puts on SportsCenter. When he steps outside of that, things go wrong, as we saw when his blackmail ploy went wildly south last season. Shauna can slip in and out of different lives; he can't. Kevyn is calm and collected in the face of his anger, is only increasingly suspicious of Shauna when Jeff reveals she was upset. Kevyn tells him someone told their investigators Shauna was having an affair. "We've been married almost 25 years," Jeff says, and it sounds more like he's trying to convince himself that he knows his wife, not Kevyn.
Sure, Jeff may have read Shauna's journals a long time ago, but he's fooling himself if he thinks he really knows his wife. He's fooling himself if he thinks colonial Williamsburg is anything she wants.
After all, he doesn't know what Shauna's up to, the lengths she'll go to to get back her van. She gets dropped off somewhere shady, tracking the car on her phone. She pulls out the gun she still has from earlier as she walks into a body shop. No one stops her; no one sees her. Because to the outside world, Shauna still just is a stay-at-home mom. People don't see her as a threat. When she pulls up on a guy in the back office with the gun aimed at him, he's patronizing. It's one thing to hold a gun, another to use it, he remarks. "I can see your hands shaking."
And then Melanie Lynskey delivers a monologue that might be my favorite Yellowjackets moment to date. It's chilling; it's shocking; it's impossible to scrub out of your mind.
"Have you ever peeled the skin off a human corpse? It's not as easy as you might think. It's really, uh, stuck on us — skin. You have to roll back just the edges of it so you can get a good enough grip to really pull. Which again, isn't easy. People are always so sweaty when you kill them, just like really oily. There's a look people get when they realize they're going to die. It's that one. My hand wasn't shaking because I was afraid. It was shaking because of how badly I wanted to do this."
She gulps for breath, unsteady, and given everything she has just said, it's clear she isn't trying to talk herself into hurting this man but out of it. She wants to do it so badly.
And now is when I must posit a question that has been weighing on me greatly: Is it possible we're wrong about Lottie being the Antler Queen? We deduced as much after she was framed by antlers in a shot in season one and then later actually donned a crown made from them. But is this genuine confirmation? Could our real Antler Queen be Shauna? Something about the way the Antler Queen gestures for the others to eat the flesh in the show's pilot does echo the way Shauna grants permission to feast on Jackie in "Edible Complex." Could Lottie's ascension to a cult leader in her adulthood not be an attempt to reclaim the position she had in the woods but rather a position that she was denied and feels she is owed? Or is Lottie indeed the Antler Queen and Shauna is something like her war general? After all, we don't see the Antler Queen do any of the hunting or slaying herself; it's easy to assume Shauna's holding the knife when a girl's throat is slashed to drain her blood in the pilot. Adult Lottie, on the surface, seems more nefarious than Adult Shauna, but doesn't that hinge on the exact assumptions I'm talking about when I say these dangerous men in the chop shop don't see Shauna as just as dangerous as them? Shauna might not have an army of followers, but she's like a sleeper agent, performing a boring by-the-numbers life while harboring a hunger for violence, for murder! This monologue makes her sound extremely hungry for murder! She would never cry over dead bees like Lottie.
I don't consume a lot of serial killer or true crime content myself, but my fiancé does watch a tremendous amount of Criminal Minds, and while I'm not an active viewer, I've passively ingested enough of the show to know that a common narrative about serial killers is that they can often live very normal lives, with spouses, kids, quaint little homes tucked into quiet neighborhoods. And they can often go through long stretches of not killing, too. How many people has Shauna killed? The way she talks here, I think it's much more than just Adam. I think stabbing Adam, which she also did so easily and without any remorse despite having a long sexual affair with him, reanimated something dormant in her. I don't think Shauna has been secretly serial killing for the past 25 years, but I do think she has killed more than we think and isn't just capable of violence but actively courts it.
And that brings me back to a subtle but ultimately very meaningful parallel I noticed between the two Shaunas in this episode. Remember those bolded words from above that Shauna says to Jeff? She said she liked the affair with Adam, because she felt like she didn't know what was going to happen. Later, Teen Shauna says the following to Lottie in the cabin, still reckoning with the Jackie feast from the night before and clearly rattled by it:
"I'm scared, Lottie. Everything just feels out of control, like I don't know what's gonna happen next. What if I—"
Lottie interrupts her to say she won't hurt the baby. And there's a lot packed into this short conversation between them, so it'd be easy to miss this echoing of words, especially since it's not perfectly verbatim. But this can't be a coincidence, right? Teen Shauna is terrified by the prospect of not knowing what's going to happen next. But as an adult, Shauna craves that uncertainty. Her fear has alchemized into desire. The Shaunas express these sentiments in different contexts, and Sophie Nélisse and Melanie Lynskey imbue the words with tonally disparate emotions, but it feels very significant in both moments. What if Shauna's response to feeling out of control is ultimately to embrace it? To flirt with chaos the way we see her do as an adult? Sometimes the only way to conquer what we're scared of is to turn it into something pleasurable, as fucked-up as that can sometimes feel. Teen Shauna and Adult Shauna both have talked about feeling fucked-up this season, Adult Shauna in the premiere and Teen Shauna here in "Digestif."
I do doubt Adult Taissa and Adult Nat would be so trusting of Adult Shauna the way they are in season one if she had been some sadistic ruler in the wilderness, but I also think Shauna is sometimes good at pinning things on others, the way she convinced the group to isolate Jackie from the cabin even though she was the one who had so greatly betrayed Jackie. It's possible she could have done worse in the woods but been able to scapegoat Lottie or otherwise manipulate those around her. Shauna's not good at lying, but she does have a tendency to get away with shit. And this moment in the chop shop makes it clear that violence isn't just a means to an end for her; it's something that actively excites her.
---
Last Buzz:
Mari is hearing a dripping sound that no one else is hearing. What's that about?
Tawny Cypress confirmed that Tai purposefully crashed the car at the end of last episode, and I already figured as much, but we also get textual confirmation in this episode when her campaign manager says that she ran a red light. Was it a possessed version of Tai trying to get rid of Simone, or was it Tai actually trying to protect Simone by merely injuring her before the possession could do worse? The smirk makes me think it's the former, but I'm leaving room for the latter interpretation just because it's definitely ambiguous how much control the real Tai has/doesn't have in this altered state.
The episode's title "Digestif" refers to drinks typically served after dinner to aid with digestion. I love digestifs, because my favorite drink is a popular one (Fernet), and because it's basically just an excuse to have amaro for dessert. I suppose Jackie was last week's main course, and this episode contending with the aftermath of eating her is our little digestif. Idk, a snifter of Fernet is a lot more relaxing than the vibe of this episode! Anyway, do you have a favorite digestif?
Without the support of our A+ members, I would not be able to spend many hours on these recaps every week, so if you're not a member but have been considering becoming one, now's a great time! At the A+ virtual Yellowjackets watch parties last month, one BRILLIANT member who goes by @tentaclerental in the comments created this gorgeous Jeff collage that I no joke want to hang in my office: